1956: Nat "King" Cole was attacked on stage by five racial weirdos during a show at the Municipal Hall in Birmingham, Alabama. Police arrested the sick people, hauled them to jail, and Cole returned later that night to thrill the crowd in a second show.
1957: Ricky Nelson performed for the first time on the television show The Adventures of Ozzie and Harriet, singing "I'm Walking".
1958: Chuck Willis ("C.C. Rider"), who had suffered stomach ulcers for years, died during surgery for peritonitis in Atlanta, Georgia at the age of 30. (Note: some websites mistakenly say Willis died in a car accident. Other sites claim he died in Chicago, Illinois. According to the books 'Rhythm and Blues, Rap, and Hip-hop' by Frank Hoffmann and 'The Last Sultan: The Life and Times of Ahmet Ertegun' by Robert Greenfield, Willis died of periodontitis during surgery in Atlanta. The book 'Hanging the Peachtree Bandit: The True Tale of Atlanta's Infamous Frank DuPre' by Tom Hughes also confirms that Willis died in Atlanta.)
1962: Former Beatles' bass player Stuart Sutcliffe died in Hamburg, Germany at the age of 21 of a cerebral hemorrhage from a brain aneurysm.
1965: Roger Miller spent a ninth week at #1 on the Adult Contemporary chart with "King Of The Road", which was written in Boise, Idaho.
The unstoppable Supremes...
1964: The brand new Top Five in the U.S. were "I'm Telling You Now" by Freddie & the Dreamers, the former #1 "Stop! In the Name of Love" by the Supremes at #2, "Can't You Hear My Heartbeat" by Herman's Hermits coming in at #3, "Shotgun" by Jr. Walker & the All Stars at 4 and "The Birds And The Bees" by Jewel Akens at position #5.
1965: We were first introduced to England's Tom Jones, who debuted on the chart with his first career single, "It's Not Unusual".
1965: Dusty Springfield, the Zombies and Bobby Vee completed a U.K. package tour at the Sophia Gardens in Cardiff, Wales.
1967: The Young Rascals released the single "Groovin'".
1967: Marvin Gaye finished recording his version of "I Heard It Through the Grapevine" after five sessions that began on February 3.
1967: "Something Stupid" by Frank and Nancy Sinatra became the first father-daughter song to ever hit #1.
1968: Cliff Richard had his ninth #1 in the U.K. with "Congratulations", the British entry in the 1968 Eurovision Song Contest.
1968: Drummer Mickey Hart joined the Grateful Dead.
1970: Emerson, Lake & Palmer formed.
Some early EJ for you--"Take Me to the Pilot"...
1970: Elton John and lyricist Bernie Taupin teamed up for the first time on the album Elton John, which was released on this date.
1970: The Temptations spent a second week at #1 with their biggest hit "Just My Imagination (Running Away With Me". The rest of the Top Ten--"What's Going On" by Marvin Gaye, the quick-rising "Joy To The World" by Three Dog Night, "She's A Lady" by Tom Jones at #4, "For All We Know" by the Carpenters, #6 was the former #1 "Me And Bobby McGee" by Janis Joplin, the Partridge Family had #7 with "Doesn't Somebody Want To Be Wanted", Paul McCartney had #8 with "Another Day", Ike and Tina Turner hit #9 with their version of "Proud Mary" and Brewer & Shipley entered the Top Ten with "One Toke Over The Line".
1970: Paul McCartney issued a press release announcing that the Beatles had broken up. "I have no future plans to record or appear with the Beatles again," McCartney said.
1971: He had written songs for other artists, most notably "Leaving On A Jet Plane" for Peter, Paul & Mary, but on this date, John Denver took the beginning steps toward becoming one of The Top 100 Artists of the Rock Era*. John made his debut on the charts with his first career single, "Take Me Home, Country Roads".



1972: Isaac Hayes took home the Oscar for the Best Original Song From a Motion picture with "Theme From 'Shaft'".
The Bellamy Brothers with their biggest hit...
1976: The brand new Singles chart was out and Johnnie Taylor was on top with "Disco Lady". Gary Wright was headed for #1 but for now he'd have to settle for #2 with "Dream Weaver". He was followed by the #3 "Lonely Night (Angel Face)", Captain & Tennille's hit of the Neil Sedaka song, the Bellamy Brothers at #4 with "Let Your Love Flow", Maxine Nightingale's "Right Back Where We Started From", Aerosmith's first Top Ten song "Dream On" at #6, "Boogie Fever", the #7 song by the Sylvers, Dr. Hook's "Only Sixteen" at #8, "Sweet Love", the great song from the Commodores at #9 and David Bowie's "Golden Years" at 10.
Fans were quickly finding out about this great album...
1976: Peter Frampton rose to #1 with the incredible Frampton Comes Alive, the biggest "live" album in rock history.
1978: Gerry Rafferty released the single "Baker Street".
Huey Lewis & the News introduced themselves...
1982: "I Love Rock 'N Roll" spent a fourth week at #1 for Joan Jett & the Blackhearts. The Go Go's edged up to #2 with "We Got The Beat", with Vangelis hitting #3 with "Chariots Of Fire - Titles". #4 was the J. Geils Band's second big hit "Freeze Frame", followed in the Top Ten by Olivia Newton-John at #5 with "Make A Move On Me", Rick Springfield's "Don't Talk To Strangers" at #6, one of the top songs to ever peak at #2--Journey's "Open Arms", falling to #7, "That Girl" by Stevie Wonder at #8, Bertie Higgins' "Key Largo" at #9 and the first hit from Huey Lewis & the News, "Do You Believe In Love" at #10.
1985: Madonna began her North American Tour with the first of three shows at the Paramount Theatre in Seattle, Washington. The Beach Boys were the opening act.
1991: Peter Noone of Herman's Hermits was a guest star on Quantum Leap on ABC-TV.
1993: Depeche Mode debuted on the Album chart with Songs of Faith and Devotion.
1993: Canada's Snow spent a five straight week at #1 with "Informer".
1994: Over 5,000 fans attended a U.S. public memorial service for Kurt Cobain at Seattle Flag Pavilion.
1994: Mariah Carey had the #1 U.K. album with Music Box.
1995: Boyz II Men released the single "Water Runs Dry".
1995: Monica released the single "Don't Take It Personal (Just One Of Dem (sic) Days)".
1999: Tom Petty was the guest performer on Saturday Night Live.
1999: Paul McCartney, Chrissie Hynde, George Michael, Elvis Costello and Sinead O'Connor performed at a charity tribute concert for the late Linda McCartney at the Royal Albert Hall in London.
1999: TLC began a four-week stay at the top with "No Scrubs".
2002: James Hodges, Governor of South Carolina, declared James Brown the "Godfather of Soul".
She gave us "The Loco-Motion" to remember her by...
2003: Little Eva ("The Loco-Motion") died in Kinston, North Carolina at the age of 59 of cervical cancer.
2005: Natalie Imbruglia had the #1 album in the U.K. with Counting Down the Days.
2006: Coldplay singer Chris Martin and actress Gwyneth Paltrow announced they had named their second child Moses Martin (born April 8).
2011: Hall & Oates received the TV Land Music Icon Award in New York City.
2012: Bonnie Raitt released the album
Slipstream
.
2014: Linda Ronstadt, Hall & Oates, KISS, and artists which frankly do not belong, were inducted into the "Rock And Roll Hall of Fame".
Born This Day: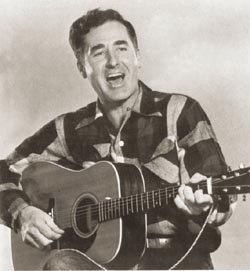 Dr. Demento couldn't have been happier with the birth of Sheb Wooley...
1921: Sheb Wooley ("The Purple People Eater") was born in Erick, Oklahoma; died of leukemia in Nashville, Tennessee on September 16, 2003.
1921: Martin Denny ("Quiet Village" from 1959) was born in New York City; died in Honolulu, Hawai'i March 2, 2005.
1932: Nate Nelson of the Flamingos ("I Only Have Eyes for You") and the Platters; died June 1,1984 of heart disease in Boston, Massachusetts.
1936: Bobbie Smith, vocalist with the Spinners, was born in Abbeyville, Georgia; died March 16, 2013 in Detroit. (Note: some websites claim Smith was born in Detroit Michigan, but according to the newspaper 'The New York Times' and other credible sources, Smith was born in Abbeyville.)
1947: Karl Russell of the Hues Corporation ("Rock The Boat") was born in Columbus, Ohio.
1947: Neville O'Riley

Livingston ("

Bunning Livingston"), percussion and vocals for Bob Marley and the Wailers, was born in Kingston, Jamaica.
1948: Fred Smith, bassist with Television, was born in New York City.
1950: Ernest Stewart, keyboardist with KC and the Sunshine Band, died April 26, 1997 in Opa Locka, Florida of an apparent asthma attack.
1950: Eddie Hazel, elite guitarist of Parliament and Funkadelic was born in Brooklyn, New York; died of internal bleeding and liver failure in Plainfield, New Jersey on December 23, 1992.
1953: Terre Roche, songwriter who worked with Paul Simon (album There Goes Rhymin' Simon) and Loudon Wainwright, was born in New York City.
1957: Steven Gustafson, bassist of 10,000 Maniacs, was born in Seville, Spain.
1959: Brian Setzer, great guitar player, songwriter and vocalist with the Stray Cats, was born in Massapequa, New York. (Note: some websites claim Setzer was born in New York City. According to both 'MTV' and 'Guitar World', Brian was born in Massapequa.)
1959: Katrina Leskanich, lead singer and guitarist of Katrina and the Waves ("Walking On Sunshine"), was born in Topeka, Kansas.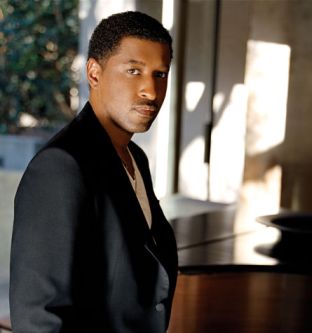 1959: Kenneth Edmonds (Babyface), singer-songwriter, keyboardist, guitarist and producer, was born in Indianapolis, Indiana.
1970: Mike Mushok, lead guitarist with Staind, was born in Manhasset, New York.
1980: Bryce Dane Soderberg, bassist and singer with Lifehouse, was born in Victoria, British Columbia, Canada.
1984: Mandy Moore was born in Nashua, New Hampshire.