1958 - Frank Zappa graduated from Antelope Valley High in Lancaster, CA.
1960: Little Brenda Lee took a giant leap up the charts, moving from 76 to 38 with "I'm Sorry".
1960: "Cathy's Clown" by the Everly Brothers was becoming one of the biggest hits of the '60s, remaining at #1 for a fourth week. Elvis Presley was stuck at two with "Stuck On You".
1964: The Rolling Stones performed on the television show Hollywood Palace hosted by Dean Martin on ABC.
1964: "People" became Barbra Streisand's first Top 10 of her storied career.
1967: The Bee Gees appeared on the U.K. television show As You Like It and performed "New York Mining Disaster 1941".
1969: 20-year-old Mick Taylor joined the Rolling Stones, taking the place of Brian Jones, who wasn't satisfied with the musical direction the band was going.
1970: Grand Funk Railroad, with Steel Mill (featuring Bruce Springsteen) opening, performed at the Ocean Ice Palace in Bricktown, New Jersey. Admission was $5. Yep, that's when it was the
music
that mattered, not the money (for agents, managers, record companies...et al.)
1970: A brand new band debuted on the charts as Bread's first single "Make It With You" debuted.
1970: The last single ever released from a Beatles studio album was "The Long And Winding Road", and on this date it made one of the biggest hops to #1 in the history of the Rock Era, going from 10 to 1 in its fourth week.
1972: Clyde McPhatter of the Drifters died of a heart attack from complications of heart, liver and kidney disease, brought on by years of alcohol abuse in the Bronx, New York at the age of 39.
1975: The newly reformed and renamed Jefferson Starship released the song "Miracles", which would become their first Top 10 song in eight years.
1975: John Lennon performed on television for the final time, singing his classic "Imagine". The show was taped on April 18 at the Waldorf Astoria Hotel
1

977: James Taylor released the single "Handy Man".
1980: Pat Benatar performed at a home baseball game for the Philadelphia Phillies.
1981: Smokey Robinson had the #1 U.K. hit with "Being With You".
1981: Neil Diamond scored a #1 on the ever more popular Adult Contemporary chart with "America".
Newcomers Franke & the Knockouts...
1981: It was week #5 at the top for Kim Carnes' smash "Bette Davis Eyes". The Stars on 45 had a surprise hit with "Medley" and A Taste of Honey was moving up with their remake of "Sukiyaki". The rest of the Top 10: Smokey Robinson slipped to #4 with "Being With You", Ray Parker Jr. & Raydio found themselves at #5 with "A Woman Needs Love (Just Like You Do)", Gino Vannelli had song #6--"Living Inside Myself", George Harrison, who was inspired to write "All Those Years Ago" following the tragic death of John Lennon, Neil Diamond edged up to #8 with the third hit from "The Jazz Singer" Soundtrack--"America", REO Speedwagon were on their way down with "Take It On The Run" and Franke & the Knockouts had a fine song at #10 with "Sweetheart".
1983: Stevie Ray Vaughan and Double Trouble released their debut album
Texas Flood
on Epic Records
.
1987: Whitney Houston had the top U.K. album with Whitney.
1987: One of the hottest artists of the late '80s and '90s first entered the chart on this date. "Don't Mean Nothing" paved the way for a great career for Richard Marx.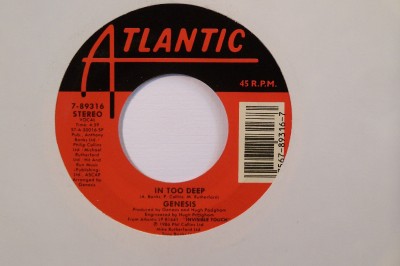 1987: Genesis reached #1 on the Adult Contemporary chart with "In Too Deep".
1987: Atlantic Starr completed the climb to #1 in their 12th week with "Always".
1987: The Joshua Tree spent an eighth week at #1 on the Album chart for U2. Whitesnake's impressive debut was at #2 with Bon Jovi still hanging around with Slippery When Wet.
1989: Jerry Lee Lewis got his star on the Hollywood Walk of Fame.
1991: Mick Jagger and Jerry Hall announced that they were having their third child together. The baby was born January 12, 1992.
1992: "Hold On My Heart" by Genesis completed a five-week run at #1 on the Adult Contemporary chart.
1995: Alanis Morissette released the album Jagged Little Pill.
1999: S Club 7 rose to the top in the U.K. with "Bring It All Back".
2000: Bobby Brown admitted in a Florida court that he was an alcoholic saying "I have a disease, I am an addict." And it has destroyed his life, not to mention Whitney's. Rather than do the responsible thing and join AA, he let everything slide.
2004: "I Don't Wanna' Know" by Mario Winans was the #1 U.K. song.
2012: Adele notched her 24th week at #1 on the Album chart with the album 21. The achievement put her in rarified air--behind only the albums Thriller by Michael Jackson and Rumours by Fleetwood Mac for weeks at #1 on the Billboard 200 (which made its debut in 1963).
Born This Day:
1934: Uriel Jones, session drummer for the Funk Brothers (Motown's studio band) who played on "I Heard It Through the Grapevine" by Marvin Gaye, "Cloud Nine" by the Temptations", "For Once In My Life" by Stevie Wonder and many, many others, was born in Detroit, Michigan; died March 24, 2009 in Dearborn, Michigan from complications from a heart attack.
1940: Bobby Freeman ("Do You Wanna' Dance") was born in Sa
n Francisco, California.
1941: Marv Tarplin, guitarist of the Miracles and songwriter for Motown, was born in Atlanta; died September 30, 2011 in Las Vegas, Nevada. (Note: some websites claim Tarplin was born in Atlantic City, New Jersey. He was born in Atlanta before moving with his family to Detroit, Michigan, according to the newspaper 'The New York Times'.)
1949: Dennis Locorriere, lead singer of Dr. Hook, was born in Union City, New Jersey. (Note: some websites report he was born in Jersey City, New Jersey. According to fan sites as well as 'the BBC', he was born in Union City.)
1950: Bo Donaldson ("Billy, Don't Be A Hero") was born in Cincinnati, Ohio.
1951: Howard Leese, who produced Heart's demo record at Mushroom Records in 1974 and was asked to join the band later that year, was born in Hollywood, California.
1954: Jorge Santana of Malo and a solo artist, was born in Autlán, Jalisco, Mexico.

1957: Rolf Brendel, drummer of Nena ("99 Luftballoons"), was born in Hagen, North Rhine-Westphalia, West Germany.
1963: Paul DeLisle, bassist of Smashmouth, was born in Exeter, Ontario, Canada.
1963: Robbie Merrill, bass guitarist of Godsmack, was born in Lawrence, Massachusetts.
1968: David Gray ("Babylon") was born in Sale, Cheshire, England. (Note: some naive websites claim Gray was born in Sale, Manchester, England. Sale was part of the county of Cheshire until the Local Government Act of 1972 changed county boundaries and made Sale part of Manchester county in 1974. Since Gray was born six years before the change took place, it is physically impossible for him to have been born in the county of Manchester and you will never see Manchester listed as the county of birth on his official birth certificate.)
1968: Denise (sometimes credited as Deneice) Pearson of 5 Star was born in Islington, London, England. (Note: the notorious 'Allmusic' and some other websites report Pearson was born in Romford, Essex, England. She was born in Islington, according to the Civil Registration in England.)
1969: Soren Rasted, songwriter, keyboardist, guitarist and producer for Aqua ("Barbie Girl") was born in Blovstrød, Denmark.
1970: Rivers Cuomo, songwriter, lead singer and lead guitarist of Weezer.
1976: Jason Brown, vocalist with Five, was born in Aldershot, Hampshire, England.
1985: Raz B of B2K was born in Cleveland, Ohio.