1955: Fats Domino wouldn't budge from #1 on the R&B chart for a seventh week with "Ain't That A Shame". It was Domino's first single.
1959: The Coasters recorded "Poison Ivy" at Atlantic Recording Studios in New York City.
1962: Nat King Cole released the single "Ramblin' Rose".
1962: The Beach Boys signed a recording contract with Capitol Records.
1963: The Beach Boys completed recording of "In My Room" and "Catch A Wave".
1966: Frank Sinatra camped out at #1 for a seventh week on the Adult Contemporary chart with "Strangers In The Night".
1966: The Temptations had the #1 R&B song for the eighth week with "Ain't Too Proud To Beg".

Sinatra tried to break through Herb Alpert's monopoly...
1966: Once again Herb Alpert & the Tijuana Brass dominated the Album chart with three of the Top 10--What Now My Love at #1, Whipped Cream & Other Delights at #3 in its 62nd week and Going Places at #7 in its 40th week. Strangers in the Night by Frank Sinatra was #2 and the Mamas & Papas had #4--If You Can Believe Your Eyes and Ears. The rest of the Top 10: Lou Rawls Live!, the Soundtrack to "Doctor Zhivago" at #6, Wonderfulness by comedian Bill Cosby, the Soundtrack to "The Sound of Music" in its 70th week and at #10, Paul Revere & the Raiders from Boise, Idaho with Midnight Ride.







1966: Tommy James & the Shondells moved up to #1 with their first single "Hanky Panky" (not bad). The Troggs were at #2 with "Wild Thing" and the Cyrkle were still hanging around at #3 with "Red Rubber Ball". Dusty Springfield edged up with her biggest hit "You Don't Have to Say You Love Me" and the Beatles' former #1 "Paperback Writer" was at #5. The rest of the Top 10: "Strangers In The Night" from Frank Sinatra, the Association at #7 with their first single--"Along Comes Mary", the Syndicate of Sound with "Little Girl", Sam the Sham & the Pharaohs had a Top 10 with "Lil' Red Riding Hood" and Paul Revere & the Raiders from Boise, Idaho with "Hungry", moving 15 to 10.
1967: Joni Mitchell, Judy Collins and Janis Ian were among those who appeared at the Newport Folk Festival in Newport, Rhode Island.

1968: Big Brother & the Holding Company and Sly & the Family Stone christened the newly-named Fillmore West in San Francisco with a live show.
1969: Diana Ross & the Supremes were the guest hostesses on The Tonight Show on NBC-TV.
1969: Janis Joplin was a guest on The Dick Cavett Show.
1969: The Beatles worked on two George Harrison songs, "Here Comes The Sun" and "Something", in two sessions at Abbey Road Studios in London.
1970:
Diana Ross
released the second single of her solo career--"Ain't No Mountain High Enough".
1

9
72: Smokey Robinson performed with the Miracles for the final time at the Carter Barron Amphitheater in Washington, D.C.
1976: The Allman Brothers Band called it quits. The band later reformed.


1976: Loggins & Messina split up.
1977: The Johnny Mathis Collection was the top album in the U.K.
1977: "Easy" by the Commodores earned the #1 position on the R&B chart.

Foreigner sure didn't sound like newcomers...

1977: Barry Manilow Live was the new #1 album, dislodging Fleetwood Mac's Rumours from the top spot temporarily. Peter Frampton's I'm in You was #2 while Steve Miller Band's Book of Dreams moved up to #4. The rest of the Top 10: Streisand Superman from Barbra, Love Gun by KISS was #6, the Commodores' self-titled album was at #7, Foreigner's debut remained at #8, Heart and Little Queen was at #10 and the Bee Gees album Here At Last...Bee Gees...Live finished the list.
1981: Harry Chapin died in an automobile crash while on the Long Island Expressway on his way to give a benefit concert. He was 38 years old.
1982: Paul McCartney had one of the hottest songs on the chart as "Take It Away" (moving from 55 to 31) was going to be his best solo hit in years.
1983: DeBarge took over at #1 on the AC chart with "All This Love".
1983: Michael Jackson's Thriller spent its 19th week at #1 on the Album chart, second only to Rumours by Fleetwood Mac, which registered 31 weeks as the #1 album. Michael wasn't done yet.
1984: Roger Waters and Eric Clapton performed in the first of two nights in Stockholm, Sweden.
1984: Billy Williams ("I'm Gonna' Sit Right Down And Write Myself A Letter" from 1957) died following a heart attack at the age of 74 in Manhattan, New York.
1988: Eric Carmen rose to #1 on the Adult Contemporary chart with "Make Me Lose Control".

INXS kept a strong presence on the radio...

1988: There were some new songs coming into the Top 10 in what otherwise was a horrible summer for music. Cheap Trick remained at #1 with "The Flame", Pebbles was once again #2 and Def Leppard remained at 3 with "Pour Some Sugar On Me". INXS had yet another smash from their great album Kick--"New Sensation", and Richard Marx was moving up with his great song "Hold On To The Nights". The rest of the Top 10: Steve Winwood moved from 12-6 with "Roll With It", Al B. Sure! had song #7--"Nite And Day", Breathe breezed up from 14-8 with "Hands To Heaven", Eric Carmen posted his 12th solo hit with "Make Me Lose Control" and Poison had #10--"Nothin' But A Good Time".
1992: Charlie Watts, drummer of the Rolling Stones, walked off the set of Late Night with David Letterman after a disagreement with the producer.
1993: Sonic Youth and Hole performed on the opening day of the three-day Phoenix Festival in England.
1994: Janet Jackson's "Any Time, Any Place" was the #1 R&B hit for the sixth straight week.
1995: Wayne Osmond had a brain tumor operation at the prestigious Duke University Medical Center in North Carolina.
1996: The Eagles performed at the Flanders Expo in Ghent, Belgium.
1996: Michael Jackson performed at a birthday party for the Sultan of Brunei at the Jerudong Amusement Park.
1996: Joe Panozzo, drummer of Styx, died of a gastrointestinal hemorrhage at the age of 48.
1999: The Beach Boys were on the NBC television program Today.
1999: Sheryl Crow and Sarah McLachlan performed at Coors Amphitheater in San Diego, California on the Lilith Fair tour.
2000: Coldplay's album Parachutes led the way on the U.K. chart.
2000: Matchbox 20 rose to #1 with the smash "Bent".
2002: The Dave Matthews Band released the album
Busted Stuff
, which contained material from bootlegged sessions recorded prior to 2001.
2003: The reunited Duran Duran performed at the Pacific Amphitheater in Costa Mesa, California.
2003: Carlos Santana donated $2 million in Africa to help fight the AIDS virus.
2008: Jo Stafford ("Suddenly There's A Valley" from 1955) died of congestive heart failure in Los Angeles at the age of 90.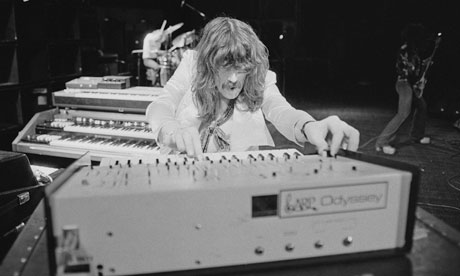 2012: Jon Lord, elite keyboardist with Deep Purple, died of a pulmonary embolism at age 71 in London.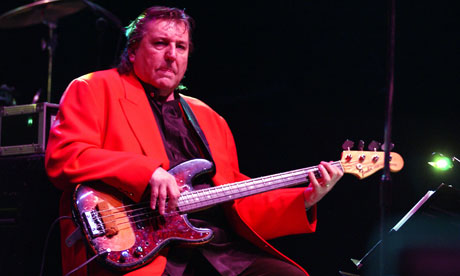 2012: Bob Babbitt, bassist who worked with Stevie Wonder, the Temptations, Smokey Robinson & the Miracles, Gladys Knight & the Pips, Phil Collins, Jim Croce and Edwin Starr, died of brain cancer in Nashville, Tennessee at age 74.

Born This Day:
1939: Denise LaSalle ("Trapped By A Thing Called Love", a gold record in 1971) was born in LeFlore County, Mississippi. (Note: several websites report that Denise was born in Belzoni, Mississippi. According to the books 'Ladies of Soul' by David Freeland and 'Chicago Soul' by Robert Pruter, she grew up in Belzoni, but was born 40 miles away in rural LeFlore County.)
1940: Tony Jackson of the Searchers was born in Liverpool, Lancashire, England; died August 18, 2003 in Nottingham, Nottinghamshire, England after suffering from several ailments due to years of heavy drinking. (Note: some websites list Tony's birthplace as Dingle, England, or Dingle, Liverpool, Lancashire, England. Dingle is an inner-city area of Liverpool and is not listed on an official birth certificate.)
1941: Desmond Dekker ("Israelites" from 1969) was born in Kingston, Jamaica; died of a heart attack in Surrey, England May 25, 2006. (Note: some websites claim Desmond was born in St. Andrew, Jamaica. According to the newspaper 'The Guardian' and other reputable sources, he was born in Kingston, a suburb of St. Andrew.)
1944: Thomas Boggs, drummer of the Box Tops from 1968-1970, was born in Wynne, Arkansas; died of cancer May 5, 2008 in Memphis, Tennessee.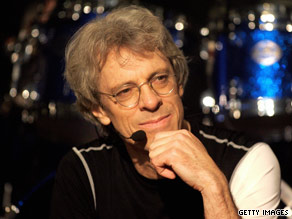 1952
: Stewart Copeland, drummer of the Police, was born in Alexandria, Virginia. (Note: some websites claim he was born in Egypt. The son of an agent in the U.S. Central Intelligence Agency, the family did move to Cairo a few months after his birth, but Stewart was born in Alexandria, according to his official website.)
1971: Ed Kowalczyk of Live and now a solo performer, was born in York, Pennsylvania.
1978: TJ (last name Jackson), vocalist with 3T ("Anything" from 1996)