1955: Gene Vincent was in a serious accident when a car in Norfolk, Virginia hit his motorcycle, crushing his leg.
1956: Elvis Presley performed a charity concert for the Memphis Press-Scimitar's Milk Fund in Memphis, Tennessee.
1958: Buddy Holly and Frankie Avalon performed three concerts at the Buck Lake Ranch in Angola, India.
1958: The Everly Brothers rolled into the #1 position in the U.K. with "All I Have To Do Is Dream".
1959: The Brothers Four recorded the song "Greenfields".
1960: Brian Hyland had the highest-debuting song with "Itsy Bitsy Teenie Weenie Yellow Polkadot Bikini".
1960: Connie Francis held down the #1 song for a second week with "Everybody's Somebody's Fool", with "Alley-Oop" from the Hollywood Argyles #2. Brenda Lee moved up from 6 to 3 with "I'm Sorry" while Duane Eddy's great instrumental "Because They're Young" was #4 and the former #1 "Cathy's Clown" by the Everly Brothers was at #5.
1962: Chris Blackwell started Island Records, which would eventually promote U2, Robert Palmer, Bob Marley and many others.
1964: The Beatles announced that their first tour of North America was a complete sellout.
1964: Barbra Streisand spent a second straight week at the top of the Easy Listening chart with "People".
1964: One of the hottest songs on this date came from Jan & Dean, who moved up from 60 to 22 with "The Little Old Lady From Pasadena".
1964: One of The Top 100 Songs of the Rock Era*, "I Get Around" by the Beach Boys arrived at #1 on this date. Millie Small had #2--"My Boy Lollipop". Johnny Rivers had one of his biggest hits with "Memphis" at 3 and Gerry & the Pacemakers had a nice move (7-4) with "Don't Let The Sun Catch You Crying". The rest of the Top 10: "People" from Barbra Streisand, Peter & Gordon tumbled to 6 with "A World Without Love", the Dixie Cups' former #1 "Chapel Of Love" was at 7, the 4 Seasons jumped from 18 to 8 with "Rag Doll", Billy J. Kramer had song #9--"Bad To Me" and the Dave Clark Five" scored an early Top 10 with "Can't You See That She's Mine".
1964: Louis Armstrong's
Hello, Dolly!
was the #1 album with the Soundtrack to the movie #2.
Funny Girl
from Barbra Streisand was #3 followed by the
Beatles' Second Album
and
The Third Album
from Streisand. The rest of the Top 10:
Cotton Candy
from Al Hirt, the great
Getz/Gilberto
album from Stan Getz & Joao Gilberto climbed from 14 to 7,
The
Academy Award Winning
"Call Me Irresponsible"
from Andy Williams,
Glad All Over
by the Dave Clark Five entered the Top 10 and Nancy Wilson had #10--
Today, Tomorrow, Forever
.
1966: Monday, the traditional date for single releases, fell on July 11th and Lovin' Spoonful released "Summer In The City"
on this date.
1966: Napoleon XIV released the novelty smash "They're Coming to Take Me Away Ha-Haaa!" (Note: several websites naively say the single was released on July 23. Napoleon XIV's song debuted on the Singles chart on July 23. Repeat after me--it is physically impossible for a song to be released as a single by a record company, mailed to radio stations, received by the radio stations, listened to and added to playlists, reported by the radio stations to the trade papers, and printed and published by the trade papers, all in the same day.)
1966: Filipino President Ferdinand Marcos pulled police protection for the Beatles after Marcos's wife (the one that loved all the shoes) claimed that the group wouldn't go to one of her parties. As a result, the Fab Four was later attacked by an angry mob.
1967: Tom Jones was a guest on the debut of Spotlight on CBS-TV.
1968: Elvis Presley donated a Rolls Royce to a woman's charity SHARE in Santa Monica, California.
1969: Creedence Clearwater Revival, Chicago, Grand Funk Railroad, Johnny Rivers, Canned Heat, Booker T & the MG's, Delaney & Bonnie, Ian & Sylvia, the Dave Brubeck Trio, Pacific Gas & Electric, Sweetwater and the Paul Butterfield Blues Band performed on opening day of the Atlanta Pop Festival in Byron Georgia. Grand Funk Railroad did so well that they were signed to a recording contract by Capitol Records after the performance.
1969: Ray Davies of the Kinks mixed the final album from the Turtles, Turtle Soup.
1970: Cliff Richard released his 50th single, "Goodbye Sam, Hello Samantha".
1970: Casey Kasem's American Top 40, which would become a radio fixture and overwhelming #1 in its time slot, debuted at radio stations across the country. Casey Kasem, one of the great guys of all-time, actually took the time to write back to me to not only comment on my production of
The Top 5000 Songs of the Rock Era*
but to give me his home phone number to help me out. I will never forget that.
1970: Jimi Hendrix, Rare Earth, Jethro Tull, Poco and the Chambers Brothers played at the Atlanta International Pop Festival in Atlanta, Georgia.
1970: "The Love You Save" by the Jackson 5 was #1 for a third week on the R&B chart.
1971: Donald McPherson of the Main Ingredient died of leukemia in the Bronx shortly before his 30th birthday. (Note: one website reports he died on July 3. According to the book 'American Singing Groups: A History from 1940's to Today by Jay Warner, he died July 4.)
1973: Don Powell, drummer of Slade, was seriously injured in a car crash in Wolverhampton, England in which his girlfriend Angela Morris was killed.
1976: The Eagles were in concert along with Fleetwood Mac, Dan Fogelberg and Loggins & Messina a
t Tampa Stadium in Tampa, Florida
.
1976: Barry White married Glodean James, a member of White's Love Unlimited Orchestra.
1976: Paul Revere from Boise, Idaho got married at King's Amusement Park in Cincinnati, Ohio during intermission of a Raiders concert.
This track from 'The Dream Weaver' was picking up strength...
1976: "Silly Love Songs" by Wings logged a fourth week at #1. Starland Vocal Band exhibited a solid move (7-2) with "Afternoon Delight" while "Misty Blue" by Dorothy Moore and Hall & Oates' "Sara Smile" stalled. The rest of the Top 10: The Captain & Tennille remained at 5 with their remake of "Shop Around", the Andrea True Connection was at 6 with "More, More, More", Silver Convention's smash "Get Up And Boogie" was on its way down, Brothers Johnson edged up with "I'll Be Good To You", the Manhattans were fine to "Kiss And Say Goodbye" and Gary Wright proved he was no one-hit wonder as "Love Is Alive" climbed into the Top 10.
1977: Gary Valentine quit Blondie and Nigel Harrison became the new bass guitarist for Blondie.
1977: Fleetwood Mac released the single "Don't Stop".
1979: Elite guitarist Gary Moore left the group Thin Lizzy. (Note: several websites claim Moore left the group July 17, but according to FineArtAmerica.com, Moore left after a concert July 4.)
1980: The Beach Boys performed in a free concert before 500,000 in Miami, Florida. (Note: several websites claim the concert was in Miami, Florida. According to the newspaper 'The New York Times', the show was on the Washington Mall in Washington, D.C.)
1981: "All Those Years Ago" from George Harrison topped the AC chart.
1982: Ozzy Osbourne married his manager, Sharon Arden in Maui, Hawai'i.
1982: Diana Ross began her first world tour as a solo performer with a show at Giants Stadium in the Meadowlands, New Jersey. Jazz great Miles Davis accompanied her.
1983: President Ronald Reagan's Interior Secretary, James Watt, banned the Beach Boys from performing on the Washington Mall because the music "attracts a bad element".
1984: The Beach Boys held their free concert in Washington, D.C. Sitting in on drums was Ringo Starr.
1985: Dire Straits performed the first of 13 nights at Wembley Arena in London.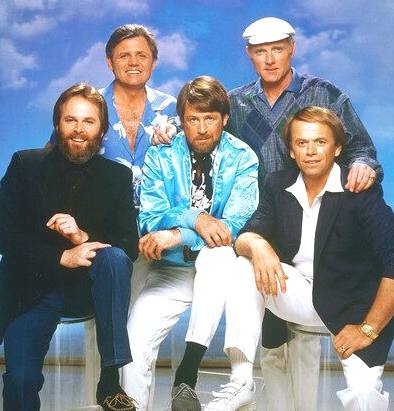 1985: The Beach Boys performed in Washington, D.C. They were joined onstage by Jimmy Page of Led Zeppelin who performed "Lucille" with the group.
1986: Farm Aid II, in which John Mellencamp and Willie Nelson were so involved with, featured appearances by the Beach Boys and Julio Iglesias in Austin, Texas. The concert raised $1.3 million for needy farmers.
1987: Keith Richards put the finishing touches on the mixing for the Chuck Berry documentary Hail! Hail! Rock and Roll.
1987: Bob Dylan and the Grateful Dead began a tour at Sullivan Stadium in Foxboro, Massachusetts.
1987: The Doobie Brothers, James Taylor, Santana and Bonnie Raitt played at the July 4th Disarmament Festival in the Soviet Union.
1987: The Pet Shop Boys hit #1 in their native U.K. with "It's A Sin".
1988: Bobby McFerrin released the single "Don't Worry Be Happy".
1988: Sun Valley, Idaho's Peter Cetera released the single "One Good Woman".
1992: John Phillips of the Mamas & Papas had a liver transplant in Los Angeles.
1992: Celine Dion's breakthrough hit, "If You Asked Me To" was #1 for the third week on the AC chart.
1998: The Soundtrack to the great movie City of Angels was the #1 album on this date. Never Say Never from Brandy was second followed by MP Da (sic) Last Don by Master P was #3. Soundtracks to Hope Floats and Godzilla were #4 and 5, respectively. The rest of the Top 10: The Limited Series from Garth Brooks, the Backstreet Boys were still hanging around after 45 weeks with their debut, Come On Over from Shania Twain was #8, Big Willie Style entered the Top 10 for Will Smith and Adore by the Smashing Pumpkins was #10.
1999: Victoria Adams, formerly Posh Spice of the Spice Girls, married David Beckham at Luttrellstown Castle in Dublin, Ireland.
1999: Blondie, R.E.M., Metallica, Barenaked Ladies, Built To Spill and the Chemical Brothers performed at the Roskilde Festival in Roskilde, Denmark.
2001: Madonna played the first of six sold-out shows at Earls Court Exhibition Centre in London.
2003: It was quite a show in Pontiac, Michigan for the Summer Sanitarium concert--Metallica, Limp Bizkit and the Deftones performed.
2003: Barry White, who definitely heated up the airwaves with his brand of sexy soul music (besides he was just plain cool!) died of kidney failure at the age of 58.
2004: Usher had the top U.K. song with "Burn".
2006: India.Arie was on top of the Album chart with Testimony, Volume 1: Life & Relationship
.
2007: Bill Pinkney of the original Drifters died of a heart attack at the age of 81 in Daytona Beach, Florida.
2008: All four members of ABBA were at the premiere of the movie Mamma Mia! in Stockholm, Sweden.

Born This Day:
1911: Mitch Miller, conductor and arranger ("The Yellow Rose Of Texas" in 1955), was born in Rochester, New York; died July 31, 2010 in Manhattan, New York.
1938: Bill Withers was born in Slab Fork, Virginia.
1940: Dave Rowberry, keyboardist of the Animals, was born in Mapperley, Nottinghamshire, England; died of an ulcer hemorrhage June 6, 2003 in London.
1943: Alan Wilson, co-founder, songwriter and guitarist of Canned Heat, was born in Arlington, Massachusetts; died September 3, 1970 of an accidental acute barbiturate intoxication in Topanga, California. (Note: several websites claim Wilson was born in Boston, Massachusetts. He was born in Arlington, according to the Blues Hall of Fame. Some sites claim Wilson died in Los Angeles. He died in Topanga, according to the band's official website.)
1948: Jeremy Spencer of Fleetwood Mac and a solo performer, was born in Hartlepool, County Durham,England. (Note: some websites report Spencer was born in West Hartlepool, England and some say he was born in Hartlepool, Cleveland, England. There is no city called West Hartlepool--since the 1960's it is simply known as Hartlepool. Hartlepool is located in County Durham, not Cleveland. From 1974-1996 Hartlepool was included in Cleveland, but Spencer was born in 1948, long before that, so it is physically impossible for him to have been born in the county of Cleveland. The county of Cleveland was abolished in 1996.)
1951: Ralph Johnson, percussion and vocals and one of the original members of Earth, Wind & Fire, was born in Los Angeles, California.
1952: Jon Waite, lead singer of the Babys and Bad English and a solo performer, was born in Lancaster, Lancashire, England.
1958: Kirk Pengilly of INXS was born in Kew, Victoria, Australia. (Note: some websites claim he was born in Sydney, Australia. Although he lived with him family near Sydney beginning at age 8, he was born in Kew, according to the group's official website.)
1963: Matt Malley, bass guitarist of the Counting Crows, was born in Oakland, California.
1971: Andrew Creeggan, bassist, pianist and percussionist of Barenaked Ladies, was born in Scarborough, Ontario, Canada.
1972: William Goldsmith, drummer of the Foo Fighters, was born in Seattle, Washington.
1978: Stephen McNally of BBMak was born in Liverpool, Merseyside, England.