1956: Elvis Presley began filming his first movie Love Me Tender. It was originally going to be called The Reno Brothers.
1960: "The Chain Gang" was one of the fastest-moving songs (79 to 54) for Sam Cooke.
1960: "It's Now Or Never" by Elvis Presley was #1 for a second week.
1962: The Beatles filmed a lunchtime performance for Granada Television at the Cavern Club in Liverpool, England for their first TV appearance. However, the film was judged too grainy to be shown, so Granada shelved it until the group became famous. It was shown for the first time on Granada's Scene At 6:30 on November 6, 1963.
1964: Liberty Records announced that the album The Chipmunks Sing the Beatles was selling 25,000 copies a day.
1964: The Beatles were in concert at Empire Stadium in Vancouver, British Columbia, Canada, playing to 20,261 fans. The Bill Black Combo, the Exciters, the Righteous Brothers, and Jackie DeShannon opened for the group. The show was broadcast locally by CKNW.
1964: The Four Tops moved from 90 to 54 with "Baby I Need Your Loving".
1964: The Supremes had the top R&B song with "Where Did Our Love Go".
Dusty with one of her biggest hits ...
1964: The Supremes slid into the #1 spot with "Where Did Our Love Go", taking over from Dean Martin's "Everybody Loves Somebody". The Beatles remained at #3 with "A Hard Day's Night" while the Drifters were up to 4 with "Under The Boardwalk" and the Animals were already up to #5 since the release of "The House Of The Rising Sun" three weeks previous. The rest of the Top 10: "C'mon And Swim" from Bobby Freeman, the Dave Clark Five moved from 14 to 7 with "Because", the Ventures" were at position number eight--"Walk-Don't Run '64", Dusty Springfield with "Wishin' And Hopin'" and Gerry & the Pacemakers scored a Top 10 hit with "How Do You Do It?".
1965: The Beatles performed two shows at Memorial Coliseum in Portland, Oregon. Mike Love and Carl Wilson of the Beach Boys stopped by between shows to meet the group.
1966: The Association released the single "Cherish".
1966: Jerry Lee Lewis signed a contract to play Iago in the London production of Catch My Soul, a rock version of Shakespeare's play Othello.
1968: Cynthia Powell Lennon countersued for divorce from John (John had sued for divorce previously).
1968: Ringo Starr temporarily quit the Beatles during sessions for The White Album but later returned.
1969: The Beatles gathered at John Lennon's home in Tittenhurst Park, England for their final photo session together, two days after their final recording session together.
1970: Elton John signed a recording contract with UNI, a division of MCA Records.
1970: Elvis Presley announced his first nationwide tour since 1958. Some of the dates were filmed for the documentary Elvis--That's The Way It Is.
1970: Derek and the Dominoes were in concert at the Van Dike Club in Plymouth, Devon, England.
1970: The Moody Blues captured the #1 spot on the Album chart in the U.K. with A Question of Balance.
Sugarloaf with one of the best keyboard solos by Jerry Corbetta...
1970: Sugarloaf had the fastest-rising song of the week with "Green-Eyed Lady", which moved from 92 to 65 on this date.
1970: B.J. Thomas was on top of the Easy Listening chart with "I Just Can't Help Believing".
Clarence Carter had a winner with "Patches" ...
1970: Bread reached #1 with their first hit--"Make It With You". That ended a five-week reign for the Carpenters' classic "(They Long To Be) Close To You". Eric Burdon & War were up to #3 with "Spill The Wine" while the song "War" was at #4 for Edwin Starr. The rest of the Top 10: Mungo Jerry with "In The Summertime", Stevie Wonder had #6--"Signed, Sealed, Delivered (I'm Yours)", Clarence Carter moved from 16 to 7 with "Patches", Freda Payne's "Band Of Gold", B.J. Thomas moved into the list with "I Just Can't Help Believing" and one of the great One-Hit Wonders of the Rock Era*, "Tighter, Tighter" by Alive & Kicking was still alive at #10.
1971: Bob Dylan, Peter, Paul & Mary and Joan Baez were at the Odeon Theatre in Edinburgh, Scotland.
1974: Carole King released her single "Jazzman".
1974: The Eagles played the Music Inn in Lenox, Massachusetts.
1975: U.F.O. and Hawkwind helped kick off the three-day Reading Festival in Reading, England.
1977: Peter Frampton played the first of three sold-out nights at Madison Square Garden.
1979: Led Zeppelin released their final studio album In through the Out Door.
1980: Queen performed at the Spectrum in Philadelphia, Pennsylvania.
1981: The Carpenters collected their 15th #1 song on the Adult Contemporary chart with "Touch Me When We're Dancing".
Foreigner's "Woman in Black"...
1981:
4
moved up to #1 on the Album chart for Foreigner after just five weeks. That meant a short stay for Pat Benatar with
Precious Time
. Stevie Nicks was up big with
Bella Donna
(12-3), Journey were at #4 with
Escape
and the Moody Blues had #5--
Long Distance Voyager
. The rest of the Top 10: Kenny Rogers owned #6 with
Share Your Love
, Billy Squier slid up to #7 with
Don't Say No
, Rick James had the #8 album with
Street Songs
, Rick Springfield entered the Top 10 with
Working Class Dog
and Air Supply maintained at 10 with
The One That You Love
.
1981: "Endless Love", the duet by Diana Ross & Lionel Richie, was #1 on the R&B chart.
1983: Kenny Rogers & Dolly Parton released the single "Islands In The Stream".
1987: Bon Jovi was the main attraction at the Monsters of Rock Festival at Donington Park in Castle Donington, Leicestershire, England.
The talented Debbie Gibson had a Top 10 smash...
1987: "Who's That Girl" by Madonna became her sixth number one and 13th consecutive Top 10 song. "La Bamba" by Los Lobos moved up to challenge, Suzanne Vega was at 3 with "Luka" and Richard Marx was up to #4 with "Don't Mean Nothing". The rest of the Top 10: "I Want Your Sex" by George Michael, U2 fell from #1 with "I Still Haven't Found What I'm Looking For", Debbie Gibson edged up with "Only In My Dreams", the Whispers found the Top 10 with "Rock Steady", T'Pau slipped with "Heart And Soul" and the first single from Bad by Michael Jackson (with Siedah Garrett on this one)--"I Just Can't Stop Loving You" moved from 16 to 10.
1988: PBS-TV broadcast the documentary Aretha Franklin - Queen of Soul.
1992: "End Of The Road" by Boyz II Men was the new #1 song on the R&B chart.
1997: U2 played the first of two sold-out concerts at Wembley Stadium in London. The superstars performed a medley of material and six full-length songs during their encore.
1999: Prince appeared with Sheryl Crow on the Lilith Fair Tour in Toronto to sing "Everyday Is A Winding Road".
1999: Geri Halliwell, formerly with the Spice Girls, topped the U.K. chart with "Mi Chico Latino".
1999: Travis owned the top U.K. album with The Man Who.
2001: The album
Junichiro Koizumi Presents: My Favorite Elvis Songs
was released exclusively in Japan. The album is a collection of Elvis Presley songs chosen by the prime minister.
2001: Stevie Nicks postponed two concerts for treatment of severe bronchitis.
2002: Caroline Corr, drummer of the Corrs, married Frank Woods in a candelit church on the Spanish island of Mallorca.
2003: Pink sent an open letter to Prince William of England requesting that he stop hunting.
2003: Metallica, System of a Down, Sum 41, Primal Scream, Good Charlotte, and the Lostprophets were among those who performed on the opening day of the U.K. Carling Reading Festival.
2004: Natasha Bedingfield's "These Words" was the #1 song in the U.K.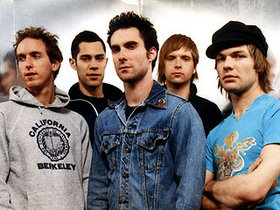 2004: Maroon 5 had the #1 album in the U.K. with
Songs About Jane.
2006: Tom Chaplin of Keane announced that he was undergoing treatment for drinking and drug problems.
"The time has come to get the professional help I need to sort myself out," he said.
2006: The City of Augusta, Georgia named its Civic Center after native son James Brown.
2008: Rage Against the Machine and Queens of the Stone Age headlined the opening day of the Carling Weekend Reading Festival in Leeds and Reading, England.
2009: Johnny Horton and guitarist James Burton were inducted into the Louisiana Music Hall of Fame.
2011: Jerry Leiber, who along with Mike Stoller, wrote many of Elvis Presley's big early hits, including "Hound Dog" and "Jailhouse Rock", as well as "Kansas City" for Wilbert Harrison, "Stand By Me" for Ben E. King and "On Broadway" for the Drifters, died in Los Angeles of cardiopulmonary failure at the age of 78.
2011: Nickolas Ashford of the duo Ashford & Simpson, who wrote songs such as "Ain't No Mountain High Enough", "You're All I Need To Get By", "Ain't Nothing Like The Real Thing", and "I'm Every Woman" with wife Valerie Simpson, and who also was a stellar producer, died at the age of 70 from throat cancer (Note: Rolling Stone incorrectly reports that he was 69, and some websites incorrectly say he was 71. According to reputable sources such as the newspapers 'The New York Times' and 'The Washington Post', Ashford was 70.)

Born This Day:
1936: Dale Hawkins, who had the original hit of "Susie-Q", was born on a plantation in Goldmine, Louisiana; died February 13, 2010 from colon cancer in Little Rock, Arkansas.
1941 Howard Grimes, who was a session drummer for Al Green, Rufus Thomas and Otis Clay, was born in Memphis, Tennessee.
1942: Joseph Chambers of the Chambers Brothers ("The Time Has Come Today') was born in Forest, Mississippi.
1944: Gary Withem of Gary Puckett & the Union Gap was born in San Diego, California. (Note: several websites report he was born in 1946. According to the book 'Echoes of the Sixties' by Marti Smiley Childs and Jeff March, Gary was born in 1944.)
1945: Ron Dante, singer and songwriter for the Archies and Cufflinks ("Tracy" from 1969), was born in Staten Island, New York.
1947: David Leon "Billy" Knight, brother of Gladys Knight, who played percussion on many songs such as "Midnight Train To Georgia" and "The Way We Were", was born in Atlanta, Georgia; died December 4, 2002 in Las Vegas, Nevada.
1947: Donna Godchaux, who sang backing vocals on "Suspicious Minds" for Elvis Presley, "When A Man Loves A Woman" for Percy Sledge, and on Boz Scaggs's first solo album at the famous Muscle Shoals Sound Studios, and later helped Grateful Dead on vocals, was born in Muscle Shoals, Alabama.
1948: David Marks, an early member of the Beach Boys, was born in Newcastle, Pennsylvania.
1958: Ian Mitchell, guitarist of the Bay City Rollers, was born in Downpatrick, County Down, Northern Ireland.
1958: Vernon Reid of Living Colour was born in London.
1961: Debbie Peterson, vocalist and drummer of the Bangles, was born in Los Angeles, California. (Note: some websites naively say she was born in Northridge, Los Angeles, California. Northridge is a neighborhood, not a city, and you will never see it on Debbie's official birth certificate.)
1961: Roland Orzabal, singer-songwriter and co-founder of Tears for Fears, and later a producer, was born in Portsmouth, Hampshire, England.
1963: Tori Amos was born in Newton, North Carolina.
1963: James DeBarge of DeBarge was born in Detroit, Michigan.
1967: Layne Staley, co-founder, co-songwriter and lead singer of Alice in Chains, was born in Kirkland, Washington; died April 5, 2002 of a mix of heroin and cocaine--his drug addiction left him at 86 pounds when his body was discovered on April 19.
1972: Paul Doucette, rhythm guitarist and drummer of Matchbox 20, was born in North Huntington, Pennsylvania. (Note: some websites report Paul was born in Pittsburgh, Pennsylvania. He was born in North Huntington, a suburb about 15 miles from Pittsburgh.)
1973: Howie Dorough of the Backstreet Boys was born in Orlando, Florida.
1978: Jeff Stinco, lead guitarist of Simple Plan, was born in Montreal, Quebec, Canada.