Tony Burrows is a unique individual. You don't see too many "session vocalists" that are actually lead singers on a song. Burrows excelled at it.
Burrows began his career in the early 60's as part of a vocal group called the Kestrels and joined the Ivy League (the group not the collegiate conference!) The Ivy League soon evolved into the Flower Pot Men, which had a hit in the UK called "Let's Go to San Francisco". An interesting side note to the Flower Pot Men is that two musicians who would go on to found the group Deep Purple were in the Flower Pot Men.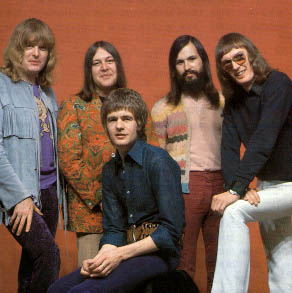 Burrows (in front) with White Plains
Not only was Burrows one of the only session vocalists to sing lead, but he has the distinction of singing lead for four different groups in 1970, all of whom had top ten hits. That's Burrows' voice you hear on "Love Grows (Where My Rosemary Goes) by Edison Lighthouse, "My Baby Loves Lovin'" from White Plains, "United We Stand" by Brotherhood of Man and the novelty song "Gimme Dat Ding" by the Pipkins. Burrow also sang lead on the #1 song "Beach Baby" by the First Class in 1974.
Burrows also sang on the "I'd Like To Teach the World to Sing", the Coca Cola commercial in 1971, and on songs by 20 different artists including Elton John (including "Levon" and "Tiny Dancer"), Rod Stewart, Cliff Richard, Tom Jones and James Last.