You will find several lists of the top instrumentals so this one is far from being the only one. I tried to base it on what the public thinks, leaving my personal bias out of it. For it doesn't matter what a so-called "expert" or professional in the music business thinks. History will always record what the public believes.
So I base a good deal of this list on chart performance at the time, single and album sales to this point in history, and how the song holds up today. I have put a considerable amount of time and effort into coming up with this list. Although I believe it contains The Top 100 Instrumentals of the Rock Era*, it doesn't start getting great until the top 85 or so.
What is great about instrumentals is that the songwriter is free to focus solely on the music. Artists today have gotten away from that--when you strip the song from its jive and 21st century sound effects, all you have is the music. By listening to these instrumentals, hopefully we'll get back to what matters when composing a song.
Of course, I do realize that beginning in the 1980's, we as a society began cutting music programs to the bone so really we have only ourselves to blame for the poor quality of "music" these days. I know my own knowledge of music (I play the saxophone, clarinet and have played piano since age 5 and was in a group of 12 that was selected to sing at our church's world conference in Portland, Oregon and then toured throughout the country...) would not have been as great were it not for music education in the schools. I hope we can get back to providing more funds for that, to stimulate our children's interest in music.
Getting back to the other "lists" you may see on the web. They are great, but what is a music site without music?! Thus, you actually get to hear the songs that are in the list. Many I was not familiar with until I started researching for this special.
For navigation, the song titles are below the embedded YouTube video. For ease of use, I am separating the special into 10 segments of 10 songs each. The next segment of 10 songs will be on the blog July 3.
I strongly recommend playing each song in order--with any luck (if I've done my homework (and I have!)), each one should sound better than the last. At least that's the goal.
Enjoy!
90. "Lollipops and Roses" by Herb Alpert & the
Tijuana
Brass
"Lollipops and Roses" was originally done by Tony Velona. Alpert took jazz elements and mixed them with a style he invented and became famous for called "Mexicali". Keyboardist Leon Russell, under the pseudonym Russell Bridges, plays on the song as does famous session drummer Hal Blaine. The song became famous as one of the songs of the television show "The Dating Game". It was one of the top tracks on the album Whipped Cream & Other Delights, which not only reached #1 for eight weeks in 1965 but spent 61 weeks in the Top 10 (#8 All-Time) and 185 on the chart (#35 All-Time).
89. "Bongo Rock" by
Preston
Epps
Epps learned to play percussion while stationed at Okinawa in the U.S. Korean War. After his military service, Epps played in coffee shops in Southern California and soon was signed to Original Sound Records. "Bongo Rock" was released in 1959 and reached #14. Epps' song inspired the Surfaris hit "Wipe Out", which may be coming up in The Top Instrumentals of the Rock Era*.
88. "Cannon Ball" by Duane Eddy
Eddy began playing guitar at age five and, after his family moved to Arizona, began performing as a duo with Jimmy Delbridge. The two played songs at KCKY in Coolidge, Arizona and it was there that they met disc jockey Lee Hazelwood. Hazlewood became Eddy's producer and not only liked Eddy's technique of playing lead on the bass strings of his guitar, but accentuated it through his production of the records.
Eddy

was inducted into the Rock & Roll Hall of Fame in 1994.


87. "Space Race" by Billy Preston





Preston began playing piano and organ at age three and at age 10 he was performing with Andrae Crouch and Mahalia Jackson. He earned his living as a highly sought-after session musician before venturing out and becoming a successful solo performer. Most notably, Preston played electric piano and the Hammond organ on "Get Back" by the Beatles. He also played for acts such as the Rolling Stones, Nat King Cole, Ray Charles, Elton John, Eric Clapton, Bob Dylan, Aretha Franklin, the Jackson 5, Peter Frampton, Johnny Cash, Neil Diamond, Norah Jones and many others.
"Space Race" reached #4 in 1973 and sold a million copies.
86. "
Asia Minor
" by
Kokomo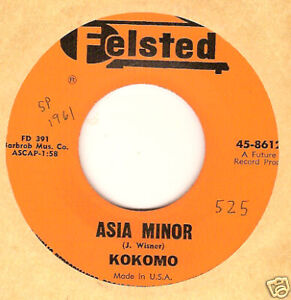 Jimmy Wisner was a pianist, arranger, songwriter and producer who used the name Kokomo to market his single "Asia Minor". He began as a classical pianist and in 1959, formed the Jimmy Wisner Trio, backing musicians including Mel Torme. Wisner released several jazz albums but recorded a rock & roll adaptation of Edward Grieg's "Piano Concerto in A Minor" using shellac on the hammers of a cheap piano to achieve the sound he wanted. Wisner released the song under the name Kokomo because he didn't want to alienate his jazz fans. Turned down by over 10 record companies, Wisner released the track on his own label Future Records. The song was released in 1961 and became a #8 hit. Wisner later wrote "Don't Throw Your Love Away" for the Searchers, and was a producer and arranger for Neil Sedaka, Barbra Streisand, Tommy James, Carly Simon, Tony Bennett, Judy Collins and many others. Wisner also was the head of Columbia Records' A&R Department for a while as well.
85. "In the Mood" by Ernie Field's Orchestra
Fields was the son of saxophonist and bandleader Ernie Fields, Jr. The younger Fields alternated between big band, swing and R&B and after moving to Los Angeles, formed the house band for Rendezvous Records. The great Glenn Miller wrote this song during World War II to entertain soldiers. It was Miller's greatest hit and has since been covered by hundreds of artists. It is safe to say that by now, "In the Mood" is one of the top songs ever recorded
. Ernie Field and his Orchestra released their version of 1959 and enjoyed an international hit, reaching #4 in the United States. The song remained on the singles chart for 19 weeks and sold over a million copies.
Fields also played with the Marketts ("Last Night") and the Routers.




84. "Alley Cat" by Bent Fabric and His Piano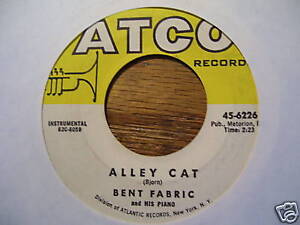 "Bent Fabric, whose real name was Bent Fabricus-Bjerre, was a Danish piano player. Fabric led a jazz band in the 1940's before making the move to popular music in the 50's as head of Denmark's Metronome Records. This song became the theme for a Danish television show that he hosted. It reached #2 on the Adult Contemporary chart and #7 on the popular chart. Alley Cat" won the Grammy for Best Instrumental in 1962. In many parts of Mexico, vendors will drive around neighborhoods blasting the song on loudspeakers to get children to come outside and buy ice cream.
83. "Desafinado" by Stan Getz & Charlie Byrd
Stan Getz was a legendary tenor saxophone player who played for band leaders such as Jimmy Dorsey and Glenn Miller. He was largely responsible for the bossa nova craze. Antonio Carlos Jobim contributed many songs to Getz over the years and it was quite a combination. Desifinado is a Portugese word meaning "out of tune" or "off key". Getz teamed with Jaoa Gilberto in 1963 to record Getz/Gilberto, one of The Top 100 Albums of the Rock Era*. That album also includes a good version of this song, but it is this combination with Charlie Byrd that is a member of The Top 100 Instrumentals of the Rock Era*. "Desifinado" reached #4 on the Easy Listening Chart and #15 on the popular
survey.
82. "Tonight" by Ferrante & Teicher
Arthur Ferrante and Louis Teicher were a popular duo of American piano players who met while studying at the famous Julliard School of Music in New York City. Both were musical prodigies and later returned to Julliard as members of the faculty. They began playing in night clubs but soon were performing classical music with a full orchestra. Ferrante and Teicher would play music from George Gershwin, Cole Porter, Richard Rodgers and others. The duo would include piano sounds achieved by adding paper, sticks, metal bars, glass and other objects to piano string beds that would result in strange sounds that gave the effect of percussion instruments.
"Tonight" was written by Ernest Gold for the 1960 movie "Exodus", starring Paul Newman, Eva Marie Saint, Peter Lawford, Lee J. Cobb, Sal Mineo and John Derek. Gold won an Oscar at the Academy Awards for Best Original Score and Mineo also won an award for Best Supporting Actor. Gold also won Grammies for Best Soundtrack Album and Song of the Year for "Tonight", still the only instrumental to win that coveted award. The song has been recorded by hundreds of artists, but never better than Ferrante and Teicher. The duo reached #2 for four weeks on the Adult Contemporary chart while the song hit #5 on the popular chart.
Ferrante and Teicher later recorded the theme for Rod Serling's radio drama series "The Zero Hour" on Hollywood Radio Theater.
81. "The Work Song" by Herb Alpert & the Tijuana Brass
Alpert attended University of Southern California in Los Angeles and was a member of the Trojan marching band for two years. He was one of the trumpet players in the 1956 classic movie "Ten Commandments". Alpert wrote the hits "Wonderful World" for Sam Cooke and "Alley Oop" for the Hollywood Argyles before forming the Tijuana Brass and later founding A&M Records with Jerry Moss. Alpert and the Brass were huge stars in the 1960's, never more so than 1966 when five of their albums were ranked in the Top 20 simultaneously. That feat has never been repeated and at the end of the year, the group's sales exceeded 13 million, more than the Beatles.
"The Work Song" is one of the lead tracks on the album S.R.O., a #2 album for six weeks in December of 1966.