The story of Jim Croce is not a common one. He was born in Philadelphia, Pennsylvania and learned to play the accordion at age five.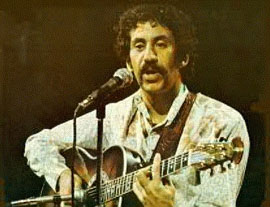 After graduating from Upper Darby High School in Drexel Hill, Pennsylvania, Croce first enrolled at Malvern Prepatory School before deciding to go to Villanova University. While there, he joined the Villanova Singers and Villanova Spires and was a student disc jockey at WKVU. He formed various bands that would perform at fraternity parties, coffee houses and at the many universities in the Philadelphia area. One of those bands was chosen for a foreign exchange tour of Africa and the Middle East.
Croce met future wife Ingrid Jacobson during a hootenanny at Philadelphia Convention Hall, where Jim was judging a contest. The two performed as a duo for several years, singing covers of songs by Joan Baez, Gordon Lightfoot and others, but eventually started writing their own music. Their first permanent gig was at the Riddle Paddock, a rural bar and steakhouse in Lima, Pennsylvania.
Noted record producer Tommy West encouraged the pair to move to New York City and record their first album, Jim & Ingrid Croce, on Capitol Records. The couple drove all over, playing small clubs and concert houses. But neither Jim nor Ingrid enjoyed the big city nor the music business in general. Jim sold all but one of his guitars to pay the rent and then the couple moved back to the Pennsylvania countryside. Jim continued to write songs, often about some of the characters he had met at local bars and truck stops. But he also got a job driving trucks and working construction to help pay the bills. He briefly got a job at WHAT-AM in Philadelphia selling airtime and writing copy for commercials. Jim didn't particularly like this job either and he quit to teach guitar during the summer and enlisted in the U.S. Army.
In 1970, Joe Salviuolo, who had been friends with Croce at Villanova, introduced him to classically-trained pianist and guitarist Maury Muehleisen. Salviuolo also arranged for Croce and Muehleisen to perform for Tommy West and Terry Cashman in New York City. Croce was signed by ABC Records for a three-record deal. Finally, he was on his way.
In a little over a year, Croce had three major hit songs ("You Don't Mess Around with Jim", "Operator (That's Not the Way It Feels" and "Bad, Bad, Leroy Brown" and was one of the brightest new stars to come around in a long time. The last two became #1 songs. In addition to those, "One Less Set of Footsteps" (which is one of The Top Unknown/Underrated Songs of the Rock Era*) and "It Doesn't Have To Be That Way" were also hits.
To promote his music, Croce and Muehleisen performed in concerts around the country. They had just completed a show at Prather Coliseum on the campus of Northwestern State University in Natchitoches, Louisiana on September 20, 1973 and headed off to Sherman, Texas, for concert at Austin College. Croce, Muehleisen, booking agent Kenneth D. Cortose, road manager Dennis Rast and comic George Stevens, who was the opening act, boarded a light plane. The plane was not high enough on takeoff and crashed into a pecan tree at the end of the runway at about 10:45 p.m. Eastern time, killing all aboard.
It is believed that the 57 year-old pilot, Robert Newton Elliott, who had run three miles to the airport from a motel, may have suffered a heart attack. Elliott had logged 14,290 hours of flight time, with 2,190 of those in the type of plane he was flying.
Croce's third album, I Got a Name, was released December 1 of 1973. Croce had finished work on the LP the week before his death. It continued the success of Croce's first two albums with three more hits--"Workin' at the Car Wash Blues", "I'll Have to Say I Love You in a Song", and the title track. "Time in a Bottle", included on Croce's debut album You Don't Mess Around with Jim, was featured in the television movie She Lives! starring Desi Arnez, Jr. That exposure, plus Croce's tragic death, generated new interest in his music and "Time in a Bottle" reached #1 on December 29, 1973. It thus became the third single to reach #1 posthumously, after Otis Redding's "(Sittin' On) The Dock of the Bay" and Janis Joplin's "Me and Bobby McGee".
The down-to-earth music and vibrant spirit of Jim Croce lives on. Photographs and Memories, a greatest hits package assembled by ABC, did extremely well. Several other album packaged have been released in the years since. In 1990, Croce was elected to the Songwriter's Hall of Fame. The appeal of his music is evidenced that a majority of his singles are still played nearly four decades after his death.
Croce's son, A.J., is now an accomplished singer-songwriter in his own right, having released seven CD's. Croce's widow Ingrid, owns and manages
Croce's Restaurant & Jazz Bar
in the Gaslamp Quarter in downtown San Diego, California. The business has been going strong since 1985.
Croce was buried at Haym Solomon Cemetery in Malvern, Pennsylvania.