1961: It was only October, but Jimmy Dean would have the final #1 for the year on the Easy Listening chart as "Big Bad John" ruled for its first of 10 weeks on this date.
1961: Dion grabbed the reins from Ray Charles' song "Hit The Road Jack" with "Runaround Sue", the new #1 song.
1962: Steveland Morris Judkins recorded the song "Thank You For Loving Me All The Way" at the age of 12. He would later be known as Little Stevie Wonder and then as the great Stevie Wonder.
1963: The Beatles recorded "I Wanna' Be Your Man", a song originally written by John Lennon and Paul McCartney to provide friends the Rolling Stones with a hit song.
1963: The Beatles flew to Sweden to begin a tour.
1963: Bob Dylan began to record "The Times They Are A-Changin'" at Columbia Recording Studios in New York City.
1964: J. Frank Wilson, who sang of a fatal car crash in his hit "Last Kiss" released in August, was injured and the producer of that song was killed in a head-on car crash in Lima, Ohio.
1965: It was evident that Len Barry had a hit as his song "1-2-3" moved from 48 to 19.
The Gentrys from a fun time to be alive...
1965: "Yesterday" by the Beatles spent a third week at #1. "Treat Her Right" by Roy Head remained at #2 and, despite a 19-4 move the week before, the Toys were slowed down with "A Lover's Concerto". The Rolling Stones bounced into the Top 10 with "Get Off Of My Cloud". The rest of the Top 10: The Gentrys and "Keep On Dancing", the former #1 "Hang On Sloopy" by the McCoys, Herman's Hermits were stuck at #7 with "Just A Little Bit Better", Gary Lewis & the Playboys told us that "Everybody Loves A Clown", Bob Dylan moved from 18-9 with one of four Top 10 songs that he would have in his career and the Vogues had a winner with "You're The One".
1966: The Jimi Hendrix Experience went into De Lane Lea studios in London and recorded their first single--"Hey Joe".
1966: The New Yardbirds, with elite guitarist Jimmy Page now on board, performed at the Fillmore in San Francisco, California.
1968: The movie Live a Little, Love a Little by Elvis Presley was released.
1970: John Lennon completed work on his first solo studio album
John Lennon/Plastic Ono Band
.
1971: Rod Stewart ruled for a fourth week on the Album chart with
Every Picture Tells a Story
. He held off
Imagine
from John Lennon while
Shaft
by Isaac Hayes was third. Santana made a nice move from 13 to 4 with
Santana III
while Carole King from Stanley, Idaho was still in the group with her masterpiece
Tapestry
. The rest of the Top 10: The Moody Blues and
Every Good Boy Deserves Favour
, the Carpenters and their self-titled release, Cat Stevens with
Teaser and the Firecat
,
Ram
from Paul & Linda McCartney at #9 and
Who's Next
by the Who.
1971: "Imagine" by John Lennon debuted all the way up at #20.
The Stampeders had this great-sounding song...
1971: One of The Top 100 Songs of the Rock Era*--"Maggie May" remained king on this day for Rod Stewart. It had to be a pretty good song to keep "Superstar" by the Carpenters away from #1. The Osmonds were singing about a "Yo-Yo" while Cher made her move (10-4) with "Gypsys, Tramps & Thieves". Joan Baez, meanwhile, took a more serious tone with "The Night They Drove Old Dixie Down" at #5. The rest of the Top 10: Lee Michaels with his only hit "Do You Know What I Mean", Donny Osmond ventured off for a solo hit with his remake of the Steve Lawrence song "Go Away, Little Girl", the Stampeders' great song "Sweet City Woman" was at #8, Isaac Hayes moved from 50 to 9 (how's that for a hot song?) with "Theme From 'Shaft'" and Stevie Wonder's 27th career hit "If You Really Love Me" was at #10.
1972: Ringo Starr, Keith Moon and David Essex began filming for the musical That'll Be the Day.
1976: Led Zeppelin performed "Black Dog" and "Dazed and Confused" for their television debut in the United States on Don Kirshner's Rock Concert.
1976: "Fernando" by ABBA once again set the standard on the Easy Listening chart.
1976: The Spinners' fun song "Rubberband Man" was on top of the R&B chart.
If you like light jazz, the 'Breezin' album is for you...
1976: "Breezin" by George Benson was one of the fastest-rising songs, moving from 90 to 77.
1976: Although it was their 22nd hit and 11th Top 10, supergroup Chicago scored their first #1 on this date with "If You Leave Me Now". Rick Dees had to surrender with "Disco Duck". What a shame. Otherwise, a pretty dynamite Top 10 with Walter Murphy's "A Fifth Of Beethoven" still in the list after 22 weeks, the great Boz Scaggs song "Lowdown", Orleans with "Still The One" and Wild Cherry's former #1 "Play That Funky Music". The rest of the Top 10: "(Shake, Shake, Shake) Shake Your Booty" by K.C. and the Sunshine Band, Hall & Oates were up with "She's Gone" and two great new entries--"Love So Right" from the Bee Gees, which moved from 16-9 and "Rock 'N Me" by Steve Miller.
The incomparable Stevie Wonder...
1976: It was one of the better times for albums in the Rock Era. Stevie Wonder picked up where he left off the week before at #1 with the amazing Songs in the Key of Life. Frampton Comes Alive! by Peter Frampton moved back up to #2 in his 39th week, Steve Miller Band was at #3 with Fly Like An Eagle and Earth, Wind & Fire moved from 15 to 4 with their best album Spirit. The rest of the Top 10: The great Silk Degrees from Boz Scaggs, Linda Ronstadt's fine Hasten Down the Wind album, Fleetwood Mac in its 65th week of release, the self-titled Wild Cherry, Chicago X from Chicago and newcomer Heart appeared with Dreamboat Annie at #10.
1978: Two great songs were released on this Monday in Rock Era history--Neil Diamond & Barbra participated in one of the greatest collaborations of the Era--"You Don't Bring Me Flowers".
1978: Gloria Gaynor released the single "I Will Survive".
1982: Culture Club rose to #1 in the U.K. with "Do You Really Want To Hurt Me".
1982: Neil Diamond's 40th hit on the Adult Contemporary chart became his eighth #1 on this date--a song inspired by the movie E.T.--"Heartlight".
1982:
American Fool
by John Cougar (Mellencamp) remained #1 for the seventh week on the Album chart. Fleetwood Mac's
Mirage
had to stay at #2 for a sixth week and the Steve Miller Band held on to #3 with
Abracadabra
. Bruce Springsteen moved from 29-4 with
Nebraska
, although it wouldn't go much higher. Billy Squier's
Emotions in Motion
remained at #5.
Movie Magic: Joe Cocker and Jennifer Warnes...
1982: John Cougar (Mellencamp) enjoyed his stay at #1 for a fourth week with "Jack & Diane". The only new entry in the Top 10 was the song from the epic movie An Officer & a Gentleman starring Richard Gere and Debra Winger--"Up Where We Belong" by Joe Cocker & Jennifer Warnes.
1984: Sade performed at the City Hall in Newcastle, England.
1987: The movie Who's That Girl starring Madonna opened in London.
1989: Nirvana played in Europe for the first time at the Riverside Club in Newcastle, England.
1991: Mariah Carey released the single "Can't Let Go".
1993: As it turned out, the U.K. likes Meat Loaf. Meat had the top song with "I'd Do Anything For Love (But I Won't Do That)".
1993: Take That topped the U.K. Album chart with Everything Changes.
1993: Janet Jackson debuted at #15 with her great song "Again".
1993: Another of The Top 100 Songs of the Rock Era* was the toast of the nation on this date. Mariah Carey remained at #1 for a seventh week with "Dreamlover".
1995: A jury in Houston, Texas convicted the murderer of Selena. The low-life got life in prison.
1995: Def Leppard set a world record by playing three concerts in three continents in 24 hours. The tireless band performed in Tangier, London and Vancouver, British Columbia, Canada.
2005: Lou Rawls gave his final performance when he sang the United States national anthem prior to the beginning of Game Two of the 2005 World Series.
2005: The Arctic Monkeys had the top song in the U.K. with "I Bet You Look Good On The Dancefloor".
2005: The Prodigy had the #1 album in the U.K. with their greatest hits package Their Law.
2007: We have to have an episode of Dangerous Inmates Run Rap Music or someone might have the impression that it was worthwhile. On this date, rapper Foxy Brown, who was serving a year in jail for a fight she started at a nail salon of all places, was given 11 weeks in solitary confinement for starting a fight with another inmate. I think we have our solution for taking care of one of the world's problems--put all rappers in solitary confinement for the rest of their lives.
2009: Connie Francis Court at the corner of Greylock Parkway and Forest Street was dedicated to the popular 1950's singer in her home town of Belleville, New Jersey.
Born This Day:
1934: Lewis Merenstein, producer of the landmark Van Morrison album
Moondance
as well as
Astral Weeks
, was born in Baltimore, Maryland; died September 6, 2016 of pneumonia in New York City.
1939: Charles Foxx , who had the hit "Mockingbird" with his sister Inez, was born in Greensboro, North Carolina; died September 18, 1998 of leukemia in New York City.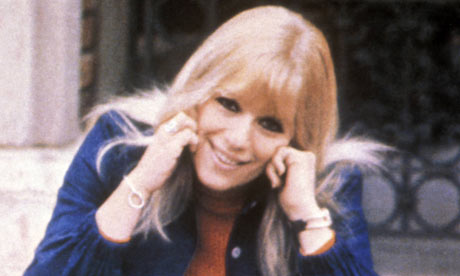 1940: Ellie Greenwich, songwriter with Jeff Barry on "Leader Of The Pack" by the Shangri-Las, "Be My Baby" by the Ronettes, "River Deep, Mountain High" for the Supremes & Four Tops and many others, was born in Brooklyn, New York; died of a heart attack in New York City August 26, 2009.
1940: Fred Marsden, drummer of Gerry and the Pacemakers, was born in Liverpool, England; died of cancer December 9, 2006 in Southport, England.
1943: Barbara Ann Hawkins of the Dixie Cups was born in New Orleans, Louisiana.
1947: Greg Ridley, bass guitarist of Spooky Tooth and Humble Pie, was born in Aspatria, Cumberland, England; died November 19, 2003 in Jávea, Spain of pneumonia and resulting complications. (Note: some sources claim he was born in Carlisle, but according to "The News and Star' newspaper, the family moved to Carlisle when Greg was 13.)
1949: Michael Burston ("Wurzel"), guitarist of Motorhead, was born in Cheltenham, Gloucestershire, England; died July 9, 2011 of

ventricular fibrillation caused by heart muscle disease

.
1959: "Weird Al" Yankovic, a novelty artist who is one of a kind, was born in Downey, California. (Note: some websites claim Yankovic was born in Lynwood--according to most sources, he was born in Downey and then moved to Lynwood.)
1964: Roberto Trujillo, bassist for Ozzy Osbourne and Metallica (since 2003), was born in Santa Monica, California.