One of the top hard rock groups of the Rock Era, this band started out strong in 1976 with their debut album and generated a tremendous following from the beginning. Here is the complete Lineup History for Foreigner:
Lead guitarist Mick Jones has been the one constant, remaining with the group from their founding in 1976 through the present day. Lead singer Lou Gramm, whose fiery vocals made Foreigner's songs jump right out at you, was with the group in two stints, from 1976-1991 and 1992-2005. Johnny Edwards filled in as lead singer during Gramm's absence. Dennis Elliott is the third-longest member in this great group, playing drums and percussion from 1976-1991. Al Greenwood was Foreigner's keyboardist from 1976-1981 (spotlighted on "Long, Long Way from Home"). Guitarist Ian McDonald was in the group in their greatest years from 1976-1981 and also contributed saxophone and keyboards. Bassist Ed Gagliardi played from 1976-1979.
Rick Wills
Gagliardi was the first to leave the supergroup, replaced by Rick Wills, who has played so long (1979 through 1992) that he's the bassist most associated with the group. McDonald and Greenwood left in 1981, with Mark Riviera taking over on guitar and Foreigner adding two keyboardists: Peter Reilich and Bob Mayo as Foreigner's membership became seven musicians. Riviera played through 1988 and then again for a short stint in 1991-1992. Reilich only stayed a little over a year, but Mayo remained with the group until 1989.
Larry Oakes filled in briefly on keyboards after Mayo left Foreigner, but the group went from 1989-1992 without a permanent keyboardist. Jack Allen Smith played drums in 1986, and Larry Aberman played just a year after Elliott left in 1991. Mark Schulman has had three different stints with the group, 1992-1995, 2000-2002 and he is the current drummer, having rejoined in 2011.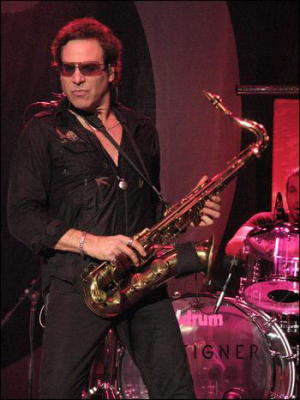 Thom Gimbel
The guitar spot backing Jones has been the most sporadic since Riviera left. Lou Cortelezzi (1988), Scott Gilman (1992 and 1993-1995) and Thom Gimbel (1992) filled that role. Gimbel got back together with the group in 1995 and stabilized the position, having been the group's guitarist for the last 18 years. Gimbel also contributes saxophone and flute.
Jeff Jacobs is another longtime member of the group, rekindling the famous keyboard sound of the group beginning in 1991. Jacobs played with Foreigner until 2000, then rejoined from 2001-2007.
Foreigner's other drummers have been Ron Wikso (1995-1998), Brian Tichy (1998-2000, 2007 and 2008-2010), Denny Carmassi (2002), Jason Bonham (son of Led Zeppelin's John Bonham), playing with the group from 2004-2008.
John Purdell (2000), Paul Mirkovich (2007-2008) and Michael Bluestein (2008-current) have been Foreigner's other keyboardists.
After Gramm permanently left the group, Chaz West took over as lead singer briefly in 2004 before Kelly Hansen became the frontman to this day.