1955: Bill Haley & the Comets recorded "See You Later Alligator".
1955: Elvis Presley, Carl Perkins and Johnny Cash were at the National Guard Armory in Armory, Mississippi.
1960: Elvis Presley had been around four years and already his career hit total was up to 43. Even better, he had the #1 song for the third straight week with "Are You Lonesome Tonight?"
1962: The Beatles performed two shows at the Cavern Club at lunch and yet another at night. That is how you get ahead.
1963: The Beatles owned the #1 song in the U.K. with "I Want To Hold Your Hand", their third #1 in their native land.
1964: Bobby Vinton climbed into the #1 position with "Mr. Lonely", holding off the Zombies and "She's Not There". "Ringo" fell with Lorne Greene while the Supremes made another bid for #1 with "Come See About Me" and "I Feel Fine" by the Beatles moved from 22 to 5 in its second week. The rest of the Top 10: "Time Is On My Side" from the Rolling Stones, the Kinks with their signature song "You Really Got Me", a former #1 for the Supremes in "Baby Love", "I'm Gonna' Be Strong" from Gene Pitney and the Beach Boys checked in at #10 with "Dance, Dance, Dance".
1966: The Bob Crewe Generation released what would become one of The Top 100 Instrumentals of the Rock Era*--"Music To Watch Girls By".
1966: Pink Floyd was in concert at the Royal Albert Hall in London for the first time.
1969: John Lennon's Plastic Ono Band released Live Peace in Toronto 1969, recorded at the Toronto Rock & Revival Show on September 13.
1970: The Doors played what would be their last concert with lead singer Jim Morrison at the Warehouse in New Orleans, Louisiana.
1970: "Stoned Love" by the

Supremes

was the new #1 R&B song.
"Love Is Surrender" from the Carpenters' album 'Close to You'...
1970: Abraxas by Santana was #1 for the third week and Led Zeppelin III tried to move back up. The Carpenters' classic debut Close To You was third with newcomer James Taylor close behind with Sweet Baby James.
1970: The Bee Gees were on the move with their great song "Lonely Days", which jumped from 81 to 56.
1970: After 37 career hits, Smokey Robinson & the Miracles had a #1 song and it was a smash--"The Tears Of A Clown". The Partridge Family headed down with "I Think I Love You" and Brian Hyland peaked at 3 with "Gypsy Woman". The 5th Dimension led a second tier that was pretty dynamite--"One Less Bell To Answer" at #4, followed by the Jackson 5's "I'll Be There", George Harrison and "My Sweet Lord" was up to #6 after three weeks while Santana climbed from 17 to 7 with "Black Magic Woman". The rest of the Top 10: Badfinger's "No Matter What", Chicago reached #9 with "Does Anybody Really Know What Time It Is?" and the Guess Who closed the list with "Share The Land".
1971: Diana Ross began filming for the movie Lady Sings the Blues.
1974: Guitarist Mick Taylor quit the Rolling Stones.
1976: Ace Frehley, guitarist of Kiss, touched a short-circuited light bulb and was nearly electrocuted during a show at the Civic Center in Lakeland, Florida. He was carried from the stage but was able to return 10 minutes later to resume the show. (Note: scores of websites report the date of this event as December 11 in Lakeland. There was no concert in Lakeland that night; Kiss performed in Pembroke Pines, Florida on December 11. The correct date is December 12, as Ace confirmed in an interview with 'Guitar World'.)
1979: Paul McCartney & Wings performed in Birmingham, England on their farewell tour. Robert Plant and John Bonham of Led Zeppelin were among the fans in attendance.
1980: Marie Osmond began her television series on NBC.
1981: The Human League reached #1 in the U.K. with "Don't You Want Me".
1981: Barry Manilow's 11th career #1 on the Adult Contemporary chart remained there for a third week--"The Old Songs". Manilow had spent a total of 20 weeks at #1 all told.
1981: Foreigner chalked up a third week at #2 with "Waiting For A Girl Like You", although most stations had it #1. There were two great new Top 10's--Quarterflash with "Harden My Heart" at #9 and "Don't Stop Believin'" from Journey.
Journey's "Still They Ride", one of the great tracks on 'Escape'...
1981: The great rock album 4 by Foreigner was #1 for a fourth week. Ghost in the Machine from the Police remained second with Tattoo You from the Rolling Stones and Escape by Journey holding their positions. The rest of the Top 10: Raise! from Earth, Wind & Fire, Physical at 6 for Olivia Newton-John, Stevie Nicks was at #7 for the fourth week with Bella Donna, AC/DC debuted at #8 with For Those About to Rock We Salute You, Abacab held steady for Genesis and Rush was at #10 again with Exit...Stage Left.
1985: Dionne Warwick earned a star on the Hollywood Walk of Fame.
1985: Ian Stewart, keyboardist and founding member of the Rolling Stones, died of a heart attack while in the waiting room of a health clinic in London at age 47. He was of course kicked out by Stones manager Andrew Oldham because he "didn't have the right look". So he became their road manager.
1987: Good news for Michael Jackson--"The Way You Make Me Feel" was the new #1 song on the R&B chart.
1987: For the fourth week, Bill Medley & Jennifer Warnes enjoyed the #1 Adult Contemporary hit with "(I've Had) The Time Of My Life".
1987: George Michael moved into the #1 spot vacated by Belinda Carlisle's "Heaven Is A Place On Earth" with the title track from Faith.
1992: The Soundtrack to "The Bodyguard" moved to #1 on the Album chart, ahead of Eric Clapton's Unplugged. Michael Bolton remained at #4 with Timeless (The Classics) and Garth Brooks turned around with The Chase. Amy Grant moved from 14 to 6 with Home for Christmas and Garth Brooks' Christmas album Beyond the Season was #10.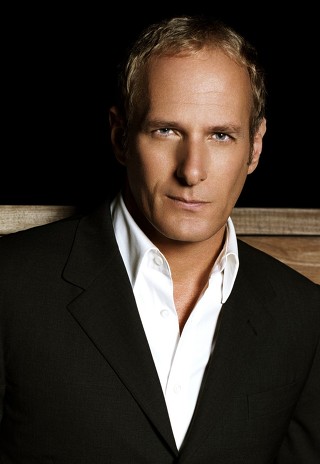 1992: Michael Bolton made it five weeks at #1 on the Adult Contemporary chart with the former Bee Gees hit "To Love Somebody".
1992: The count was up to three for weeks at #1 for Whitney Houston's "I Will Always Love You". Although Shai didn't know it at the time, they would have to settle for #2 with "If I Ever Fall In Love".
1995: The Beatles released their first new song in 25 years "Free As A Bird".
1997: John Fogerty began recording a two-hour television special for MTV (his live album Premonition) in Burbank, California.
"Whiskey in the Jar" by Metallica, a prime cut on 'Garage, Inc.'...
1997:
Double Live
by Garth Brooks continued to set the pace on the Album chart with the new Metallica--
Garage Inc.
second.
These Are Special Times
from Celine Dion was #3 while Jewel slipped with
Spirit
. The Backstreet Boys re-entered the Top 10 after 68 weeks of release with their debut.
1998: A seven-inch single by the Quarrymen (John Lennon, Paul McCartney and George Harrison) was destined to be the rarest record of all-time, and it was named as just that in the Rare Record Price Guide 2014. The group paid to record the single which was essentially a pep talk to salesmen at EMI Records. Just 50 copies were made with each valued at $20,500.
1999: Celine Dion's compilation All the Way, A Decade of Song was the #1 album.
2000: Richard Ashcroft, singer of the Verve, fell offstage in Birmingham, England and broke two ribs.
2003: Dave Matthews began a solo tour, accompanied by guest musicians on his solo album Some Devil, including Trey Anastasio, Emmylou Harris and Tim Reynolds.
2003: Mick Jagger, lead singer of the Rolling Stones, was knighted by Prince Charles at Buckingham Palace in London.
2007: A copy of John Lennon's book, A Spaniard in the Works, which contained a lock of Lennon's hair, sold for $48,000 at Gorringe's Auction House in London. Lennon had given the book to Betty Glasgow, the hairdresser for the Beatles.
Born This Day:
1915: Frank Sinatra was born in Hoboken, New Jersey; died of a second heart attack suffered on May 14, 1998 in Los Angeles.
1920: Dick James, music publisher who signed Elton John and Bernie Taupin to a contract, was born in London; died February 1, 1986 of a heart attack in London.
1938: Connie Francis was born in Newark, New Jersey.
1940: Dionne Warwick was born in East Orange, New Jersey.
1941: Terry Kirkman, singer, songwriter and keyboardist for the Association, was born in Salina, Kansas.
1941: Tim Hauser of Manhattan Transfer ("Boy From New York City" from 1981) was born in Troy, New York.
1943: Dickey Betts, elite guitarist with the Allman Brothers Band, was born in West Palm Beach, Florida. (Note: some websites report his birthplace as Jacksonville, Florida; according to Dickey, he was born in West Palm Beach, and he and his family moved to Jacksonville in 1967 or 1968.)
1943: Grover Washington, Jr., saxophonist and solo artist ("Just The Two Of Us") from 1981), was born in Buffalo, New York; died December 17, 1999 of a heart attack in New York City after recording four songs for The Saturday Early Show on CBS-TV.
1944: Rob Tyner, lead singer and co-founder of MC5, was born in Detroit, Michigan; died of a heart attack September 18, 1991 in Royal Oak, Michigan.
1945: Alan Ward, lead guitarist of the Honeycombs ("Have I The Right") was born in Nottingham, Nottinghamshire, England.
1946: Clive Bunker, drummer and co-founder of Jethro Tull, was born in Luton, Bedfordshire, England. (Note: some sources mistakenly put his birthday as December 30--it is on December 12, according to the official Jethro Tull website.)
1947: Graham Bonnett, lead singer of Rainbow and the Michael Schenker Group was born in Skegness, England.
1947: Ralph Scala, organist and vocalist of the Blues Magoos ("We Ain't Got Nothing Yet")
1948: Ray Jackson, lead singer, mandolin and harmonica player of Lindisfarne, was born in Wallsend, Newcastle upon Tyne, England.
1953: Dan Baird, lead singer and rhythm guitarist of the Georgia Satellites and a solo artist ("I Love You Period") was born in San Diego, California.
1953: Bruce Kulick, guitarist who played for Michael Bolton, Grand Funk Railroad, Meat Loaf and KISS, was born in Brooklyn, New York. (Note: some websites claim he was born in New York City; according to both 'Billboard' and 'Allmusic.com', he was born in Brooklyn.)
1959: Sheila E., percussionist for Prince, a solo artist ("The Glamourous Life"), session musician with Stevie Wonder, Mariah Carey, Celine Dion, Whitney Houston and Phil Collins and daughter of Pete Escovedo (drummer of Santana), was born in Oakland, California. (Note: some websites report her birthplace as San Francisco, but websites for Sheila E, Prince, and Pete Escovedo say Sheila was born in Oakland.)
1963: Eric Schenkman (real name Eric Lyons), guitarist of the Spin Doctors ("Two Princes"), was born in Toronto, Ontario, Canada. (Note: many websites state Eric's birthplace as Cambridge, Massachusetts, or simply Massachusetts. According to the official website for the Spin Doctors, Eric was born in Toronto.)
1967: Nick Dimichino, bassist of Nine Days (Note: some sources claim Nick was born on November 12--according to ABC News, he was born December 12.)
1968: Danny Boy (Daniel O'Connor) of House of Pain was born in Chicago, Illinois.
1976: Dan Hawkins, guitarist of the Darkness, was born in Chertsey, England.
1977: Dino Meneghin, guitarist of the Calling
1980: Carl Dalemo, bassist of Razorlight, was born in Lidkoping, Sweden.