1951: Frank Sinatra married actress Ava Gardner.
1953: Pat Boone married Shirley Foley.
1959: Smokey Robinson and Claudette Rogers of the Miracles were married.
1960: Elvis Presley began filming the movie Wild in the Country.
1960: Hank Ballard and the Midnighters were at #1 for a third week on the R&B chart with Let's Go, Let's Go, Let's Go".
Maurice Williams & the Zodiacs pleaded their way inside the Top 10...
1960: The Drifters held on to #1 with "Save The Last Dance For Me" with Brenda Lee's former #1 "I Want to Be Wanted" still at #2. Johnny Tillotson (9-3 for "Poetry in Motion") and Ray Charles' great song (10-4 for "Georgia On My Mind") enjoyed a nice move while Joe Jones was up with "You Talk Too Much". The rest of the Top 10: Connie Francis and "My Heart Has A Mind Of Its Own", Maurice Williams & the Zodiacs moved from 19-7 with "Stay", Hank Ballard & the Midnighters moved from 14-8 with "Let's Go, Let's Go, Let's Go", Roy Orbison surged into the Top 10 with "Blue Angel" and Bobby Vee fell with "Devil Or Angel".
1963: The Beatles played their only two shows ever in Ireland at the Adelphi Cinema in Dublin.
1964: Gale Garnett garnered a seventh week at #1 on the Easy Listening chart with "We'll Sing In The Sunshine".
1964: The Shangri-Las shot into the Top 10 as "Leader Of The Pack" moved from 14-5.
1967: Responding to an ad in the New Musical Express, Bernie Taupin and Elton John signed to DJM publishing.
1967: The Beatles recorded "Blue Jay Way", "Flying" and "Magical Mystery Tour" in two sessions at EMI Studios in London. They had six new songs, not enough for an album, so they issued a double-EP. In the U.S., the six songs were added to five from the album The Beatles to produce the "Magical Mystery Tour" Soundtrack.
1969: Led Zeppelin released the single "Whole Lotta' Love".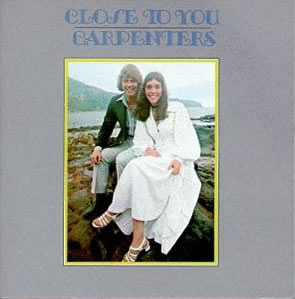 The Carpenters' debut...
1970: Led Zeppelin III was #1 on the Album chart for the second week with Santana's Abraxas and Sweet Baby James from James Taylor close behind. The Jackson 5 held position #4 with Third Album and Cosmo's Factory from CCR, one of The Top 100 Albums of the Rock Era*, was fifth. The rest of the Top 10: Close to You by the Carpenters at #6, Get Yer (sic) Ya-Ya's Out! by the Rolling Stones, Neil Young was up to #8 with After the Gold Rush, the Soundtrack to "Woodstock" was still hanging around at #9 and the Moody Blues had yet another Top 10 album with A Question of Balance.
1970: The Jackson 5 had the #1 R&B song for a fourth week with "I'll Be There", their fourth consecutive #1 of the genre, and one of The Top 100 R&B Songs of the 1970's*.
1970: The Carpenters owned the #1 Easy Listening chart for a fifth week with "We've Only Just Begun".
R. Dean Taylor had serious problems...
1970: The Jackson 5's first hit continued to be #1 for a fourth week--"I'll Be There". The Carpenters could not advance with "We've Only Just Begun" & "Fire And Rain" maintained at #3 for James Taylor. Sugarloaf was up one with "Green-Eyed Lady" and R. Dean Taylor hit #5 with "Indiana Wants Me", one of The Top 500 One-Hit Wonders of the Rock Era*. The rest of the Top 10: "All Right Now" from Free, the Partridge Family had the only new song in the list, moving 17-7 with "I Think I Love You", Neil Diamond's former #1 "Cracklin' Rosie" was #8, Dawn's "Candida" and the Kinks dropped with "Lola".
1978: Dan Hill released the single "Sometimes When We Touch".
1977: The Elvis Presley song "My Way" was released posthumously.
1991: The Kingston Trio reunited at Magic Mountain in Valencia, California.
Springfield's rocker was a part of the action...
1981: Hall & Oates scored their third career #1, sixth Top 10 and 16th hit with "Private Eyes". The Rolling Stones were passed up with "Start Me Up" and the previous #1 "Arthur's Theme" from Christopher Cross was third. Sheena Easton had a solid hit with "For Your Eyes Only". The rest of the Top 10: Bob Seger with "Tryin' To Live My Life Without You", Little River Band was up with "The Night Owls", Dan Fogelberg was at #7 with a song most radio stations ranked near the top--"Hard To Say", Rick Springfield had song #8--"I've Done Everything For You", Air Supply collected another Top 10 with "Here I Am" and Foreigner charged into the Top 10 with "Waiting For A Girl Like You".
1986: Willie Nelson guest starred on the television show Miami Vice.
1987: "Lovin' You" by the O'Jays was #1 on the R&B chart.
1987: INXS had a hot song on their hands as "Need You Tonight" moved from 71 to 54.
1987: Tiffany's remake of the great Tommy James & the Shondells hit "I Think We're Alone Now" moved to #1. Madonna remained at #2 with "Causing A Commotion", Billy Idol's remake of another Tommy James & the Shondells smash "Mony Mony" was #3 with Fleetwood Mac trailing with "Little Lies". The previous #1 "Bad" fell for Michael Jackson, but Bill Medley & Jennifer Warnes teamed up to move into the list with "(I've Had) The Time Of My Life".
1987: Swing Out Sister was in the spotlight with the new #1 Adult Contemporary song--"Breakout".
1991: Frank Zappa was diagnosed with prostate cancer.
1991: Rhythm guitarist Izzy Stradlin left Guns N' Roses.
(Note: some websites claim Stradlin left the group on September 23. According to the book 'The History of GN'R: The Shocking Truth' by Jarmo Luukkonen, the group announced Stradlin's departure on November 7.)
1991: Carter Cornelius of Cornelius Brothers & Sister Rose ("Too Late To Turn Back Now" from 1972) died of a heart attack in Dania, Florida at the age of 43.
R.E.M.'s new release...
1992: The Garth Brooks album The Chase had been out five weeks and all were at #1. Madonna debuted at #2 with Erotica, Eric Clapton's popular Unplugged album was third, followed by Some gave All from Billy Ray Cyrus and Automatic for the People from R.E.M. The rest of the Top 10: Timeless (The Classics) from Michael Bolton, Ten from Pearl Jam after 45 weeks of release, the infamous "Symbol" or untitled album from Prince, Pure Country by George Strait moved from 22-9 and Mary J. Blige fell with What's the 411?
1992: The classic Boyz II Men song "End Of The Road" spent a 13th week at #1, setting an existing Rock Era record and the 13 weeks are still sixth longest in the Rock Era. The Heights were now just one step away with "How Do You Talk To An Angel" and PM Dawn remained third with "I'd Die Without You". After six weeks at #2 behind Boyz II Men, Don Henley and Patty Smyth gave up and fell to #4 with "Sometimes Love Just Ain't Enough".
1994: Alice in Chains released their self-titled album on CD and cassette. Previously, it had only been available on LP.
1995: The Captain and Tennille (Daryl Dragon and Toni Tennille) renewed their wedding vows on the occasion of their 20th anniversary.
1997: The Spice Girls fired their manager Simon Fuller.
1999: Geri Halliwell, formerly with the Spice Girls, had the #1 song in the U.K. with "Lift Me Up".
2002: Bobby Brown was arrested for possession of marijuana, speeding, driving without a license and no proof of insurance.
2002: It was a big day for the legendary group the Eagles (shown above in their ceremony at the Rock and Roll Hall of Fame).
The RIAA certified their compilation album Their Greatest Hits 1971-1975 as having sold over 28 million copies in the U.S. alone, and the RIAA certified that Eagles Greatest Hits Volume II had gone over 11 million units sold.
2003: David Gilmour of Pink Floyd was named a Commander of the British Empire by Queen Elizabeth II.
2006: The members of Genesis announced that they were reforming for a world tour.
2006: John Hall, formerly with the group Orleans, was elected to the United States House of Representatives from New York.
2008: Jody Reynolds, singer and guitarist (the top five song "Endless Sleep" in 1958) died in Palm Desert, California of liver and brain cancer.
2011: Andrea True ("More, More, More" from 1976) died at the age of 68 in Kingston, New York of heart failure.
Born This Day:
1922: Al Hirt, great trumpet player and bandleader who gave us one of
The Top 100 Instrumentals of the Rock Era*
("Java"), was born in New Orleans, Louisiana, nicknamed Jumbo and the Round Mound of Sound; died April 27, 1999 in New Orleans of liver failure.
1936: Jimmie Haskell, who won Grammys for arrangements of Bobbie Gentry's "Ode To Billie Joe", "Bridge Over Troubled Water" by Simon & Garfunkel and Chicago's "If You Leave Me Now", was born in Brooklyn, New York; died February 4, 2016 in Laguna Nigel, California. Haskell worked with hundreds of artists including Sheryl Crow, Steely Dan, Rick Nelson and Bobby Darin,
also wrote the theme song of the popular television show The Hollywood Squares.
1938: Dee Clark ("Raindrops") was born in Blytheville, Arkansas; died December 7, 1990 of a heart attack in Smyrna, Georgia .
1942:
Johnny Rivers
was born in New York City.
1943: Roberta Joan Anderson was born in Fort Macleod, Alberta, Canada. She was one of the most gifted singer-songwriters of the Rock Era. We knew her better by the name Joni Mitchell.
1951: Kevin Scott MacDonald, guitarist and a founding member of the Cutting Crew ("I Just Died In Your Arms").
1957: Jellybean Benitez ("Sidewalk Talk" from 1985), who also mixed and produced for Madonna, Whitney Houston, Michael Jackson and the Pointer Sisters, was born in South Bronx, New York.
1960: Tommy Thayer, who became the lead guitarist of Kiss in 1994 after they had enjoyed all of their big hits, was born in Portland, Oregon.
1964: Liam Ó Maonlaí
of Hothouse Flowers was born in Monkstown, County Dublin, Ireland.
1971: Robin Finck, guitarist for Nine Inch Nails and Guns N' Rose

s, was born in Park Ridge, New Jersey.