1955: A new group with an awesome sound and great lead singer debuted on the chart. On this date, we first heard from the Platters with their first single "Only You (And You Alone)".
1956: After test audiences reacted unfavorably to Elvis Presley dying in the movie Love Me Tender, Elvis was called back to the set to reshoot the scene in which he lived.
1962: A new talent on the scene, Barbra Streisand, signed a recording contract with Columbia Records. Although it was for a modest sum, Streisand had creative control of her music.
1962: A group of likable California boys released their debut album.
Surfin' Safari
from the Beach Boys hit record stores.
1964: A group so popular they could bridge political differences. The Beatles' movie A Hard Day's Night opened in Prague, Czechoslovakia, thus becoming the first pop culture movie from the West to be seen behind the former Iron Curtain.
1965: Bob Dylan performed at Carnegie Hall in New York City and introduced his new touring band--guitarist Robbie Robertson, organist Garth Hudson, Rick Danko on bass, Richard Manual on piano and drummer Levon Helm. The musicians would come to be known simply as The Band.
1965: The Byrds released the single "Turn! Turn! Turn!". Note: some websites show different dates for the release. John Einarson, in his book 'Mr. Tambourine Man: The Life and Legacy of the Byrds' Gene Clark, states that the single was released on October 1.)
1966: Denny Laine left the Moody Blues. (Note: some websites show him leaving later in the month, but Ray Thomas of the group told the trade magazine 'Record Mirror' (October 8, 1966 issue) "Denny left on Saturday (October 1) ."
1966: Jimi Hendrix performed live for the first time in the U.K. when he jammed with Cream which was playing at London Polytechnic.
1966: It was obvious by now that Johnny Rivers had a major hit with "Poor Side Of Town, which moved from 72 to 42 on this date.
A great song here--"Black Is Black" by Los Bravos...
1966: "Cherish" by the Association continued to be the #1 song. The Supremes were at #2 with "You Can't Hurry Love". The Temptations saw "Beauty Is Only Skin Deep" reach #3, Los Bravos moved up with "Black Is Black" and the Hollies remained at #5 with "Bus Stop". The rest of the Top 10: "96 Tears" from ? & the Mysterians, the Four Tops had their great song "Reach Out I'll Be There" at #7, the Beatles with "Yellow Submarine", Donovan slipped to 9 with "Sunshine Superman" and Neil Diamond had his first Top 10 hit with "Cherry, Cherry".
1967: Pink Floyd arrived in New York City to begin their first tour of the United States.
1967: Traffic made their live debut at the Saville Theatre in London.
1969: The Beatles released
Abbey Road
in the United States, five days later than its England release date.
1970: Curtis Mayfield left the group the Impressions to pursue a solo career.
1970: Jimi Hendrix was laid to rest at the Greenwood Cemetery in Seattle, Washington. Eric Burdon, Johnny Winter, Miles Davis and members of Derek & the Dominoes were on hand.
1972: The Eagles were in concert at the University of Alabama in Tuscaloosa for their first tour.
1973: Pink Floyd began recording the album Wish You Were Here at the famous Abbey Road Studios in London.
1974: Harry Chapin released one of The Most Important Songs of the Rock Era*--"Cat's In The Cradle".
1975: Al Jackson, drummer of Booker T. & the MG's, was shot and killed by an intruder in Memphis, Tennessee at the age of 39.
1977: Elton John became the first rock artist to be inducted to the Madison Square Garden Hall of Fame in New York City. EJ holds the all-time record with 62 performances at the Garden.
1977: Carly Simon held on to #1 on the Easy Listening chart with "Nobody Does It Better".
1977: "How Deep Is Your Love" by the Bee Gees rose from 83 to 49.
1977: Meco flew up from #8 to #1 with "Star Wars Theme/Cantina Band". K.C. and the Sunshine Band were next with "Keep It Comin' Love", amazingly jumping over Fleetwood Mac and "Don't Stop". The Emotions' former #1 "Best Of My Love" was fourth followed by "Strawberry Letter 23" from the Brothers Johnson. The rest of the Top 10: Carly Simon scored her fourth Top 10 song and 12th hit with "Nobody Does It Better", ELO was on hold with "Telephone Line", Shaun Cassidy had #8--"That's Rock 'N' Roll", Foreigner's second hit "Cold As Ice" was #9 and Andy Gibb's former #1 "I Just Want To Be Your Everything" closed out the list.
1977: Barry White rose to #1 on the R&B chart with the great song "It's Ecstasy When You Lay Down Next To Me".
1977: Rumours by Fleetwood Mac spent a 21st week at #1 on the Album chart. Of course, they had set a Rock Era record when they got to 19.
1979: Donna Summer released the single "Dim All The Lights".
1979: Styx released the single "Babe". (Note: some websites report the release as October 9--this is physically impossible as the song debuted on the chart on October 6.)
1980: Paul Simon's semi-autobiographical movie One Trick Pony premiered in New York City.
1983: Robert Plant concluded a solo tour at the PNE Coliseum in Vancouver, British Columbia, Canada.
1983: ABBA was honored with a postage stamp released in their native Sweden.
Def Leppard with their first Top 10 album...
1983: The Police topped the Album chart for the tenth week with Synchronicity. Thriller by Michael Jackson had 20 weeks at #1 and needed 11 more to tie Fleetwood Mac's Rumours. It would get them. The Soundtrack to "Flashdance" was a distant third, followed by Pyromania from Def Leppard and An Innocent Man from Billy Joel. The rest of the Top 10: Asia had Alpha at #6, Metal Health by Quiet Riot was #7, Bonnie Tyler shot up from 17 to 8 with Faster Than the Speed of Night, the Fixx and Reach the Beach and Robert Plant's solo album The Principle of Moments
was #10.
1983: Journey had one of the biggest movers of the week as "Send Her My Love" was up 20 to #67.
1983: Bonnie Tyler reached #1 with the biggest hit of her career--"Total Eclipse Of The Heart". Billy Joel relinquished the spot with "Tell Her About It". Men Without Hats had one of the top #3 songs of the Rock Era--"The Safety Dance". Air Supply's 10th career hit "Making Love Out Of Nothing At All" was #4 with the Stray Cats moving up with "(She's) Sexy + 17". The rest of the Top 10: The Police with "King Of Pain", Spandau Ballet moved from 13-7 with their only Top 10 song "True", Michael Sembello's former #1 "Maniac", Kenny Rogers & Dolly Parton had a huge hit with "Islands In The Stream", which moved from 17 to 9 and Sylvester Stallone's brother Frank made the Top 10 with "Far From Over".
1985: R.E.M. performed at the Paradiso in Amsterdam, Holland.
1987: Def Leppard played at the Glens Falls Civic Center in Glens Falls, New York.
1988: Bon Jovi led the way on the U.K. Album chart with New Jersey.
1988: Rick Astley was on top of the Adult Contemporary chart with "It Would Take a Strong Strong Man".
1988: Anita Baker moved from 85 to 61 with "Giving You The Best That I Got".
One of the Top 100 albums of the Rock Era*...
1988: Guns N' Roses had been upstaged by Def Leppard's Hysteria, but for now it spent a third week at #1. Tracy Chapman was third followed by the Soundtrack to "Cocktail". The rest of the Top 10: Roll With It from Steve Winwood, He's the D.J., I'm the Rapper from D.J. Jazzy Jeff & the Fresh Prince, George Michael's Faith was #7, Bobby McFerrin rode to #8 with Simple Pleasures, the great album Kick by INXS reached the Top 10 and Van Halen fell with OU812.
1990: Stevie B. released the single "Because I Love You (The Postman Song)". (Note: some naive websites claim the single was released October 6. "Because I Love You" debuted on the Singles chart on October 6. It is physically impossible for a record company to mail singles to radio stations, be received by the radio stations, listened to and added to radio station playlists, reported to trade papers, and printed and published by the trade papers, all on the same day.)
1990: Wilson Phillips were on a roll and on this date, they released the single "Impulsive".
1990: Bette Midler released her single "From A Distance".
1993: Wilson Pickett was sentenced to a year in jail after the car he was driving hit an 86 year-old man. Pickett had been drinking.
1994: The Richard and Karen Carpenter Performing Arts Center was dedicated at California State University-Long Beach.
1994: Eric Clapton became the latest artist to debut at #1 in the all-too-easy 1990's--
From the Cradle
was the #1 album followed by
II
by Boyz II Men, which had also debuted at #1. Anita Baker debuted at #3 with
Rhythm of Love
. The rest of the Top 10: The
Soundtrack to "The Lion King"
,
Dookie
from Green Day, the
Soundtrack to "Forrest Gump"
,
Smash
by Offspring at #7, the great Sheryl Crow album
Tuesday Night Music Club
,
Purple
from Stone Temple Pilots at #9 and
Candlebox
at #10.
The immensely talented Sheryl Crow...
1994: For the sixth week, Boyz II Men owned the #1 song with "I'll Make Love To You". Luther Vandross & Mariah Carey's remake of "Endless Love" was second but Sheryl Crow moved from 7 to 3 with "All I Wanna' Do".
1995: John Mellencamp, Neil Young, Willie Nelson, the Dave Matthews Band and Hootie and the Blowfish performed at the Farm Aid concert in Louisville, Kentucky, raising nearly $1 million for needy farmers in the United States.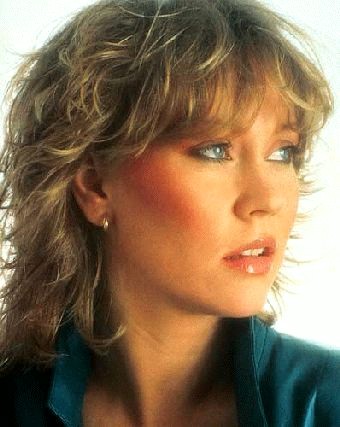 1996: Agnetha Faltskog of ABBA published her autobiography
As I Am
.
(Note: several websites are confused as to the exact publication date. Some say it was published September 23, while others say it was published October 16. It was published in 1996 in Sweden, with the English translation published October 1, 1997 in the U.K. by Virgin Books, according to 'Amazon.com'.)
1998: John Fogerty was awarded with a star on the Hollywood Walk of Fame.
2000: INXS, Men at Work and John Paul Young performed at the closing ceremonies of the Olympic Games in Sydney, Australia.
2000: Madonna had the top album with Music.
2003: The Offspring announced that Atom Willard would be their new drummer. (Note: several websites report the date of the announcement as October 2 or later, but according to the band's official website, the date of the announcement was October 1. Willard announced he was leaving his previous group, Rocket from the Crypt, on October 4.)
2004: The street "AC/DC Lane" was opened in Melbourne, Australia by the Lord Mayor.
2004: John Fogerty, Bruce Springsteen and R.E.M. launched the Vote for Change tour in Philadelphia, Pennsylvania, the Dave Matthews Band performed in State College, Pennsylvania and the Dixie Chicks appeared in Pittsburgh.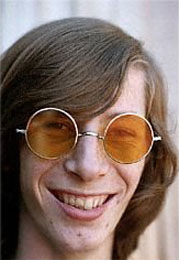 2004: Bruce Palmer of Buffalo Springfield died of a heart attack in Belleville, Ontario, Canada at the age of 58.
2006: George Michael was arrested for possession of drugs in London.
2007: The reunion concert of the Spice Girls in London sold out in 38 seconds.
2008: Nick Reynolds of the Kingston Trio ("Tom Dooley") died of acute respiratory disease in San Diego, California at the age of 75.
2011: Burton Cummings, keyboardist and lead singer of the Guess Who, was inducted into the Canada Walk of Fame in Toronto, Ontario.
Born This Day:
1913: Charles Randolph Grean, performer ("Quentin's Theme"), member of several bands including the Glen Miller Band, and producer of many artists including Eddy Arnold, was born in New York City; died of natural causes on December 20, 2003.
1924: Roger Williams (re
al name

Louis Weertz)

, great songwriter and pianist ("Autumn Leaves" from 1955) was born in Omaha, Nebraska; died of cancer October
8, 2011.
1930: Richard Harris ("MacArthur Park") was born in Limerick, Ireland; died of Hodgkin's Lymphoma on October 25, 2002.
1935: Julie Andrews was born in Walton-on-Thames, England.
1942: Herb Fame of Peaches & Herb ("Reunited" from 1979) was born in Washington, D.C.
1943: Jerry Martini, saxophonist of Sly & the Family Stone, was born in Boulder, Colorado.
1944: Barbara Parritt of the Toys ("A Lover's Concerto") was born in Wilmington, North Carolina.
1945: Donny Hathaway, who teamed up with Roberta Flack for several duets including "The Closer I Get To You", was born in Chicago, Illinois; died January 13, 1979, an apparent suicide.
1947: Martin Turner, bass guitarist for Wishbone Ash, was born in Torquay, England.
1947: Mariska Veres, singer of the Shocking Blue ("Venus" from 1970) was born in The Hague, Netherlands; died of cancer December 2, 2006.
1948: Cub Koda of Brownsville Station was born in Detroit, Michigan; died July 1, 2000 recovering from kidney disease.
1955: Howard Hewett of Shalamar was born in Akron, Ohio.
1958: Martin Cooper of Orchestral Manoeuvres In The Dark, ("If You Leave") was born in Liverpool, England.
1959: Youssou N'dour, singer and percussionist who worked with Paul Simon, Bruce Springsteen, Sting, Peter Gabriel and Wyclef Jean, was born in Dakar, Senegal.
1968: Kevin Griffin, founding member, singer/songwriter, guitarist and producer of Better Than Ezra, was born in Atlanta, Georgia.
1974: Keith Duffy, singer and drummer of Boyzone, was born in Dublin, Ireland.