1958 - Frank Zappa graduated from Antelope Valley High in Lancaster, CA.
1960: Little Brenda Lee took a giant leap up the charts, moving from 76 to 38 with "I'm Sorry".
1960: "Cathy's Clown" by the Everly Brothers was becoming one of the biggest hits of the 60's, remaining at #1 for a fourth week. Elvis Presley was stuck at two with "Stuck On You".
1964: The Rolling Stones performed on the television show Hollywood Palace hosted by Dean Martin.
1964: "People" became Barbra Streisand's first Top 10 of her storied career.
1967: The Bee Gees appeared on the U.K. television show As You Like It.
1969: Mick Taylor joined the Rolling Stones, taking the place of Brian Jones, who wasn't satisfied with the musical direction the band was going.
1969: Aretha Franklin, Ray Charles, Sam & Dave and the Staple Singers performed at the Houston Astrodome for Soul Bowl '69.
1970: Grand Funk Railroad, with Steel Mill (featuring Bruce Springsteen) opening, performed at the Ocean Ice Palace in Bricktown, New Jersey. Admission was $5. Yep, that's when it was the music that mattered, not the money (for agents, managers, record companies...et al.)
1970: A brand new band debuted on the charts as Bread's first single "Make It With You" debuted.
1970: The last single ever released from a Beatles studio album was "The Long And Winding Road", and on this date it made one of the biggest hops to #1 in the history of the Rock Era, going from 10 to 1 in its fourth week.
1971: Frank Sinatra announced that he was retiring from show business during a show at the Dorothy Chandler Pavilion in Los Angeles. It would only last two years, however, and Sinatra recorded and gave over 1,000 performances after his brief 'retirement'. (Note: some websites report that the announcement was made June 14. 'Rolling Stone' claims Sinatra announced his retirement in 1970, but according to the more reliable 'The New York Times', Sinatra announced his retirement at a gala at the Dorothy Chandler Pavilion in Los Angeles on June 13, 1971.)
1972: The Carpenters released the phenomenal album
A Song for You
on A&M Records.
1972: Clyde McPhatter of the Drifters died of a heart attack in New York City at the age of 39.
1975: The newly reformed and renamed Jefferson Starship released the song "Miracles", which would become their first Top 10 song in eight years.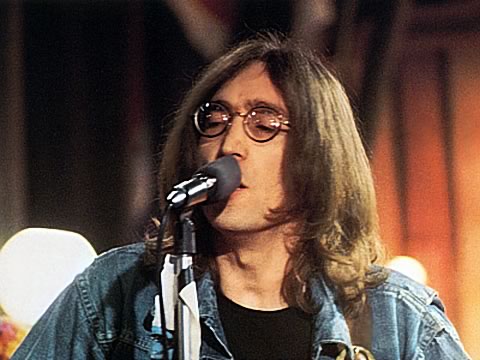 1975: John Lennon performed on television for the final time, singing his classic "Imagine".
1

977: James Taylor released the single "Handy Man".
1980: Pat Benatar performed at a home baseball game for the Philadelphia Phillies.
1981: Smokey Robinson had the #1 U.K. hit with "Being With You".
1981: Neil Diamond scored a #1 on the ever more popular Adult Contemporary chart with "America".
Newcomers Franke & the Knockouts...
1981: It was week #5 at the top for Kim Carnes' smash "Bette Davis Eyes". The Stars on 45 had a surprise hit with "Medley" and A Taste of Honey was moving up with their remake of "Sukiyaki". The rest of the Top 10: Smokey Robinson slipped to #4 with "Being With You", Ray Parker Jr. & Raydio found themselves at #5 with "A Woman Needs Love (Just Like You Do)", Gino Vannelli had song #6--"Living Inside Myself", George Harrison was inspired to write "All Those Years Ago" following the tragic death of John Lennon, Neil Diamond edged up to #8 with the third hit from "The Jazz Singer" Soundtrack--"America", REO Speedwagon were on their way down with "Take It On The Run" and Franke & the Knockouts had a fine song at #10 with "Sweetheart".
1982: Pink Floyd began recording sessions for their album The Final Cut.
1983: Stevie Ray Vaughan and Double Trouble released their debut album Texas Flood.
1987: Whitney Houston had the top U.K. album with Whitney.
1987: One of the hottest artists of the late 80's and 90's first entered the chart on this date. "Don't Mean Nothing" paved the way for a great career for Richard Marx.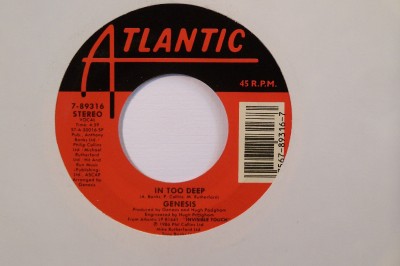 1987: Genesis reached #1 on the Adult Contemporary chart with "In Too Deep".
1987: Atlantic Starr completed the climb to #1 in their 12th week with "Always".
1987: The Joshua Tree spent an eighth week at #1 on the Album chart for U2. Whitesnake's impressive debut was at #2 with Bon Jovi still hanging around with Slippery When Wet.
1989: Jerry Lee Lewis got his star on the Hollywood Walk of Fame.
1991: Mick Jagger and Jerry Hall announced that they were having their third child together.
1992: "Hold On My Heart" by Genesis completed a five-week run at #1 on the Adult Contemporary chart.
1995: Alanis Morissette released the album Jagged Little Pill.
1999: S Club 7 rose to the top in the U.K. with "Bring It All Back".
2000: Bobby Brown admitted in a Florida court that he was an alcoholic saying "I have a disease, I am an addict." And it has destroyed his life.
2004: Warner Music Group announced that would buy Madonna's share of the Maverick Records label she had co-founded in 1992.
2004: "I Don't Wanna' Know" by Mario Winans was the #1 U.K. song.
2012: Adele notched her 24th week at #1 on the Album chart with the album 21. The achievement put her in rarified air--behind only the albums Thriller by Michael Jackson and Rumours by Fleetwood Mac for weeks at #1 on the Billboard 200 (which made its debut in 1963).
Born This Day:
1934: Uriel Jones, session drummer for the Funk Brothers (Motown's studio band) who played on "I Heard It Through the Grapevine" by Marvin Gaye, "Cloud Nine" by the Temptations", "For Once In My Life" by Stevie Wonder and many others; died March 24, 2009.
1940: Bobby Freeman ("Do You Wanna' Dance") was born in Sa
n Francisco, California.
1941: Marv Tarplin, guitarist of the Miracles and songwriter for Motown, was born in Atlantic City, New Jersey.
1949: Dennis Locorriere, lead singer of Dr. Hook, was born in Union City, New Jersey.
1950: Bo Donaldson ("Billy, Don't Be a Hero") was born in Cincinnati, Ohio.
1951: Howard Leese, a later guitarist of Heart, was born in Hollywood, California.
1954: Jorge Santana of Malo and a solo artist, was born in Autlan, Jalisco, Mexico.

1957: Rolf Brendel, drummer of Nena ("99 Luftballoons"), was born in Hagen, North Rhine-Westphalia, West Germany.
1963: Paul DeLisle, bassist of Smashmouth, was born in Exeter, Ontario, Canada.
1963: Robbie Merrill, bass guitarist of Godsmack, was born in Lawrence, Massachusetts.
1968: David Gray ("Babylon") was born in Sale, Cheshire, England.
1968: Deneice Pearson of 5 Star was born in Romford, Essex, England.
1969: Soren Rasted, songwriter, keyboardist, guitarist and producer for Aqua ("Barbie Girl") was born in Blovstrod, Denmark.
1970: Rivers Cuomo, songwriter, lead singer and lead guitarist of Weezer.
1976: Jason Brown, vocalist with Five, was born in Aldershot, Hampshire, England.
1985: Raz B of B2K was born in Cleveland, Ohio.