1942: Glenn Wallichs began Capitol Records in the United States in a second-floor room south of Sunset Boulevard in Los Angeles. Capitol would become the home for Frank Sinatra, the Beach Boys, Dean Martin, Bobby Darin, Glen Campbell, Steve Miller, Anne Murray, Dr. Hook, Bob Seger, Tina Turner, Heart and many, many others.
1962: The Beach Boys released the single "Surfin' Safari" on Capitol Records.
1963: The Searchers first appeared on the U.K. chart with the song "Sweets For My Sweet".
1964: The Beatles began their first world tour in Denmark with two shows at the KB Hallen in Copenhagen.
1
966: On this date, a new group debuted with their first hit single. They would go on to become one of the top acts of the 60's with 19 hits, seven Top 10 records and two #1's. "
Hanky Panky" debuted on the chart for Tommy James & the Shondells.
1966: "Strangers In The Night" hit #1 for Frank Sinatra on the Adult Contemporary chart.
1967: Procol Harum, the Chiffons, the Jimi Hendrix Experience and Denny Laine (later of the Moody Blues) performed at the Saville Theatre in London. Paul McCartney and George Harrison of the Beatles were in attendance.
1967: Stevie Wonder released the single "I Was Made To Love Her".
1967: A brand new act debuted on this date. They would become one of the great acts of the 60s. The Association's first single "Along Comes Mary" entered the chart.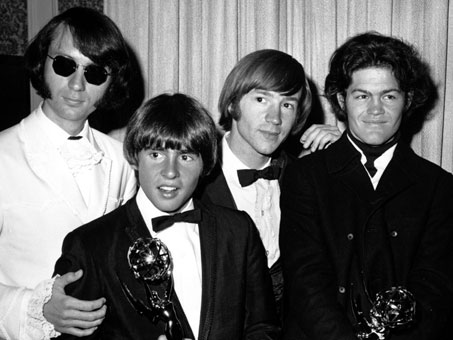 1967: The Monkees won an Emmy Award for Best Comedy Series at the Century Plaza Hotel in Los Angeles.
1969: Nicky Hopkins, pianist for the Jeff Beck Group, announced he was leaving.
1969: Hundreds of people in Glenrowan, Australia signed petitions against the casting of Mick Jagger as folk hero Ned Kelly in the upcoming film of the same name.
1969: Tommy Roe hit #1 in the U.K. with "Dizzy".
1970: Elvis Presley began five days of recording at RCA Studios, beginning his day at 6 p.m. and working until dawn.
1973: It was a Monday, and that meant new releases. The Charlie Daniels Band released "Uneasy Rider" on this date.
1974: Randy Newman appeared on the U.K. television show The Old Grey Whistle Test.
1976: Elton John performed in Cardiff, Wales, the final show of his U.K. tour. (Note: some websites claim Elton performed at the Capitol Theatre in Leeds, England. That show was April 29--Elton performed in Cardiff on June 4, according to the official Elton John website.)
1976: Live recordings were made of Blondie, the Talking Heads and others at the new wave night club GBGB's in New York City. The tracks can be heard on the album Live at GBGB's New York.
1977: "Best of My Love" by the Emotions was #1 on the R&B chart.
1977: Barry Manilow reached #1 with "Looks Like We Made It" on the Easy Listening chart.
1977: Stevie Wonder made it three weeks in a row at #1 with "Sir Duke". K.C. and the Sunshine Band followed with "I'm Your Boogie Man" while "Dreams" by Fleetwood Mac crept up to #3. Marvin Gaye was right behind with "Got To Give It Up".
1977: Bad things happen in Florida. The 2000 presidential election debacle, the training ground for 9/11 terrorists and back in 1977, a Led Zeppelin concert in Tampa Bay was canceled after fans had rioted the night before.
1980: The Go-Go's were at Tiffany's in Great Yarmouth, England.
1983: The Police had the #1 song in the U.K. with "Every Breath You Take"
1983: Thriller by Michael Jackson was the #1 album in the U.S. for the 15th week in a row.
1984: Bruce Springsteen released the album Born in the U.S.A on Columbia Records.
1985: With "Everybody Wants To Rule The World" at #1, Tears For Fears released the single "Shout".
1986: U2, Bryan Adams, Sting and Peter Gabriel performed at the Cow Palace in Daly City, California as part of the Conspiracy of Hope concert tour. (Note: some websites naively say the Cow Palace is in San Francisco. It is in Daly City, 10 miles south of San Francisco.
1987: Fans at a Eurythmics concert in West Berlin could hear people in East Berlin chanting "The wall must go!" And it did.
1988: Hysteria by Def Leppard spent its 37th week in the Top 10 of the Album chart.
1992: The United States Postal Service announced that people preferred a stamp design featuring "the younger Elvis" in a vote that had concluded.
1993: The beginning of the end for Kurt Cobain. He was arrested for assaulting his wife, Courtney Love, after a dispute at his house in Seattle, Washington.
1994 The U.K. magazine NME featured Oasis on the cover.
1994: "Back & Forth" by Aaliyah was #1 for the third week on the R&B chart.
1994: All-4-One remained at #1 overall with "I Swear". Madonna could not budge with "I'll Remember", Ace of Base remained at 3 with their former #1 "The Sign" and Enigma was at 4 with "Return To Innocence".
1994: Derek Leckenby, guitarist for
Herman's Hermits
, died of non-Hodgkin's lymphoma in Manchester, England at the age of 51. (Note: some websites claim Leckenby died August 4, 1994, but according to the newspaper 'The Independent', he died June 4.)
1994: Wet Wet Wet had one of the biggest hits of all-time in the U.K. as their remake of the Troggs' hit "Love Is All Around" began a 15-week run at #1.
1994: All-4-One remained at #1 in the United States for the third week with "I Swear". Madonna peaked at #2 with "I'll Remember" while Ace of Base was still strong after 23 weeks of release with "The Sign".
1996: Metallica released the album Load on Elektra Records.
1996: Crowded House announced they were breaking up.
1997: Ronnie Lane, bass guitarist of Faces, died in a hospital in Trinidad, Colorado at the age of 51 of pneumonia after a long battle with multiple sclerosis.
1998: Ray Charles performed in Chicago to celebrate 50 years as an entertainer.
2000: Bon Jovi had the #1 U.K. album with Crush.
2003: Justin Timberlake and Christina Aguilera toured together, beginning at the America West Arena in Phoenix, Arizona.
2004: Creed announced that they were splitting up.
2012: Herb Reed of the Platters died at the age of 83 of several ailments in Boston, Massachusetts. (Note: some websites claim Reed died at the age of 80. He was 83, according to 'CBS News'.)
Born This Day:
1944: Roger Ball, saxophonist of the Average White Band, was born in Broughty Ferry, Scotland. (Note: some websites report Ball was born in Dundee, Scotland. He was born in Broughty Ferry, a suburb of Dundee.)
1944: Holly Michelle Gilliam (Michelle Phillips) of the Mamas and the Papas was born in Long Beach, California.
1945: Gordon Waller of Peter & Gordon was born in Braemar, Scotland; died of a heart attack in Norwich, Connecticut on July 17, 2009.
1952: Jimmy McCulloch of Thunderclap Newman ("Something In The Air") and later Wings was born in Dumbarton, Scotland; died September 27, 1979 from heroin in Maida Vale, West London, England at the age of 26. (Note: several websites report McCulloch was born in Glasgow, Scotland. He was born in Dubarton, about 20 miles from Glasgow.)
1954: Raphael Ravenscroft, who played the famous saxophone solo on "Baker Street" by Gerry Rafferty, and who also worked with ABBA, Marvin Gaye, America, Pink Floyd, Bonnie Tyler, Maxine Nightingale, Daft Punk and many others, was born in Stoke-on-Trent, Staffordshire, England; died October 19, 2014 of a heart attack in Exeter, Devon, England. (Note: Some websites report he was born in Dumpfries, Scortland, but according to the 'BBC' and the newspaper 'The Telegraph', Raphael was born in Stoke-on-Trent.)
1961: El DeBarge, lead
lead singer and co-founder of the family group DeBarge and a solo artist ("Who's Johnny"),
was born in Detroit, Michigan.
(Note: some websites report he was born on June 3, and several say El was born in Grand Rapids, Michigan. According to 'USA Today', El was born on June 4 in Detroit and later moved with his family to Grand Rapids.)
1974: Stefan Lessard, bass guitarist with the Dave Matthews Band, was born in Anaheim, California.