1945: Elvis Presley gave his first performance, singing "Old Shep" at the age of 10 at a Mississippi-Alabama Dairy Show talent contest.
1957: The Pat Boone Chevy Showroom premiered on ABC-TV.
1960: Ike and Tina Turner made their U.S. television debut and performed "A Fool In Love" on American Bandstand on ABC-TV.
1964: The Beatles taped a performance for broadcast on Shindig! at Granville Theatre in London.
One of the landmark albums of all-time...
1964: The album A Hard Day's Night by the Beatles had been out for 12 weeks, with 11 of those at #1. Something New by the Beatles was runner-up followed by Everybody Loves Somebody from Dean Martin and the album Peter, Paul and Mary in Concert. The rest of the Top 10: All Summer Long from the Beach Boys, How Glad I Am by Nancy Wilson, one of The Top 100 Albums of the Rock Era*--Getz/Gilberto by Stan Getz & Joao Gilberto at #7, Funny Girl from Barbra Streisand, Hello, Dolly! by Louis Armstrong and the Impressions pressed up from 17 to 10 with Keep On Pushing.
1965: Manfred Mann became the first band from the West to perform behind what was then the Iron Curtain. Luckily for them, those people are now as free as everyone else (except for China, Iran, Syria and North Korea as notable exceptions). Maybe someday.
Unrealized potential...
1970: Janis Joplin listened to the instrumental track for "Buried Alive In The Blues" at Sunset Studios, intending to record the vocal for her album Pearl on October 5. She died the next day.
1970: Diana Ross reached #1 on the R&B chart with "Ain't No Mountain High Enough".
They'll go down in history as one of the Top Acts of All-Time...
1970: "Ain't No Mountain High Enough" was #1 for a third week from Diana Ross while CCR would move into a familiar position--#2--with "Lookin' Out My Back Door". Dawn rose to #3 with "Candida" and Neil Diamond came in fourth with "Cracklin' Rosie". The rest of the Top 10: "Julie, Do Ya' Love Me" by Bobby Sherman, which in reality was not actually played in many markets, "I'll Be There" from the Jackson 5 moved from 19-6, Rare Earth and "(I Know) I'm Losing You", Anne Murray's "Snowbird" at #8, Edwin Starr was on his way down with the former #1 "War" and Free moved into #10 slot with "All Right Now".
1970: Cosmo's Factory, one of The Top 100 Albums of the Rock Era*, from CCR was #1 for the seventh consecutive week. The Soundtrack to "Woodstock" was second with Joe Cocker's Mad Dogs & Englishmen at #3. We were already figuring out how special Chicago was as Chicago II was #4 in its 34th week. The rest of the Top 10: Stage Fright from the Band, Closer To Home by Grand Funk Railroad, A Question of Balance by the Moody Blues, Tommy by the Who in its 55th week, Blood, Sweat & Tears 3 and a new entry from Neil Young--After the Gold Rush.
1972: The Eagles performed at the Charlotte Coliseum in Charlotte, North Carolina.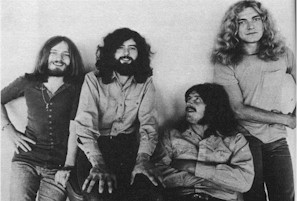 1972: Led Zeppelin played at Budokan Hall in Tokyo, Japan for a second night.
1976: Marvin Gaye performed in the first of several concerts at the London Palladium. The shows were recorded and released on the 1977 album Live at the London Palladium. (Note: Some sources report the first show as September 26, but this is in conflict with the poster shown above.)
1980: Bob Seger joined Bruce Springsteen onstage to perform "Thunder Road" at the Chrisler Arena on the University of Michigan campus in Ann Arbor, Michigan.
1981: Fleetwood Mac guitarist Lindsey Buckingham released a solo single "Trouble".
1981: Diana Ross and Lionel Ritchie remained at #1 for a seventh week on the R&B chart with "Endless Love".
1981: The Police cruised up from 66 to 44 with "Every Little Thing She Does Is Magic".
1981: The Kinks were in concert at Madison Square Garden in New York City.
It was said of Al: "He has an entire orchestra in his throat."
1981: Tattoo You by the Rolling Stones was the #1 album for the third week with 4 by Foreigner moving up. Escape from Journey and Bella Donna by Stevie Nicks provided competition. The rest of the Top 10: Pirates from Rickie Lee Jones, Nine Tonight at #6 from Bob Seger & the Silver Bullet Band, the great album The Innocent Age by Dan Fogelberg moved from 20 to 7, Pat Benatar's Precious Time held down #8, the Soundtrack To "Endless Love" was in the #9 position and Al Jarreau made the list with Breakin' Away.
1988: Guns 'N Roses released the single "Welcome To The Jungle".
1987: "Lost In Emotion" by Lisa Lisa and Cult Jam moved into the #1 position on the R&B chart.
1987: "(I've Had) The Time Of My Life" by Bill Medley & Jennifer Warnes moved from #73 to #54.
Everything's good...When Smokey Sings...
1987: "Didn't We Almost Have It All" by Whitney Houston was #1 with Whitesnake in the bridesmaid's position with "Here I Go Again". Lisa Lisa & Cult Jam were back with the #3 song "Lost In Emotion", followed by "I Heard A Rumour" by Bananarama and Europe's "Carrie". The rest of the Top 10: Prince and Sheena Easton with "U (sic) Got The Look", Heart's 23rd career hit "Who Will You Run To", which cleared the Top 10 moving 13-8, "When Smokey Sings" from ABC, John Cougar Mellencamp and his 16th hit "Paper In Fire" and Smokey Robinson in person with "One Heartbeat".
1988: Imagine, a documentary about John Lennon that was compiled from 240 hours of unreleased footage, premiered in Hollywood, California.
1992: Abba dominated the U.K. Album chart with the #1 album
Gold-Greatest Hits
.
1992: If you're keeping count, Boyz II Men made it eight weeks at #1 with "End Of The Road".
1994: Eric Clapton started out on his Nothing But the Blues tour in Montreal, Quebec, Canada.
1996: Van Halen fired lead singer David Lee Roth for a second time following a recording session for the group's Greatest Hits package.
2000: Green Day released the album Warning.
2000: Benjamin Orr, bassist and lead singer on "Just What I Needed" and "Drive" for the Cars, died of pancreatic cancer at the age of 53.
2003: At a conference on domestic violence, the wife of Maryland Governor Robert Ehrlich sharply criticized how sex was marketed to teens and said "If I had an opportunity to shoot Britney Spears, I think I would." Doubt if she had too many dissenters.
2003:
Life for Rent
by Dido was the fastest-selling album in England in six years as it moved 250,000 copies in five days.
2004: Joss Stone debuted at #1 on the U.K. album chart with Mind, Body & Soul.
Born This Day:
1938: Eddie Cochran ("Summertime Blues") was born in Albert Lea, Minnesota; died April 17, 1960 at a hospital in Bath, England, following a car accident in Chippenham while riding in a taxi (Gene Vincent was injured in the same accident.) (Note: many sources still cite Oklahoma City, Oklahoma as his birthplace, as Eddie always said in interviews that he was from Oklahoma, but new research directly from Eddie's first cousins and his nephew in Tennessee indicates that the Cochran family moved to Albert Lea in 1930 or shortly afterward ( 909 Marshall Street) prior to the birth of both their fourth child, Patty, and their fifth child, Eddie. The family was homesick and often went back to Oklahoma to visit Eddie's grandmother, and they later moved briefly back to Oklahoma City.)
1940: Alan O'Day ("Undercover Angel"), who wrote "Angie Baby" for Helen Reddy and "Rock and Roll Heaven" for the Righteous Brothers, was born in Hollywood, California; died May 17 in Los Angeles of brain cancer.
1941: Ernest Evans, better known as Chubby Checker, was born in Spring Gulley, South Carolina. (Note: some sources state that he was born in Philadelphia, Pennsylvania, but he and his family moved there from Spring Gulley when Ernest was young.)
1941: Lenny Waronker, producer for Randy Newman and Arlo Guthrie and president of Warner/Reprise Records, was born in Los Angeles.
1949: Lindsey Buckingham was born in Palo Alto, California. (Note: some sources claim the birth year was 1947 or 1948, but most credible sources, including the Rock and Roll Hall of Fame, show 1949.).
1954: Elite guitarist Stevie Ray Vaughan was born in Dallas, Texas; died in a helicopter crash on August 27, 1990 in East Troy, Wisconsin.
1959: Jack Wagner ("All I Need" from 1985) was born in Washington, Missouri.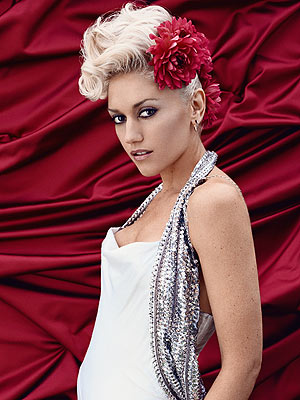 1969: Gwen Stefani of No Doubt and a solo star, was born in Fullerton, California. (

Note: some sources claim her birthplace was Anaheim; her biography by Katherine Krohn shows that she was born in Fullerton, but her family lived in Anaheim. Another source cites St. Jude's Hospital in Fullerton as the place where she was born.)
1971: Kevin Richardson of the Backstreet
Boys was born in Lexington, Kentucky.
1975: India.Arie (India Arie Simpson) was born in Denver, Colorado. (Note: some sources, including Joel Whitburn, in his book '

Joel Whitburn Presents Rock Tracks 1981-2008', the BBC, and Yahoo show the birth year as 1976. Nearly all sources, including 'Essence', 'Starpulse', 'Allmusic.com', and 'last.fm'
show her birthday as 1975, and we believe Whitburn got it wrong, and the other sources are merely copying his informatio
n.)
1979: Nate Wood, drummer of the Calling
1984: Ashlee Simpson was born in Waco, Texas.