The keyboardist, leader, and all-around great guy of Paul Revere & the Raiders has died. Paul passed away yesterday in Caldwell, Idaho at the age of 76.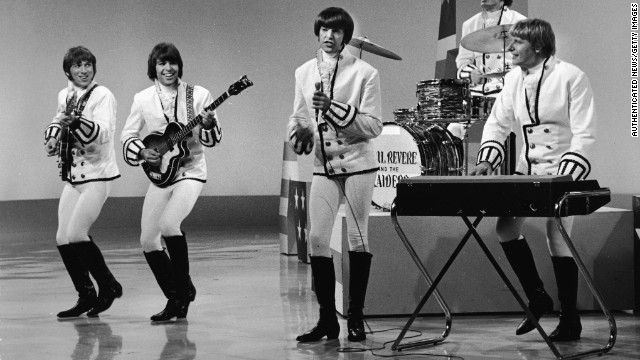 The Raiders gained in popularity as they appeared on Dick Clark's American Bandstand, The Ed Sullivan Show, and The Tonight Show with Johnny Carson, Where the Action Is, and hosted their own television show, It's Happening.
Paul Revere and the Raiders formed in Boise, Idaho. Paul owned several restaurants in Caldwell, and met singer Mark Lindsay while he was picking up hamburger buns at the bakery where Lindsay worked. They were first known as the Downbeats, and, after signing a contract with the small label Gardena Records, the band changed their name to Paul Revere & the Raiders. Their first hit was "Like, Long Hair" in 1961, which reached #38.
In 1962, the group hired Mike "Smitty" Smith. Roger Hart, a disc jockey at radio station KISN, became the group's manager, and suggested the group record "Louie, Louie". Although the Raiders' version is more professional than the Kingsmen's version, it was the latter that had the national hit with it. Most people believe the better version belonged to Paul Revere & the Raiders. By now, the Raiders included Revere, Lindsay, Smith, guitarist Drake Levin, and bassist Mike "Doc" Holliday.
Volk replaced Holliday in the group, which relocated to Los Angeles. The Raiders reached #11 with "Just Like Me", one of the first rock and roll records that featured a distinctive, double-tracked guitar solo.
The Raiders became famous for their American Revolutionary War uniforms and amazing live shows. Levin left in 1966 to join the National Guard, with Jim Valley replacing him. The group recorded a string of Top 10 albums: Just Like Us!, Midnight Ride, and The Spirit of '67, all of which went Gold.
"Kicks" in 1966 became one of their biggest hits, going to #4.
The Raiders followed that up with the #6 smash "Hungry".
The group scored another Top 5 hit with "Good Thing" in 1966.
The Raiders achieved their fourth Top 5 hit with "Him Or Me, What's It Gonna' Be".
This was underrated at #17--"I Had A Dream".
Another underrated song from the group was "Don't Take It So Hard" from 1968.
Paul Revere & the Raiders scored their biggest career hit with "Indian Reservation (The Lament Of The Cherokee Indian)" in 1971--it went to #1 in both the United States sand Canada.
Quite a group, and quite a story. Paul Revere was called the "Rock & Roll Madman", and he continued to thrill audiences until his death, playing Las Vegas, Nevada, and oldies cruises. I met Paul, and he was always humble, down to earth, and one of the greatest guys you'd ever want to meet. The world will miss Paul Revere. Rest in peace.