1961: Ricky Nelson had a hot new song. "Hello Mary Lou" moved from 73 to 27.
1961: Del Shannon's "Runaway" continued to set the pace at #1 for a third week.
1962: Engineer Ted Huntley recommended to Beatles' manager Brian Epstein that he send a demo of the band to EMI producer George Martin.
1965: Bob Dylan shot a promotional film for "Subterranean Homesick Blues" outside of the Savoy Hotel in London, becoming one of the first artists to film a music video.
1965: They were known then as Chad Allan & the Expressions but they would go on to become the #1 group in the history of Canada as the Guess Who. They first appeared on the chart with on this date with their first single, "Shakin' All Over"--5/8/65.
1965: You could tell where this song was heading. "Ticket to Ride" by the Beatles vaulted from 18 to 3 on this date.
Gary Lewis & the Playboys were a solid #2
1965: Herman's Hermits made it two weeks in a row ruling the roost with "Mrs. Brown You've Got a Lovely Daughter". "Count Me In" by Gary Lewis & the Playboys was at #2 while the Beatles moved from 18 to 3 with "Ticket To Ride". The rest of the Top Ten: "Game Of Love", the former #1 by Wayne Fontana & the Mindbenders, was now at #4, "I'll Never Find Another You" from the Seekers was at 5, Petula Clark fell to #6 with "I Know a Place", Herman's Hermits were going up with their new release "Silhouettes", Freddie & the Dreamers dropped to #8 with "I'm Telling You Now", the Rolling Stones were at #9 with "The Last Time" and Sounds Orchestral found the top ten with "Cast Your Fate to the Wind".
1967: The Music Explosion released the single "Little Bit O' Soul".
1967: Gerry and the Pacemakers announced they were splitting up.
1970: The Beatles released the album Let It Be.
1971: "If" by Bread was #1 for the third week in a row on the Adult Contemporary chart.
1971: Three Dog Night held on to #1 for a fourth week with "Joy to the World". The Jackson 5 moved up to challenge with "Never Can Say Goodbye" while Ocean traded places with "Put Your Hand in the Hand". Neil Diamond and Bread were both up a long ways in just seven weeks as "I Am...I Said" was #4 and "If" ranked fifth. The rest of the Top 10: The great Marvin Gaye song "What's Going On", the Bells decided to "Stay Awhile" at #7, Aretha Franklin hit #8 with her version of the Simon & Garfunkel classic "Bridge Over Troubled Water", Daddy Dewdrop provided comic relief with "Chick-A-Boom" and Lobo burst into the Top 10 with "Me and You and a Dog Named Boo".
1972: Billy Preston became the first rock artist to headline a show at Radio City Music Hall in New York City.
1975: The Eagles appeared in concert at the Edgewater Raceway Park in Cincinnati, Ohio during the
One of These Nights tour.
1976: Spurred by sales that would eventually top 10 million, "Fernando" by ABBA was the new #1 song in the U.K.
1976: Former Lovin' Spoonful member John Sebastian enjoyed a brief stay at #1 with "Welcome Back". Maxine Nighingale came in second with "Right Back Where We Started From" and the Sylvers remained in their #3 position with "Boogie Fever". Elvin Bishop made a move to #4 with "Fooled Around and Fell in Love". The rest of the Top 10: "Silly Love Songs" by Wings moved impressively from 12 to 5, Peter Frampton's "Show Me the Way", Diana Ross took #7 with "Love Hangover", Silver Convention was up 13-8 with "Get Up and Boogie (That's Right)", the Bellamy Brothers suffered one of the biggest tumbles of the Rock Era (1-9) with "Let Your Love Flow" and Johnnie Taylor was down with "Disco Lady".
1977: Olivia Newton-John gave a concert at the Metropolitan Opera House in New York City.
1978: Donny Osmond was married at the age of 21 to his wife Debra.
1982: Bob Dylan finished recording of the album Infidels.
1982: Casablanca Records founder Neil Bogart died of cancer at the age of 39.
1982: "Shanghai Breezes" by John Denver led the way on the Adult Contemporary chart.
1982: "Chariots of Fire" from Vangelis reached #1 in its 22nd week on the chart. Only four #1 songs in rock history took longer to get to #1.
1992: Will Smith married songwriter Sheree Zampino in Santa Barbara, California and they have made great music ever since.
1993: Mark Knopfler received an honorary degree from the University of Newcastle upon Tyne, England.
1993: Whitney Houston remained at #1 on the Adult Contemporary chart with "I Have Nothing".
1995: Rick Nelson was inducted posthumously into the Hollywood Rock Walk.
1998: Johnny Winter received a star on Hollywood's Rock Walk.
1998: The Smashing Pumpkins filed a lawsuit against Westwood One, claiming the radio syndication company had breached an oral and implied agreement with they licensed an interview in 1991 with the band.
2002: Mariah Carey signed a contract that gave Carey her own recording label.
2003: Elton John announced that he and lyricist Bernie Taupin would compose the score for the Broadway musical The Vampire Lestat.
2003: Christina Aguilera, Justin Timberlake and Ashanti assisted the Global medical Relief Fund's campaign to bring a badly-burned orphan in Operation Iraqi Freedom to the United States for treatment.
2005: Akon debuted at #1 in the U.K. with "Lonely" while his album Trouble moved to #1 as well.
2008: Maurice White and Phillip Bailey of Earth, Wind & Fire and Steve Winwood were given honorary Doctorate degrees from Berklee College of Music in Boston.
2008: Eddy Arnold, who had 22 hits early in the Rock Era, including "Make the World Go Away" in 1965, died one week shy of his 90th birthday at a nursing home in Nashville, Tennessee.
2010: Quincy Jones received an honorary Doctorate of Music from Indiana University.
Born This Day: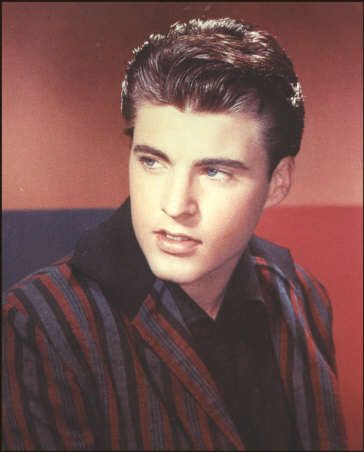 1940: Ricky Nelson (real name Eric Hilliard) was born in Teaneck, New Jersey; died December 31, 1985.
1940: Toni Tennille was born in Montgomery, Alabama.
1941: John Fred ("Judy In Disguise (With Glasses)" was born in Baton Rouge, Louisiana; died of kidney disease April 15, 2005.
1943: Danny Whitten, guitarist, singer and songwriter with Neil Young's Crazy Horse, was born in Columbus, Georgia; died of a heroin overdose November 18, 1972.
1943: Paul Samwell-Smith, bass guitarist with the Yardbirds ,was born in London.
1944: Bill Legend, drummer of T. Rex, was born in Barking, Essex, England.
1944: Gary Glitter ("Rock and Roll, Part 2") was born in Banbury, England.
1951: Chris Frantz of the Talking Heads was born in Fort Campbell, Kentucky.
1951: Phillip Bailey with Earth, Wind & Fire was born in Denver, Colorado.
1953: Billy Burnette, son of Dorsey and a singer and guitarist with Fleetwood Mac, was born in Memphis, Tennessee.
1953: Alex Van Halen, drummer for the group Van Halen, was born in Amsterdam, the Netherlands.
1972: Darren Hayes, singer-songwriter with Savage Garden, was born in Brisbane, Queensland, Australia.
1975: Enrique Iglesias was born in Madrid, Spain.
1978: Ana Marie Lombo of Eden's Crush