1952: Alan Freed staged the Moondog Coronation Ball, billed as "the first-ever rock & roll stage show", at the Cleveland Arena in Cleveland, Ohio. Acts included the Dominoes and Tiny Grimes.
1956: Elvis Presley performed at the 4,000-seat YMCA Gymnasium in Lexington, North Carolina. Tickets were $1 for general admission and $1.50 for reserved.
1957: Elvis Presley, his father Vernon, and his mother Gladys, signed an official real estate contract to purchase the Graceland mansion in Memphis, Tennessee. The official date of sale was several days later.
1960: Dinah Washington & Brook Benton had the top R&B song for the sixth week with "Baby (You've Got What It Takes)".
1960: Percy Faith had a lock on #1 for the fifth week with "The Theme From 'A Summer Place'".
1961: The Beatles played their first nighttime performance at The Cavern Club in Liverpool.
1963: Barbra Streisand and Elliot Gould were married.
1964: Jan & Dean recorded "The Little Old Lady From Pasadena" with The Wrecking Crew (including drummer Hal Blaine, pianist Leon Russell as backing musicians). The duo recorded five sessions in three hours, and Liberty Records decreed that no overtime was allowed. They finished the first four with ten minutes left, and finished "Little Old Lady" in two takes.
(Note: some websites claim the session was on May 14, but the correct date is May 21, according to the book 'The Wrecking Crew: The Inside Story of Rock and Roll's Best-Kept Secret' by Kent Hartman.)
1964: 13-year-old Judy Collins made her live debut at New York City's Carnegie Hall, performing Mozart's "Concerto for Two Pianos" .
1964: Meet the Beatles! was #1 for the sixth week on the Album chart. Introducing...The Beatles was #2.
1964: "She Loves You" by the Beatles hit #1, taking over from "I Want To Hold Your Hand" by the Beatles, which had spent seven weeks at the top. What's more, the Beatles had #3--Please Please Me" This was the first time in the history of the Rock Era in which one artist owned the top three songs and the Beatles would continue to do this in various combinations for four straight weeks. The week's biggest mover was "Twist And Shout" by the Beatles, which moved from 55 to 7. You think music was changing forever, maybe?
1966: The Beach Boys released the single "Sloop John B".
1967: The Turtles climbed to the top with "Happy Together".
1969: Simon & Garfunkel released the single "The Boxer".
1969: Tommy Roe had the #1 song with "Dizzy".
1970: Faces, featuring new lead singer Rod Stewart, released the LP First Step.
1970: Simon & Garfunkel spent a fourth week at #1 on the Adult chart with "Bridge Over Troubled Water".
1970: Simon & Garfunkel also had the #1 overall song for the fourth week with "Bridge Over Troubled Water". The Jaggerz was there at #2 with "The Rapper". Chairmen of the Board peaked at #3 with "Give Me Just A Little More Time" and John Lennon moved from 15 to 4 with "Instant Karma (We All Shine On)". The rest of the Top 10: Brook Benton's "Rainy Night In Georgia", the Beatles had the highest debut of the Rock Era to that point at #6 with "Let It Be", the Hollies were next with one of The Most Important Songs of the Rock Era*--"He Ain't Heavy, He's My Brother", Edison Lighthouse jumped to 8 with "Love Grows (Where My Rosemary Goes)", Santana and "Evil Ways" and the Delfonics moved inside the Top 10 with "Didn't I (Blow Your Mind This Time)".
1970: Simon & Garfunkel's album Bridge Over Troubled Water was #1 for the third week. It had only been out for six weeks. Led Zeppelin II remained second with Hey Jude by the Beatles debuting at #3. The Doors were back with Morrison Hotel/Hard Rock Cafe, moving from 12 to 4. The rest of an excellent Top 10: Willy and the Poorboys from CCR, Abbey Road by the Beatles was #6, the self-titled Santana, Chicago II was #8, Tom Jones Live In Las Vegas and Johnny Cash dropped with Hello, I'm Johnny Cash.
1975: Frankie Valli had a solo #1 with "My Eyes Adored You".
1981: Phil Collins debuted with his first solo single--"I Missed Again".
1981: After ten years of hard work, REO Speedwagon finally hit #1 with "Keep On Loving You". John Lennon's "Woman" was second with Styx moving up with "The Best Of Times". Dolly Parton's former #1 "9 to 5" dropped while Don McLean took position #5 with "Crying". The rest of the Top 10: Blondie and "Rapture", Neil Diamond's 47th career hit "Hello Again", ABBA's great song "The Winner Takes It All", Eddie Rabbitt was on his way down with "I Love A Rainy Night" and Barbra Streisand & Barry Gibb combined for the week's #10 song--"What Kind Of Fool".
Amazing that Rush could achieve this sound with three members...
1981: Hi Infidelity by REO Speedwagon was #1 on the Album chart for a sixth week. Styx held steady with Paradise Theater with the Soundtrack to "The Jazz Singer" behind them. John Lennon's Double Fantasy was #4 while the Police remained in the #5 position with Zenyatta Mondatta. The rest of the Top 10: Pat Benatar's Crimes of Passion, Blondie with Autoamerican, Rush was up to #8 after just three weeks with Moving Pictures, Journey with Captured and Barbra Streisand hit #10 with Guilty.
1982: Donny Osmond starred in the title role of the Broadway play Little Johnny Jones.
1983: Pink Floyd released The Final Cut, the last LP with Roger Waters on board.
1984: Officials broke ground on Strawberry Fields, a section of Central Park purchased by Yoko Ono in memory of huband John Lennon. It opened on October 9, 1985. (Note: many websites falsely report that Strawberry Fields opened on this date. The ground breaking ceremony was on this date, but the park opened on October 9, according to the official website for Central Park.)
1987: U2 released the LP The Joshua Tree.
1987: Bruce Hornsby & the Range took over at #1 on the Adult Contemporary chart with "Mandolin Rain".
1987: Jody Watley had the new R&B #1--"Looking For A New Love".
1987: Club Nouveau hit #1 with their remake of the classic Bill Withers song "Lean On Me".
Janet Jackson
was second with "Let's Wait Awhile". Starship's comeback song "Nothing's Gonna' Stop Us Now" bounded from 10 to 3. Bruce Hornsby & the Range were up to #4 with "Mandolin Rain" while Linda Ronstadt & James Ingram dropped with "Somewhere Out There". The rest of the Top 10:
Genesis
moved from 12 to 6 with "Tonight, Tonight, Tonight", the former #1 "Jacob's Ladder" by
Huey Lewis & the News
tumbled, Bruce Willis had the song "Respect Yourself", Expose scored their first career Top 10 with "Come Go With Me" and Peter Gabriel's "Big Time" landed at #10.
1989:
Madonna
released the album
Like A Prayer.
1989: Dick Clark announced that after 33 years, he would no longer host American Bandstand.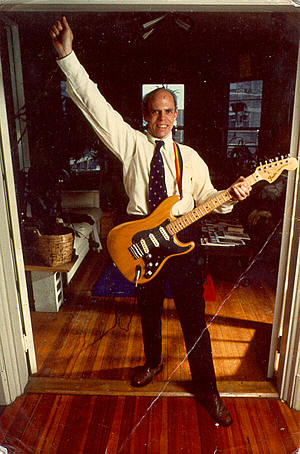 1991: Leo Fender, the inventor of the Telecaster and Stratocaster guitars, died from Parkinson's disease at age 81. Fender began mass producing solid body electric guitars in the late 1940's.
1992: Michael Bolton and Kenny G. remained at #1 on the AC chart for the third straight week with "Missing You Now".
1992: Vanessa Williams took over at #1 with "Save The Best For Last".
1
994: Bruce Springsteen won an Academy Award for Best Original Song for "Streets Of Philadelphia".
2003: Kid Rock and country star Tim McGraw played a concert outside Detroit to benefit the Red Cross.
2003: Bryan Ferry, lead singer of Roxy Music, divorced his wife Lucy for committing adultery.
2006: Three South African daughters, whose father Solomon Linda wrote "The Lion Sleeps Tonight" in 1939, won a six-year court battle that gave the women 25 percent of all past and future royalties from the song. Linda worked as a cleaner at a Johannesburg record company when he wrote the song. He had received virtually nothing for his work and died in 1962 with just $25 in the bank.
2009: U2 went to the top of the Album charts with No Line on the Horizon.
Born This Day:
1940: Solomon Burke was born in Philadelphia, Pennsylvania; died October 10, 2010 while on a plane from Los Angeles to Amsterdam, the Netherlands.
1941: John Boylan, producer and songwriter, who worked with Rick Nelson and the Association, was born in New York City. Boylan managed Linda Ronstadt and introduced her to a group of musicians that she ultimately hired to be her backing band in 1971. That group of musicians would later go on to form the Eagles.
1945: Rosemary Stone, vocalist and pianist with Sly and The Family Stone
1946: Ray Dorset, singer, guitarist and songwriter ("In The Summertime") with Mungo Jerry, was born in Ashford, Middlesex, England.
1949: Eddie Money, singer, songwriter, guitarist and saxophonist, was born in Brooklyn, New York.
1950: Roger Hodgson, songwriter, guitarist and vocalist with Supertramp, was born in Portsmouth, Hampshire, England.
1951: Russell
Thompkins, Jr., lead singer of the Stylistics, was born in Philadelphia, Pennsylvania.
1951: Conrad Lozano, bassist for Los Lobos, was born in Los Angeles, California.
1953: Robert Johnson of K.C. and The Sunshine Band was born in Miami, Florida; died in 1983 in Miami.
1958: Jonathan Norton, drummer, percussionist and vocalist who has worked with Tracy Chapman, Rufus Wainwright, Fiona Apple and Aimee Mann, was born in Inglewood, California.
1967: Jonas Berggren, songwriter, guitarist and keyboardist for Ace of Base, was born in Gothenburg, Sweden.
1967: Maxim Realty (real name Keith Palmer), vocalist with Prodigy, was born in Petersborough, Cambridgeshire, England.
1968: Andrew Copeland, guitarist and vocalist of Sister Hazel, was born in Gainesville, Florida.
1980: Deryck Whibley, songwriter, guitarist, lead vocalist and producer of Sum 41, was born in Scarborough, Ontario, Canada.