1949: The 45 rpm single record was first introduced by RCA Victor, one year after the LP record was introduced by Columbia. Both provided better sound quality and longer playing time than the 78 rpm that had been the standard.
1956: Brenda Lee made her television debut on Ozark Jambouree on ABC, singing "Jambalaya".
1957: Elvis Presley played two concerts at Olympia Stadium in Detroit before 24,000 fans.
1958: Chuck Berry released "Johnny B. Goode".
1958: "Tequila" by the Champs took over at #1 on the R&B chart. It went on to become one of The Top 10 Instrumentals of the Rock Era*.
1959: The Jimmie Rodgers Show debuted on NBC-TV.
1960: Lonnie Donegan debuted at #1 on the U.K. Singles chart with "My Old Man's A Dustman".
Roy Orbison with one of his biggest career hits...
1962: Connie Francis hit #1 in the U.S. with "Don't Break The Heart That Loves You". Bruce Channel gave way with "Hey! Baby" while Shelley Fabares was up nicely from 11 to 3 with "Johnny Angel". Roy Orbison was up to 4 with "Dream Baby" while Kenny Ball & His Jazzmen dropped with the former #2 hit "Midnight In Moscow". The rest of the Top 10: "Slow Twistin'" from Chubby Checker, Don & Juan with "What's Your Name", the Sensations fell with "Let Me In", Elvis Presley registered his 28th Top 10 hit and 54th overall in just seven years with "Good Luck Charm", which moved from 14-9 and Sam Cooke had #10--"Twistin' The Night Away".
1962: The Beatles ventured to the South of England, appearing at the Subscription Rooms in Stroud. The Rebel Rousers joined them in a concert that would cost 5 schillings, or about 70 cents.
1964: The Beatles filmed a "live" television performance at the Scale Theatre for use in the movie A Hard Day's Night. The songs that made it to the film were "I Should Have Known Better", "And I Love Her", "She Loves You", and "Tell Me Why".
1966: The Elvis Presley movie Frankie and Johnnie premiered in Baton Rouge, Louisiana.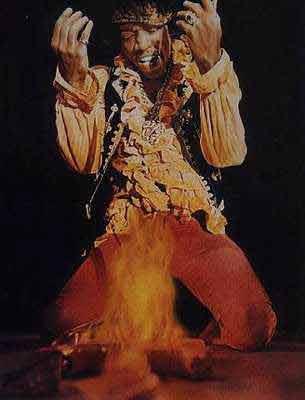 1967: Jimi Hendrix stunned fans at the Astoria in London, England when he poured lighter fluid on his Stratocaster guitar, smashed it, and set it on fire. Hendrix suffered hand burns, not to mention the burns to his ego, but it was the first of many times Hendrix would pull the stunt.
1968: Bobby Sherman starred in an episode of The F.B.I. on ABC-TV.
1969: The Guess Who released the single "These Eyes".
1973: Donny Osmond had the #1 song in the UK with his remake of the Johnny Mathis song "The Twelfth of Never".
1973: Eric Weissberg & Steve Mandell had the top album with Dueling Banjos.
1973: "Sing" rose to #1 on the Adult chart, giving the Carpenters their seventh #1 on that chart in four years, and the ninth song to reach either #1 or #2 during that time.
1973: Gladys Knight & the Pips celebrated a third week at #1 on the R&B chart with "Neither One Of Us (Wants To Be The First To Say Goodbye"), which wound up as one of The Top 10 R&B Songs of the 70's*.
Gladys & the Pips with another smash...
1973:
Roberta Flack
returned to #1 for a fifth week with "Killing Me Softly With His Song". Deodato was one step away with his great instrumental "
Also Sprach Zarathustra
(2001)". Gladys Knight & the Pips edged up with "Neither One Of Us (Wants To Be The First To Say Goodbye)" with previous #1
"Love Train"
by the
O'Jays
stopping off at #4. The
Four Tops
moved up with their 32nd career hit--"Ain't No Woman (Like The One I've Got)". The rest of the Top 10: The new song from the
Stylistics
, "Break Up To Make Up", Edward Bear dropped with "Last Song", the Carpenters moved into the list with "Sing" and Vicki Lawrence jumped from 16 to 10 with "The Night The Lights Went Out In Georgia".
1976: Led Zeppelin released the album Presence.
(Note: some websites report that the album was released on April 5. The correct date is March 31, according to the band's official website as well as the book 'Icons of Rock: Velvet Underground; the Grateful Dead, and Led Zeppelin' by Scott Schinder and Andy Schwwartz.)
1976: The Brotherhood of Man owned the top song in the U.K. with "Save Your Kisses For Me".
1977: An Elvis Presley concert in Baton Rouge, Louisiana, was postponed after Elvis did not return from intermission.
1979: Sister Sledge had the new #1 on the R&B chart with "He's The Greatest Dancer".
1979: "Crazy Love" by Poco was on its way to becoming one of The Top Adult Contemporary Songs of the 1970's*, as it led the way for a fourth straight week.
1979: For the fifth week, the great album Spirits Having Flown by the Bee Gees was #1. It held off some good albums, too, including Minute By Minute from the Doobie Brothers and the self-titled Dire Straits album.
1979: The new song from Peaches & Herb, "Reunited", jumped from #66 to 26 on this date.
"Sultans of Swing" defined "cool".
1979: "Tragedy" from the Bee Gees remained at #1 giving the trio a total of 19 weeks at #1 in the last three years for five different chart-toppers. "I Will Survive" from Gloria Gaynor sat poised to take over while the Grammy Award winner from the Doobie Brothers, "What A Fool Believes" was third. Donna Summer combined with Brooklyn Dreams for song #4--"Heaven Knows". The rest of the Top 10: "Shake Your Groove Thing" from Peaches & Herb, Dire Straits' first single, "Sultans Of Swing", was sixth, Rod Stewart's former #1 "Do Ya Think I'm Sexy?", Amii Stewart roared from 15 to 8 with "Knock On Wood", Bobby Caldwell with "What You Won't Do for Love" and Melissa Manchester had her first Top 10 with "Don't Cry Out Loud".
1982: The Doobie Brothers announced they were breaking up after a farewell tour.
1983: U2 appeared on the BBC-TV show Top of the Pops performing "Two Hearts Beat As One". (Note: several websites incorrectly list the date as April 1. According to the book 'U2: Into the Heart: The Stories Behind Every Song' by Niall Stokes, U2 recorded the show on March 30 for broadcast on March 31.)
1983: Rockwell ruled for a fifth week on the R&B chart with "Somebody's Watching Me".
1984: Kenny Loggins danced into the #1 spot with "Footloose", leaping over Rockwell's "Somebody's Watching Me". Van Halen's reign was over with "Jump", the Eurythmics were up to 4 with "Here Comes The Rain Again" and newcomer Cyndi Lauper fell with "Girls Just Want To Have Fun". The rest of the Top 10: "I Want A New Drug" from Huey Lewis & the News, which was much higher in most markets, Phil Collins had a smash in "Against All Odds", which moved from 12-7, the Pointer Sisters with "Automatic", Hall & Oates were stuck at 9 with "Adult Education" and Culture Club had another Top 10 with "Miss Me Blind".
Only Michael Jackson topped Van Halen on this date...
1984: With each week it remained #1, Thriller by Michael Jackson extended the Rock Era record and made it tougher that another album will ever beat it. On this date, the count had reached 35 weeks at #1. 1984 from Van Halen was second, followed by the great "Footloose" Soundtrack. Colour By Numbers from Culture Club was next, with Can't Slow Down by Lionel Richie and Sports from Huey Lewis & the News behind. The rest of the Top 10: Learning to Crawl from the Pretenders, Touch by the Eurythmics, the Police were still in it after 40 weeks with Synchronicity and Cyndi Lauper edged into the Top 10 with She's So Unusual.
1986: Heart released the single "Nothin' At All". (Note: one website naively lists the date of release as April 13. "Nothin' At All" debuted on the charts on April 19. It is physically impossible for a song to be included on the Singles chart if it has yet to be released as a single.)
1986: O'Kelly Isley of the Isley Brothers died at age 48 of a heart attack in Alpine, New Jersey.
1987: Prince released the album Sign O' the Times on on his own Paisley Records.
1990: Cher began the North American leg of her tour in concert at the Starplex Amphitheater in Dallas, Texas. Her Heart of Stone tour would gross over $70 million.
1990: David Bowie hit #1 on the U.K. Album chart with Changes Bowie.
1990: Snap! had their first #1 U.K. song with "The Power".
The title from Bolton's album...
1990: Paula Abdul completed a nine-week run at #1 on the Album chart with Forever Your Girl, and all this after 89 weeks of release. Janet Jackson's Rhythm Nation 1814 and Grammy winner Nick of Time from Bonnie Raitt provided competition, with Soul Provider by Michael Bolton in fourth.
Collins was one of the most consistent artists of the period...
1990: "Black Velvet" by Alannah Myles was #1 again with Taylor Dayne giving pursuit with "Love Will Lead You Back". Phil Collins was at 3 with his 11th consecutive Top 10 song--"I Wish It Would Rain Down". Tommy Page moved to 4 with "I'll Be Your Everything" and Lisa Stansfield continued to climb with "All Around The World". The rest of the Top 10: "Don't Wanna' Fall In Love" moved from 12 to 6 for Jane Child, Janet Jackson's former #1 "Escapade", Madonna was running out of steam with "Keep It Together", Technotronic had "Get Up! (Before The Night Is Over)" and Luther Vandross was back with "Here And Now".
1992: Bruce Springsteen released both
Human Touch
and
Lucky Town
albums on the same day
1995: Mexican-American singer Selena was murdered at age 23 by the president of her fan club in Corpus Christi, Texas.
1998: The first Celebration of Female Artists Awards show took place at the Grosvenor House in London.
1998: The video Good Times was released. It was the only movie starring Sonny & Cher and was filmed in 1967.
2001: Mr. Acker Bilk ("Strangers On The Shore") received the Member of the Order of the British Empire medal for services to the music industry from Queen Elizabeth.
2002: Barry Gibb bought his childhood home in Keppel Road, Chorlton, Manchester.
2002: Celine Dion began the first of four weeks at the top of the U.K. Album chart with A New Day Has Come.
2003: The Radiohead album Hail to the Thief appeared online three months before it was due. Guitarist Johnny Greenwood denied that the album title referred to U.S. President George W. Bush.
2003: Toni Braxton gave birth to her second child, son Diezel Ky Braxton.
2004: Guitarist Jesse Colburn, ex-boyfriend of Avril Lavigne, left her band to pursue other opportunities. Craig Wood, bassist for Canada's Gob, replaced him.
2004: Confessions by Usher soared to #1 on the Album chart after selling 1 million copies in its first week.
2004: Ozzy Osbourne confirmed that he was reforming Black Sabbath for a concert tour in the summer.
2005: Marion "Suge" Knight, a rap record company boss, was ordered by the courts to pay $107 million to a woman who the court found had helped found the Death Row label in 1989 but was pushed out by Knight.
Born This Day:
1934: Shirley Jones, singer with the Partridge Family and actress, was born in Charleroi, Pennsylvania.
1934: John D. Loudermilk, who wrote "Tobacco Road" and "Indian Reservation", was born in Durham, North Carolina.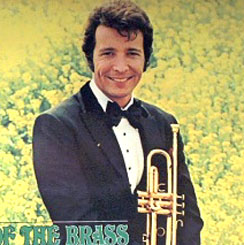 1935: Herb Alpert, trumpeter, vocalist and leader of the
Tijuana Brass and solo performer. Alpert co-founded A&M Records with Jerry Moss out of his garage, later signing the Carpenters, Supertramp, Bryan Adams and the Police to name a few. Alpert was born in Los Angeles.
1942: Hugh McCracken, guitarist, harmonica player, arranger and producer who worked with Billy Joel, Hall & Oates, Paul McCartney, Paul Simon, Barbra Streisand, the Four Seasons, Aretha Franklin, Kenny Loggins, John Lennon, James Taylor, Roberta Flack, Bob Dylan, the Monkees, Gordon Lightfoot, Steely Dan and B.B. King, among others, was born in Glen Ridge, New Jersey; died March 28, 2013 of leukemia in New York City. (Note: some websites claim McCracken was born in New York City; he was born in Glen Ridge, according to the newspaper 'The New York Times'.)
1944: Mick Ralphs, guitarist for Mott the Hoople and Bad Company, was born in Hereford, Herefordshire, England.
1944: Rodney Bainbridge, bassist for the Fortunes ("You've Got Your Troubles"), was born in Leicester, England; died January 10, 2008.
1946: Al Nichol of the Turtles was born in Winston-Salem, North Carolina.
1947: Al Goodman, bass singer of the Moments ("Love On A Two-Way Street"), later renamed Ray, Goodman & Brown ("Special Lady" from 1980), was born in Jackson, Mississippi; died of heart failure on July 26, 2010. (Note: some websites say Goodman died on July 27--he died on July 26, according to the newspaper 'The New York Times'.)
1947: Jon Poulos, drummer of the Buckinghams, was born in Chicago, Illinois; died March 26, 1980 in Chicago.
1948: Thijs Van Leer, lead singer, organist and flautist for Focus ("Hocus Pocus), was born in Amsterdam, the Netherlands.
1953: Sean Hopper, keyboardist of Huey Lewis and the News, was born in San Francisco, California.
1954: Tony Brock of the Babys and Tubes was born in Poole, Dorset, England.
1955: Angus Young, lead guitarist for AC/DC, was born in Glasgow, Scotland.
1958: Pat McGlynn, rhythm guitarist of the Bay City Rollers, was born in Edinburgh, Scotland.
1978: Tony Yayo (real name Marvin Bernard), rapper with G-Unit and solo performer, was born in Queens, New York.