1955: The movie Blackboard Jungle, which introduced us to the song "Rock Around the Clock" by Bill Haley & the Comets, opened in theaters on March 25, 1955, according to many sources, including IMDB and CNN.
1956: Alan Freed's three-day Rock 'n' Roll Show in
Hartford
,
Connecticut
ended badly, as police arrested 11 teenagers and closed the theater.
1958: After being sworn in as Private 53310761 the previous day, Elvis Presley received the regulation short back and sides haircut from army barber James Peterson.
1958: Buddy Holly performed at the Gaumont Theatre in Hammersmith, London, the final date of what turned out to be his only tour of the U.K.
1959: Bobby Darin released the single "Dream Lover".
1960: Roy Orbison recorded "Only The Lonely" at RCA Victor Studios in Nashville, Tennessee.
1960: Ray Charles recorded "
Georgia
On My Mind".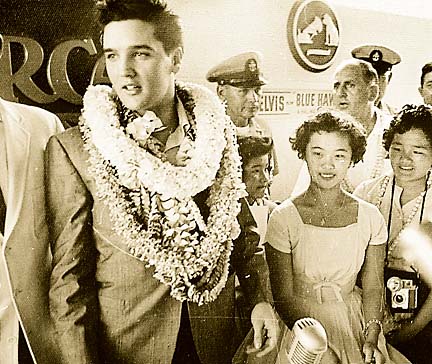 1961: Elvis Presley made his last stage appearance for nearly eight years at the Bloch Arena in Honolulu, Hawai'i. The show was a benefit for the U.S.S. Arizona Memorial on Pearl Harbor.
1964: The Beatles debuted on the Top of the Pops show on BBC-TV, performing "Can't Buy Me Love" and "You Can't Do That". The show had been recorded March 19.
1964: Frankie Avalon starred in the movie
Muscle Beach Party
, which opened in theaters.
1967: The Who and Cream began their first American tour at RKO 58th Street Theatre in New York City, a show put together by disc jockey Murray the "K".
1967: Aretha Franklin took over at #1 on the R&B chart with "I Never Loved a Man (The Way I Love You)".
1967: The fastest-climbing song of the week (#99 to #64) belonged to the Hollies--"On A Carousel".
1967: The Monkees were in the midst of one of the most phenomenal Album chart achievements--their second album, More of the Monkees was #1 for the seventh week, on the heels of a 13-week run at #1 for their self-titled debut.
1967: The
Turtles
moved to #1 with one of The Top 100 Songs of the Rock Era*--"Happy Together". The
Mamas & the Papas
were at 2 with "Dedicated To The One I Love", the Beatles' previous #1 "Penny Lane" was now third and
Herman's Hermits
had another big hit with "There's A Kind Of Hush". The rest of the Top 10:
Johnny Rivers
with "Baby, I Need Your Lovin'", Mitch Ryder & the Detroit Wheels with "Sock It To Me-Baby!", Buffalo Springfield moved from 12-7 with "For What It's Worth", Ed Ames and "My Cup Runneth Over", the
Supremes
were down with "Love Is Here and Now You're Gone" and the Rolling Stones tumbled with "Ruby

Tuesday".
1968: Spanky & Our Gang released the single "Like To Get To Know You".

1968: The 58th and final episode of The M
onkees aired on television.
1969:
John Lennon
and Yoko Ono began a "bed-in" for peace in Amsterdam.
1972: The Dramatics had the #1 R&B song with the great
"In The Rain"
.
1972: B.J. Thomas topped the Adult chart with "Rock And Roll Lullabye".
"Mother Freedom", one of the top tracks on Bread's new album...
1972: The self-titled America album took over at #1 from Harvest by Neil Young. Bread's Baby I'm-A Want You was next with Nilsson Schmilsson from Nilsson and Paul Simon's self-titled release trailing. The rest of the Top 10: Fragile from Yes, Don McLean's American Pie at #7, Stanley, Idaho's Carole King with Music, the Rolling Stones edged up with their compilation Hot Rocks 1964-1971 and Al Green edged in with Let's Stay Together.
1972: In the span of six weeks, America rose to #1 with their first single--"A Horse With No Name".
1974: The Carpenters released the single "I Won't Last A Day Without You".
1975: Linda Ronstadt released her remake of the Everly Brothers hit "When Will I Be Loved".
1976: Jackson Browne's wife Phyllis committed suicide.
1978: 20 Golden Greats by Buddy Holly & the Crickets was the #1 album in the U.K.
1978: England Dan & John Ford Coley's song "We'll Never Have To Say Goodbye Again" was the new #1 on the Adult chart.
1978: "Night Fever" by the Bee Gees was #1 for a second week, the eighth straight week that a song written by the group had been #1. "Stayin' Alive" from the Bee Gees was #2 with "Emotion", another song they wrote and sang on, third. Eric Clapton ("Lay Down Sally") and Barry Manilow ("Can't Smile Without You") were the only ones that broke up the monopoly as yet another song in which the Bee Gees played a crucial role on, brother Andy Gibb's "(Love Is) Thicker Than Water", was #6. The rest of the Top 10: "I Go Crazy" by Paul Davis, in the Top 10 after 31 weeks, Dan Hill with "Sometimes When We Touch", Yvonne Elliman moved up from 14-9 with another Bee Gees composition, "If I Can't Have You" and Jay Ferguson edged in with "Thunder Island".
The title track from 'Point of Know Return'...
1978: The album that took over from Fleetwood Mac's Rumours, the Soundtrack to "Saturday Night Fever", was #1 for a 10th week.
Billy Joel's
The Stranger was second for the fifth week but quite a distance behind. Slowhand from Eric Clapton took third followed by the excellent albums from
Jackson Browne
(Running On Empty) and Steely Dan (Aja). The rest of the Top 10: Even Now from Barry Manilow, George Benson remained in the #7 position with Weekend In L.A.,
Queen
with News of the World,
Styx
was stuck at 9 with The Grand Illusion and Kansas joined in with Point of Know Return.
1979: Van Halen began their first world tour as a headline group at the Selland Arena in Reno, Nevada.
(Note: some websites say that the group began its first world tour on April 8. First, it was the group's first tour as a headline group, not their first tour (they had supported Black Sabbath on tour the year before. Second, the tour was well underway on April 8, having started in Reno on March 25, according to the magazine 'Guitar World'.)
1983: Motown Records had a big bash to celebrate their 25th anniversary (Motown 25: Yesterday, Today, Forever).
Stevie Wonder
, the Supremes, the Temptations, the Four Tops,
Marvin Gaye
, the
Jackson 5
, the
Commodores
, Smokey Robinson, Martha Reeves and Jr. Walker performed at the Civic Auditorium in Pasadena, California, televised by NBC.
1985: 'Til Tuesday released the single "Voices Carry".
1985:
Kenny Rogers
performed for the first time since having surgery to remove nodules in his throat.
1986: Guns N' Roses signed a worldwide recording contract with Geffen Records.
1989: Gloria Estefan had the #1 album in the U.K. with Anything for You.
1989: Madonna's "Like A Prayer" was the #1 song in the U.K.
1989: Roy Orbison landed one last #1 on the Adult Contemporary chart with "You Got It".
Roxette enjoyed a healthy move...
1989: Mike + the Mechanics had the new #1 song with "The Living Years", but the Bangles were a factor with "Eternal Flame". Other noteworthy songs: "The Look" from Roxette moved from 8 to 4, Rod Stewart had #5 with "My Heart Can't Tell You No", Debbie Gibson's former #1 "Lost In Your Eyes" fell to #6, the Fine Young Cannibals jumped from 14 to 7 with "She Drives Me Crazy" and Chicago had their 20th career Top 10 and 45th hit with "You're Not Alone".

1995: Eddie Vedder of Pearl Jam was rescued after a riptide carried him 250 feet offshore in
New Zealand
.
1995: "Love Can Build A Bridge", the Comic Relief charity record from Cher, Eric Clapton, Chrissie Hynde and Neneh Cherry, was the #1 song in the U.K.
1995: Soul for Real held on to #1 for a third week on the R&B chart with "Candy Rain".
1995: For the fifth straight week, Madonna wouldn't let go of #1 with "Take A Bow". "Candy Rain" from Soul for Real was second, followed by two TLC songs, "Creep" and "Red Light Special". "Run Away" by Real McCoy was the only new Top 10 song, taking just three weeks to get there.
2000: *N Sync set a Rock Era record after selling one million tickets in a day for the group's upcoming tour.
2001: Shaggy had the #1 song with "Angel".
2002: Bono testified on behalf of Peter Buck (R.E.M. guitarist) at Buck's air rage trial in
London
. Bono said "I had to twist his arm to get him to a boxing match once because he thought it too aggressive."
2002: Chris Cornell of Soundgarden walked out of rehearsals with members of Rage Against the Machine. Cornell later returned and the musicians formed the new group Audioslave.
2003: R.E.M. and Lenny Kravitz both posted anti-war songs online available for download. Michael Stipe wrote "The Final Straw" while Kravitz's "We Want Peace" featured Iraqi vocalist Kadim Al Sahir.
2005: Ozzy Osbourne's Buckinghamshire mansion caught fire. The family was treated for smoke inhalation.
2007: Take That rose to #1 in the U.K. with "Beautiful World".
Born This Day:
1934: Johnny Burnette, brother of Dorsey and father of Rocky ("Tired Of Toein' The Line" from 1980), was born in Memphis, Tennessee; drowned August 14, 1964 when his unlit fishing boat was struck by a cabin cruiser on Clear Lake, California, throwing Johnny overboard.
1942: Aretha Franklin was born in Memphis, Tennessee.
1947: Sir Elton John (Reginald Dwight) was born in Pinner, Middlesex, England.
1947: Jack Hall, bassist of the Charlie Daniels Band and Wet Willie
1949: Neil Jones, guitarist of Amen Corner, was born in Llanbradach, South Wales.
1951: Maisie Williams, singer with Boney M ("Rivers Of Babylon"), was born in Montserrat, West Indies.
1960: Steve Norman, saxophonist of Spandau Ballet, was born in London. (Note: some websites report that Norman was born in Stepney, London. Stepney is a district, not a city.)
1966: Jeff Healey ("Angel Eyes") was born in Toronto, Ontario, Canada; died of cancer in Toronto on March 2, 2008.
1969: Cathy Dennis ("Touch Me All Night Long" from 1991), who also wrote songs for Celine Dion, Kelly Clarkson, Janet Jackson and Britney Spears, was born in Norwich, Norfolk, England.
1975: Melanie Blatt, vocalist and a founding member of All Saints, was born in Camden, London.
1975: Juvenile (real name Terius Gray) was born in New Orleans, Louisiana.