1957: A new talented singer emerged on the scene today as Sam Cooke's first single, "You Send Me" debuted on the chart.
1958: Buddy Holly recorded for the final time, as Holly and the Crickets recorded "True Love Ways", "Moondreams", "It Doesn't Matter Anymore" and "Raining In My Heart" at Pythian Temple Studios in New York City.
1962: Cliff Richard was on The Ed Sullivan Show.
1963: The Singing Nun released the single "Dominique".
1965: The Beatles started over on the song "Norwegian Wood" and finished recording in three takes. They also recorded another song by John Lennon--"Nowhere Man" in two takes.
1965: The Dave Clark Five and the Kingsmen performed on Shindig!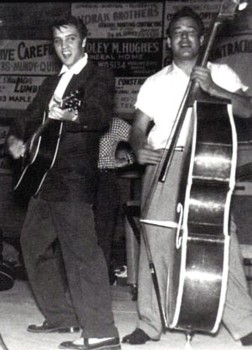 1965: Bill Black, the great bass player who played on many of Elvis Presley's early hits, died in Memphis, Tennessee at the age of 39 during his third operation to remove a brain tumor.
1966: The Who were on the popular British television show Ready Steady Go!, along with Lee Dorsey and Georgie Fame.
1967: Spanky & Our Gang moved from 88 to 50 with "Lazy Day".
1967: Lulu hit #1 with one of The Top 100 Songs of the Rock Era*--"To Sir With Love". That took the lid off the Box Tops and their #1 song of four weeks, "The Letter". The Association were at #3 with "Never My Love".
1968: Dion released the single "Abraham, Martin And John".
1968: Glen Campbell released the single "Wichita Lineman" on Capitol Records.
1971: Mick and Bianca Jagger became the new parents of daughter Jade, who was born in Paris, France.
1972: Superfly by Curtis Mayfield moved into the #1 position on the Album chart with Leon Russell's Carney at #2. The Moody Blues incredibly moved from 7 to 3 after 58 weeks of release with their masterpiece--Days of Future Passed. With Rod Stewart, there was Never a Dull Moment and Chicago V was at #5. The rest of the Top 10: Elton John's Honky Chateau, Big Bambu from Cheech & Chong, All Directions, the new album from the Temptations, The London Chuck Berry Sessions was #9 and the Band snuck in with Rock of Ages.
1972: The Temptations were hot with another song that looked like a smash--"Papa Was A Rolling Stone" moved from #83 to #54.
1972: Rick Nelson entered the Top 10 with "Garden Party", a biographical account of the time his ridiculous fans booed him in Madison Square Garden when he dared to play a new song for them. It was Nelson's first Top 10 hit in nine years.
1975: The Eagles were in concert for the second of two nights at the Richfield Coliseum in Cleveland, Ohio.
1975: Elton John earned a star on the Hollywood Walk of Fame.
1976: Keith Moon drummed for the final time with the Who at the Maple Leaf Gardens in Toronto, Ontario, Canada. (Note: numerous websites show this date as the 22nd, but Moon's last show was on the 21st, according to the Who's official website.)
1977: Meat Loaf released the album
Bat Out of Hell
.
1978: The Clash fired manager Bernie Rhodes and replaced him with Caroline Coon, previously a journalist for the trade magazine Melody Maker.
1978: Funkadelic owned the #1 R&B song for a fourth week with "One Nation Under A Groove".
1978: Gerry Rafferty returned to the #1 spot on the Easy Listening chart with "Right Down The Line".
1978: Grease was #1 for the 11th week on the Album chart. The Who provided the closest challenge with Who Are You but Boston was not taking a back seat with Don't Look Back. Linda Ronstadt was on fire with Living in the U.S.A., the #4 album after three weeks of release. Foreigner dropped with Double Vision. The rest of the Top 10: Live and More from Donna Summer, Kenny Loggins and Nightwatch, Dan Fogelberg & Tim Weisberg with an interesting collaboration on Twin Sons of Different Mothers, the Rolling Stones fell to 9 with Some Girls and Styx finished the list with their new album Pieces of Eight.
"Love is in the Air" was a member of the Top 10...
1978: "Kiss You All Over" by Exile, another member of The Top 500 Songs of the Rock Era*, remained at #1 on this date for the fourth week in a row. They had competition from Nick Gilder, who was poised at #2 with "Hot Child In The City", the former #1 "Boogie Oogie Oogie" by A Taste of Honey, Little River Band's "Reminiscing" at #4 and Anne Murray with "You Needed Me". The rest of a great Top 10: Kenny Loggins and "Whenever I Call You Friend", John Paul Young's "Love Is In The Air", Donna Summer's remake of the Richard Harris smash "MacArthur Park" gave her 10 career hits, Boston was down with "Don't Look Back" and Olivia Newton-John & John Travolta wrapped up the list with "Summer Nights".
1985: George Harrison, Ringo Starr, Eric Clapton and others recorded the television special Carl Perkins and Friends in London to honor the 30th anniversary of Perkins' song "Blue Suede Shoes".
1986: Janet Jackson released the single "Control".
1988: Michael Jackson released the seventh single from the album Bad--"Smooth Criminal".
1989: Kylie Minogue had the top U.K. album with Enjoy Yourself.
1989: Elton John collected his 38th Adult Contemporary hit, with exactly half of those (19) reaching the Top 10, and his ninth AC #1 with "Healing Hands".
The Stones with their last big hit...
1989: Janet Jackson remained at #1 for a third week with "Miss You Much" with "Love Song" by the Cure becoming that group's biggest hit, Tears for Fears moving up with "Sowing The Seeds Of Love" and Roxette bouncing from 9 to 4 with "Listen To Your Heart". The Rolling Stones were stuck at #5 with "Mixed Emotions". The rest of the Top 10: "Cover Girl" by New Kids on the Block, "Love In An Elevator" gave Aerosmith their fourth Top 10 in 16 tries, Babyface moved up with "It's No Crime", Young Mc was talking about "Bust A Move", and Expose reached into the Top 10 with "When I Looked At Him".
1993: Aerosmith was in concert at Sheffield Arena in Sheffield, England.
1994: Neil Diamond divorced his wife of 24 years.
1995: Shannon Hoon of Blind Melon died of drugs at age 28 in New Orleans, Louisiana.
1995: "Fantasy" scored a fourth week at #1 on the R&B chart for Mariah Carey.
1995: Mariah Carey's Daydream debuted at #1 on the album chart.
1995: It had debuted at #1 and now in its fourth week, "Fantasy" by Mariah Carey was still #1.
1997: Sir Elton John's song "Candle In The Wind '97" was honored by the Guinness Book of Records as the top-selling single of all-time. The tribute to Princess Diana had sold 31.8 million in less than 40 days.
2003: The Eagles released their greatest hits package The Very Best of the Eagles.
2003: Sir Elton John signed a contract with the Colosseum in Las Vegas, Nevada to do 75 shows over a three-year period.
2003: AC/DC performed at the refurbished Hammersmith Apollo in London.
2004: Bo Diddley postponed a concert in Lancaster, California so he could recuperate from having his toe amputated, a procedure required due to a hypoglycemic condition brought on by diabetes.
2004: Usher and Alicia Keys move to #1 with their collaboration "My Boo". That gave Usher his fourth #1 song of the year, the first time someone had accomplished that feat since the Jackson 5 in 1970. The other #1's were "Yeah", "Burn" and "Confessions Part II".
2005: The Strokes played new songs from their album First Impressions of the Earth at the Museum of Modern Art in Rio de Janeiro. (pretty clever to feature a band called the Strokes at an art museum...)
2006: Sandy West, founder, singer, songwriter and drummer with the Runaways, died at the age of 47 after being diagnosed with lung cancer in 2005.
2006: Evanescence had the #1 album with The Open Door.
2007: Kid Rock and five members of his entourage were arrested in Atlanta, Georgia after an argument broke into a fight in a restaurant.
2007: Stereophonics owned the top U.K. album with Pull the Pin.
Born This Day:
1937: Norman Wright of the Del-Vikings ("Come Go With Me") was born in Philadelphia, Pennsylvania.
1940: Jimmy Beaumont of the Skyliners, who had a minor hit with their version of "Since I Don't Have You", was born in Pittsburgh, Pennsylvania.
1940: Manfred Mann (real name Michael Liebowitz),
keyboardist and leader of several different bands bearing his name, was born in Johannesburg, South Africa.
1941: Steve Cropper, prolific guitarist who played with Otis Redding, Booker T. & the MG's and Sam & Dave, was born in Willow Springs, Missouri. (Note: some websites claim Cropper was born in Dora, but in an interview with 'Swampland.com', Cropper said that he was born in Willow Springs.)
1942: Elvin Bishop, guitarist with the Paul Butterfield Blues Band and a solo artist ("Fooled Around and Fell in Love"), was born in Glendale, California.
1943: Ron Elliott, guitarist of the Beau Brummels, was born in Haddsburg, California.
1945: Kathy Young ("A Thousand Stars" from 1960) was born in Santa Ana, California.
1946: Lee Loughnane, founding member, vocalist, songwriter, trumpeter and flugelhorn player of Chicago was born in Elmwood Park, Illinois. (Note: some websites show Lee was born in Chicago--the 'Chicago Sun Times' newspaper states that he was born in Elmwood Park.)
1947: Tetsu Yamauchi, bass guitarist for Free and the Faces, was born in Fukuoka, Japan.
1952: Brent Mydland, keyboard player and vocalist who joined the Grateful Dead in 1979, was born in Munich, Germany. He died in his home on July 26, 1990 from drugs.
1953: Charlotte Caffey, lead guitarist of the Go-Go's, was born in Santa Monica, California.
1953: Eric Faulkner, guitarist for the Bay City Rollers, was born in Edinburgh, Scotland.
1957: Steve Lukather, elite guitarist of Toto, was born in Los Angeles. (Note: numerous websites say that he was born in San Fernando Valley, California, the general area that includes Los Angeles. According to Steve's official website, he was born in Los Angeles.)