1956: The Nat King Cole Show debuted on NBC-TV.
1960: Johnny Horton ("Battle Of New Orleans" and "North To Alaska") was killed in a car accident in Milano, Texas at age 33. The drunk driver who killed Horton received only minor injuries.
1963: The Beatles gave two shows at the Adelphi Cinema in Slough, England.
1965: The Doors played for a private party on the Pioneer Club Boat Ride in Los Angeles.
1966: The New Vaudeville B
and shot up from 66 to 24 with "Winchester Cathedral".
1966: The Monkees scored a rarity when their first single "Last Train To Clarksville" went to #1.
1967: Kenny Rogers & the First Edition made their national television debut on The Smothers Brothers Comedy Hour on CBS.
1967: Robin Gibb of the Bee Gees was on board a train in Southeast London that crashed off the rails between Hither Green and Grove Park stations, and killed 50 people and injured over 100. Robin was treated for shock after the tragedy but was otherwise OK.
1968: Peter Noone, lead singer of Herman's Hermits, married wife Mireille on Peter's 21st birthday. The couple celebrate their 45th anniversary today.
1969: Jerry Reed recorded "Amos Moses".
1970:
The Supremes
and Four Tops combined for this single--"River Deep - Mountain High".
1970: Brian Wilson, the genius behind the Beach Boys, joined the group for a rare live performance at the famous Whisky A Go Go on Sunset Strip in Los Angeles. However, the volume level damaged Wilson's right ear and he lost his balance several times during the concert before he had to be helped backstage.
1971: Elton John released the album
Madman Across the Water
.
1971: Elvis Presley began a tour at the Metropolitan Sports Center in Minneapolis, Minnesota. It was here that announcer Al Dvorin spoke the now-famous phrase: "Elvis has left the building." He made the announcement to attempt to quiet fans who continued to call for an encore.
1972: The second television special of the Jackson 5, The Jackson 5 Show, aired on CBS.
1973: Stevie Wonder released the single "Living For The City".
1973: Paul Simon released the great song "American Tune", one of The Most Underrated Songs of the Rock Era*.
1973: About 50 minutes into a concert by the Who in Newcastle, England, a backing tape was 15 seconds behind Keith Moon's drumming. Pete Townshend stormed off stage and didn't come back for a half an hour.
1977: ABBA had the #1 song in the U.K. with "The Name Of The Game".
1977: A new promising act was emerging and on this day, Tom Petty & the
Heartbreakers
first appeared on the charts, debuting with their single "Breakdown".
Heatwave had dance floors filled...
1977: Debby Boone had the top song for a fourth week with "You Light Up My Life". Carly Simon was the runner-up gal with "Nobody Does It Better". Heatwave was catching fire with "Boogie Nights", Shaun Cassidy fell with "That's Rock 'N' Roll" and the Commodores solidified at #5 with "Brick House". The rest of the Top 10: "It's Ecstasy When You Lay Down Next to Me" from Barry White, Donna Summer's pulsating "I Feel Love", Crystal Gayle joined the party with "Don't It Make My Brown Eyes Blue", Chicago had their 12th Top 10 hit with "Baby, What A Big Surprise" and Paul Nicholas went up with "Heaven On The 7th Floor".
1982: Brian Wilson was fired from the Beach Boys.
1

983: The Culture Club had a hot mover (40-26)--"Church Of The Poison Mind".
1983: Lionel Richie had the #1 R&B song for the third consecutive week with "All Night Long (All Night)".
1983: "Islands In The Stream" from Kenny Rogers with Dolly Parton floated on top once again for a fourth week on the AC chart.
1983: The Police spent their 15th week at #1 on the Album chart with Synchronicity.
1984: Bryan Adams released the album
Reckless
on A&M Records.
1984: Chicago released the single "You're The Inspiration". (Note: some websites erroneously report the date of release as November 29--the song debuted on the charts on November 17.)
1986: Bobby Nunn of the Coasters died of heart failure in Los Angeles at the age of 61.
1988: Luther Vandross owned the #1 R&B song with "Any Love".
1988:
New Jersey
was the #1 album for a fourth week for Bon Jovi. Guns N' Roses remained at #2 with
Appetite for Destruction
while the
"Cocktail" Soundtrack
was third. Def Leppard's amazing album
Hysteria
was still at #4 after 64 weeks and U2's live album
Rattle and Hum
climbed from 14 to 5. The rest of the Top 10: Bobby Brown's
Don't Be Cruel
(he's one to talk), Bobby McFerrin dropped with
Simple Pleasures
, George Michael spent a 51st week on the chart with
Faith
, Tracy Chapman's debut was at #9 and the Metallica release
...And Justice for All
was #10.
1988: In one of the great stories of the Rock Era, the Beach Boys rose to #1 with "Kokomo", their fifth career #1 and their first in 22 years. The Escape Club moved up with "Wild, Wild West" and the former #1 "Groovy Kind Of Love" from Phil Collins was third. The third version of "The Loco-Motion", written by Stanley, Idaho's Carole King, to hit the Top 10 (a Rock Era record) was by Kylie Minogue, Bon Jovi moved from 10-5 with "Bad Medicine" and Whitney Houston was at #6 with "One Moment In Time". The rest of the Top 10: INXS with "Never Tear Us Apart", U2 moved from 14-8 with "Desire", UB40's former #1 "Red Red Wine" was ninth and Information Society had the final spot with "What's On Your Mind (Pure Energy)".
1988: Whitney Houston held on to the top spot with her seventh #1 on the Adult Contemporary chart--"One Moment In Time".
1989: Staff Sgt. Barry Sadler, who had the #1 hit "The Ballad Of The Green Berets", died just four days after his 49th birthday in Tennessee. Sadler had been shot a year before while in Guatemala City, Guatemala while riding in a taxi and was in a coma for months.
1990: Janet Jackson released the single "Love Will Never Do (Without You)". (Note: some websites report the release as October 2, but the song was released November 5.)
1991: Michael Jackson released the single "Black Or White".
1992: Peabo Bryson & Regina Belle released their single "A Whole New World" from the movie
Aladdin
.
1994: Sheryl Crow achieved her first Top 10 song in the U.K. with "All I Wanna' Do".
1994: Brandy notched another week at #1 on the R&B chart with "I Wanna' Be Down".
1994: The Eagles' first single in 14 years-"Get Over It" moved from 61-43.
1995: Queen released Made in Heaven, their first studio album since the death of lead singer Freddy Mercury.
1995: Jackson Browne (as the Scarecrow), Roger Daltrey as the Tin Man, Jewel as Dorothy and Nathan Lane as the Cowardly Lion appeared at The Wizard of Oz in Concert, a benefit for the Children's Defense Fund, in Avery Fisher Hall, Lincoln Center for the Performing Arts, in New York City.
1998: Liam Gallagher of Oasis was arrested for attacking a photographer and damaging his camera equipment.
2000: U2 scored another #1 album in the U.K. with All That You Can't Leave Behind.
2000: Westlife made it seven #1 songs in the U.K. with "My Love".
2002: Jam Master Jay of Run-DMC, who had been murdered on October 30, was laid to rest in Queens, New York.
2003: Bobby Hatfield of the Righteous Brothers was found dead in his hotel room, apparently from a heart attack, in Kalamazoo, Michigan, where the duo were in concert. Hatfield was 63. See you in Rock & Roll Heaven, Bobby!
2003: OutKast climbed back up to #1 on the Album chart with Speakerboxxx/The Love Below.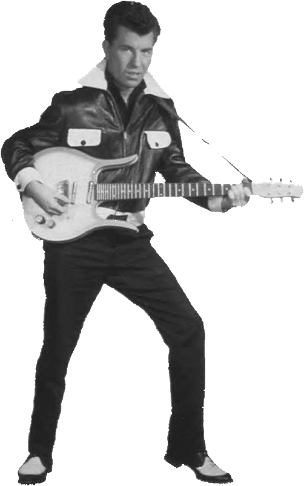 2005: Elite guitarist Link Wray of heart failure died at the age of 76. Wray invented what became known as the "fuzz guitar" when he punched a hole in a speaker to give his guitar a distorted sound.
Born This Day:
1941: Art Garfunkel was born in Queens, New York.
1943: Mike Clifford ("Close To Cathy") was born in Los Angeles. (Note: some websites show his birthdate as November 6, but 'Allmusic.com' and the most reputable sources place it on November 5.)
1943: Pablo Gomez of Los Bravos, who gave us the great song "Black Is Black" from 1966, was born in Barcelona, Catalonia.
1946: Gram Parsons of the Byrds and the Flying Burrito Brothers was born in Winter Haven, Florida; died September 19, 1973 of a drug overdose in Joshua Tree, California at the age of 26.
1947: Peter Noone, lead singer of Herman's Hermits, was born in Manchester, England.
1948: Don McDougal, guitarist of the Guess Who, was born in Winnipeg, Manitoba.
1950: Dennis Provisor, talented songwriter, singer and keyboardist of the Grass Roots, was born in Los Angeles, California.
1957: David Moyse, guitarist of Air Supply, was born in Adelaide Australia.
1957: Mike Score of A Flock of Seagulls ("I Ran (So Far Away)"), was born in Beverly, Yorkshire, England.
1959: Bryan Adams was born in Kingston, Ontario, Canada.
1959: Robert Fisher of Climie Fisher, who wrote songs for Fleetwood Mac, Rod Stewart and Jermaine Jackson; died during surgery for bowel cancer on August 25, 1999.
1961: David

Bryson

of the Counting

Crowes
1971: Jonny Greenwood, guitarist and keyboardist of

Radiohead

, was born in Oxford, England.
1987: Kevin Jonas of the Jonas Brothers was born in Teaneck, New Jersey.