1958: The Coasters recorded "Charlie Brown", with guest saxophonist King Curtis.
1960: Aretha Franklin made her New York debut at the Village Vanguard in New York City.
1961: Shirley Bassey was a guest on Bing Crosby's first Christmas special on ABC-TV.
1961: Elvis Presle
y began a 20-week stay at the top of the Album chart with the
Soundtrack to "Blue Hawai'i"
, his
seventh #1 album.
1961: Jimmy Dean made it eight weeks at #1 on the Easy Listening chart with "Big Bad John".
The incomparable Ferrante & Teicher...
1961: The Marvelettes reached #1 with "Please Mr. Postman", toppling Jimmy Dean's "Big Bad John" after five weeks. "Goodbye Cruel World" by James Darren was third with Chubby Checker still climbing after 23 weeks with "The Twist". The rest of the Top 10: Leroy Van Dyke with "Walk On By", the Tokens jumped from 17-6 with "The Lion Sleeps Tonight", Bobby Vee entered the Top 10 with "Run To Him", Ferrante & Teicher's great instrumental "Tonight" was #8, another instrumental--"Let There Be Drums" by Sandy Nelson, was ninth and Neil Sedaka moved from 21 to 10 with "Happy Birthday, Sweet Sixteen".
1964: Sam Cooke was shot to death at the Hacienda Motel in Los Angeles. The motel's owner told police she shot him in self-defense after he attacked her. He was just 33 years old.
1965: The Beatles played two shows at the Astoria Cinema in Finsbury Park, London on their final tour of their native England.
1965:
Whipped Cream & Other Delights
was #1 on the Album chart for the third week for Herb Alpert & the Tijuana Brass.
1965: The Vogues had a hot song, moving from 67 to 40 with "Five O'Clock World".
1967: Blood, Sweat & Tears entered the Columbia Recording Studios at 207 East 30th in Manhattan, New York to begin recording their debut album.
1967: Nancy Sinatra starred in the television special Movin' with Nancy Sinatra on NBC.
"Smiling Phases"--no video, just audio...
1968: Blood, Sweat & Tears released their landmark self-titled album.
1968: John Lennon filmed a performance of "Yer Blues" for the Rolling Stones television special Rock and Roll Circus at Inter Tel, a video facility in Wembley, London. (
Note: many websites claim Lennon's was the first solo Beatle performance on television. This is false, as Lennon made numerous appearances on television away from the other members, such as on Jun 29, 1963 and March 23, 1964 (when Lennon promoted his book of poems called 'In His Own Write') on 'BBC', and May 25, 1965 on 'The Merv Griffin Show'. Some websites say that Lennon appeared on television on December 10, but he filmed his performance on December 11. Furthermore, Lennon's performance was never seen on television as the Rolling Stones canceled the show and kept it from being aired until 'Rock and Roll Circus' was released on VHS and Laserdisc in 1996.)
1968: Filming began for the movie Rock & Roll Circus starring the Rolling Stones, John & Yoko Lennon, the Who, Eric Clapton and Jethro Tull. The movie wasn't released until 1996, reportedly because the Stones were upstaged by the Who.
1970: The movie
The Magic Christian
starring Ringo Starr premiered at the Odeon Cinema in Kensington, London.
1971: The great Blood, Sweat & Tears singer David Clayton Thomas appeared in a commercial on Canadian television encouraging support for the Save the Seals Campaign.
1971: "All I Ever Need Is You" by Sonny & Cher was #1 on the Adult chart for a third week.
1971: Santana III was #1 on the Album chart for a fifth week, holding off There's a Riot Goin' On by Sly & the Family Stone. Cat Stevens stood in the third position with Teaser and the Firecat while the Soundtrack to "Shaft" was fourth and Led Zeppelin IV was #5. The rest of the Top 10: Chicago At Carnegie Hall, Imagine from John Lennon & the Plastic Ono Band, Rod Stewart edged up with Every Picture Tells a Story, Stanley, Idaho's Carole King was at 9 with her superb Tapestry and Grand Funk Railroad moved from 40 to 10 with E Pluribus Funk.
1972: Genesis played for the first time in the United States at Brandeis University in Waltham, Massachusetts.
1976: For the third week, "Dazz" by Brick was the #1 R&B song.
1976: Rod Stewart prevailed for a fifth week at #1 with "Tonight's The Night (Gonna' Be Alright)".
"Pastime Paradise" ...
1976: Stevie Wonder was making waves with a ninth week at #1 for his masterpiece album Songs In the Key of Life.
1977: The Bee Gees had the top Adult song for the third straight week with "How Deep Is Your Love".
1980: U2 performed at the Mudd Club in New York City.
1982: Men At Work owned the top album for a fifth week with Business As Usual.
1982: Lionel Richie remained at #1 on the Adult Contemporary chart for a fourth week with his first solo release "Truly".
1982: Kenny Loggins had one of the fastest-climbing songs as "Heart to Heart" rose from 47 to 31.
1982: Marvin Gaye held on to #1 for a sixth week on the R&B chart with "Sexual Healing".
1
982: Show business veteran Toni Basil scored a #1 song with "Mickey". Laura Branigan had to settle for second with "Gloria" while Hall & Oates were up to 3 with "Maneater". Lionel Richie's previous #1 "Truly" dropped and "The Girl Is Mine" moved up for Michael Jackson & Paul McCartney. The rest of the Top 10: "Steppin' Out" from Joe Jackson, Don Henley's "Dirty Laundry" was #7, Marvin Gaye entered the Top 10 with "Sexual Healing", the Stray Cats were at 9 with their first Top 10 hit "Rock This Town" and Diana Ross remained firm with "Muscles".
1988: Don Henley, Tom Petty, Bonnie Raitt and Graham Nash played a benefit show to pay tribute to the late Roy Orbison at the Wiltern Theatre in Los Angeles.
1990: The Recording Industry Association of America (RIAA) certified eight Led Zeppelin albums (Led Zeppelin I, Led Zeppelin II, Led Zeppelin III, Led Zeppelin IV, Presence, Houses of the Holy, In Through the Out Door, and Physical Grafffiti). Up to this point, Led Zeppelin's albums were not big sellers, but the group's sales took off in the 90's. All of the above were certified Platinum, with III and Presence certified Double Platinum, Physical Graffiti--4 million copies, II, Houses of the Holy, and In Through the Out Door--5 million, and IV--10 million units sold.
Carey at her best and already up to #4...
1993: Janet Jackson had the new #1 song with "Again", sending Meat Loaf downward with "I'd Do Anything For Love (But I Won't Do That)". Ace of Base waited their turn with "All That She Wants" at 3 while Mariah Carey was up to 4 with "Hero". The rest of the Top 10: "Shoop" from Salt-N-Pep, D.R.S. fell down with "Gangsta' Lean", Xscape was "Just Kickin It" and Toni Braxton had #8 with "Breathe Again"; meanwhile Bryan Adams had #9 with "Please Forgive Me" and teamed with Rod Stewart and Sting for the song "All For Love", which moved from 17 to 10.
1997: Jewel, Sinead O'Connor and Emmylou Harris performed the Beatles song "In My Life" at the 1997 Nobel Peace Price concert is Oslo, Norway.
1998: Cher, Bette Midler and Ace of Base performed in the Miracle on 34th Street concert at the Hammerstein Ballroom in Manhattan, New York.
2003: Scotty Moore, the elite guitarist who backed Elvis Presley for several years, was in serious but stable condition following brain surgery.
2008: Councillors in Dartford, England (the home town of Mick Jagger and Keith Richards) approved the naming of streets after Rolling Stones songs. Chosen titles were Satisfaction Street, Angie Mews, Ruby Tuesday Drive, Little Red Walk, Babylon Close, Stones Avenue, Dandelion Row, Lady Jane Walk, Cloud Close and Rainbow Close.
2008: Diana Ross headlined the Nobel Peace Prize concert in Oslo, Norway.
2012: Bruno Mars released the album Unorthodox Jukebox. (Note: some websites list the date of release as December 7, but Warner Music Group (Bruno's record label), 'Billboard', and 'MTV' all list it as December 11--we'll go with the authorities on this one.)
Born This Day:
1916: Perez Prado, band leader whose biggest hit was "Cherry Pink & Apple Blossom White" from 1955), was born in Matanzas, Cuba; died of a stroke in Mexico City, Mexico on September 14, 1989.
1931: Benny

Spellman

("Lipstick Traces (On A Cigarette)") was born in Pensacola, Florida; died of respiratory failure in Pensacola on June 3, 2011.
1940: David Gates, the talented songwriter and lead singer of Bread who also had solo success, was born in Tulsa, Oklahoma.
1941: J. Frank Wilson, who, with his group the Cavaliers, had the hit "Last Kiss" in 1964, was born in Lufkin, Texas; died October 4, 1991 from alcoholism.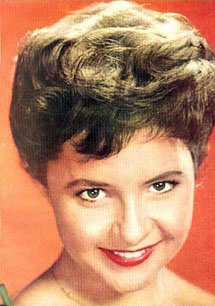 1944: Brenda Lee was born in Atlanta, Georgia.
1946: Tony Brown, who played bass for Bob Dylan, was born in Greensboro, North Carolina.
1951: Philip "Spike" Edney, keyboardist who worked with Queen, the Rolling Stones, Duran Duran and others, was born in Portsmouth, Hampshire, England.
1954: Jermaine Jackson of the Jackson 5 and later a solo
star, was born in Gary, Indiana.
1957: Mike Mesaros, bassist of the Smithereens, was born in Carteret, New Jersey.
1958: Nikki Sixx, bassist of Motley Crue, was born in San Jose, California.
1961: Darryl Jones, bassist for the Rolling Stones since 1993 who also worked with Madonna, Eric Clapton, Sting, Peter Gabriel and others, was born in Chicago, Illinois.
1962: Curtis Williams, keyboardist of Kool & the Gang
1964: Justin Currie, singer, songwriter and founding member of Del Amitri ("Roll To Me"), was born in Glasgow, Scotland.