1957: Bobby Helms recorded "Jingle Bell Rock" at the Bradley Film and Recording Studio in Nashville, Tennessee.
1958: The Platters released their incredible single "Smoke Gets in Your Eyes".
1961: Bob Dylan performed on the television show Folksong Festival.
1962: The Beatles performed "Love Me Do" and "A Taste Of Honey" for the television program People and Places on Grenada TV.
1963: The Hollies went into the recording studio for the first time to begin recording their debut album.
1963: The Rolling Stones, the Everly Brothers, Little Richard and Bo Diddley were in concert with two shows at the Gaumont Theatre in Southampton, England.
1966: A new American group called the Monkees were causing a sensation and that fervor propelled their debut album from 18 to 6 on the Album chart.
1966: Roger Williams had the #1 Easy Listening song with "Born Free".
1966: The Four Tops owned the top R&B song with "Reach Out I'll Be There".
1966: The Beach Boys jumped from 81 to 38 with "Good Vibrations".
1966: ? & the Mysterians moved into the #1 slot with "96 Tears". Newcomers the Monkees were at #2 with their first hit "Last Train To Clarksville" and the previous #1 from the Four Tops--"Reach Out I'll Be There" was third. Johnny Rivers had a huge hit as "Poor Side Of Town" was up to #4 with The Left Banke edging up with "Walk Away Renee". The rest of the Top 10: "Dandy" from Herman's Hermits, Jimmy Ruffin had a solo hit with "What Becomes Of The Brokenhearted", Tommy Roe reached the Top 10 again with "Hooray For Hazel", the Rolling Stones tried to break the record for the longest title with "Have You Seen Your Mother, Baby, Standing In The Shadow? and Eric Burdon & the Animals were at 10 with "See See Rider".
1967: The Beatles filmed for the movie Magical Mystery Tour.
1967: The smash musical Hair opened at Joseph Papp's Public Theater off Broadway.
1967: Cream played two shows at the Saville Theatre in London.
1967: During a performance on American Bandstand, lead singer Syd Barrett kept his mouth shut for the entire time Pink Floyd was supposed to be lip synching the song "See Emily Play". (Note: numerous websites report
1970: Neil Diamond earned a gold record for the single "Cracklin' Rosie".
1971: Duane Allman was killed in a motorcycle accident in Macon, Georgia when he swerved to miss a tractor-trailer and lost control.
1972: Diana Ross gave birth to her second daughter Tracee in Los Angeles.
1973: John Lennon released the single "Mind Games"
in the U.S
.
1975: Joan Baez joined Bob Dylan's Rolling Thunder Revue.

1977: Barry White made it five weeks at #1 on the R&B chart with his fifth #1 R&B--"It's Ecstasy When You Lay Down Next To Me".
1977: Firefall moved into the #1 position on the Easy Listening chart with "Just Remember I Love You".
1977: The Babys had a hot new sound with "Isn't It Time", which moved from 58 to 32 on this date.
Donna Summer had another big hit...
1977: Debby Boone appeared to have a huge hit as "You Light Up My Life" was #1 for the third straight week. It wasn't close to done. Carly Simon would have to settle for having one of the top #2 songs of the Rock Era--"Nobody Does It Better". Shaun Cassidy was stuck at three with "That's Rock 'N' Roll", Heatwave's "Boogie Nights" was behind him and K.C. and the Sunshine Band was on the way down with "Keep It Comin' Love". The rest of the Top 10: The Commodores and "Brick House", Donna Summer's great song "I Feel Love", Barry White scored his sixth and final Top 10 with "It's Ecstasy When You Lay Down Next To Me", Meco's former #1 "Star Wars Theme/Cantina Band" was song #9 and Crystal Gayle entered the Top 10 for the first time with "Don't It Make My Brown Eyes Blue".
1977:
Rumours
by Fleetwood Mac was #1 for a 25th week on the Album chart.
1979: Steve Forbert released the single "Romeo's Tune".
1983: We didn't know quite what to make of a newcomer on the scene...and we still don't. On this date, Madonna's first single debuted on the chart--"Holiday".
1983: For the third week in a row, "Islands In The Stream" by Kenny Rogers & Dolly Parton held down the top spot on the Adult Contemporary chart.
1983: Kenny Rogers & Dolly Parton scored a #1 song together with "Islands In The Stream". Bonnie Tyler finally took a back seat with "Total Eclipse Of The Heart" after four weeks. Lionel Richie's "All Night Long" was #3 followed by the timeless "True" from Spandau Ballet. The rest of a solid Top 10: The Fixx with "One Thing Leads To Another", Air Supply's "Making Love Out Of Nothing At All", the Police remained at #7 with "King Of Pain", Prince and "Delirious", Sheena Easton was at #9 with "Telefone (Long Distance Love Affair)" and Billy Joel registered his sixth Top 10 with "Uptown Girl".
1983: Synchronicity by the Police continued to hold off Michael Jackson's attempt to return to #1 on the Album chart with Thriller. Metal Health by Quiet Riot was a very distant third with An Innocent Man from Billy Joel #4. The rest of the Top 10: Faster Than the Speed of Night by Bonnie Tyler, Pyromania by Def Leppard, the Soundtrack to "Flashdance" at #7, Air Supply with their Greatest Hits album, Kenny Rogers with a new entry--Eyes That See in the Dark and, although she had changed musical direction, it didn't affect her success as Linda Ronstadt reached the Top 10 yet again with What's New.
1983: Karyn White scored the first of three consecutive #1's on the R&B chart with "The Way You Love Me".
1983: Pink Floyd set a new Rock Era record as
Dark Side of the Moon
placed on the album chart for the 491st week. That broke the mark set by Johnny Mathis for
Johnny's Greatest Hits
. The Floyd didn't let up, however, until they got to 780 weeks.
1984: Bryan Adams released his landmark album Reckless.
1984: Wells Kelly, drummer for Orleans and Meat Loaf, died at the age of 45 after choking on his own vomit following what else--a night of heavy drinking.
1987: Ron Wood, guitarist of the Rolling Stones, opened an art exhibition in London called Decades, which featured portraits of friends and rock stars from the past 20 years.
1988: Originally with Clannad, Enya began a solo career that got off to a good start with the #1 song in the U.K.--"Orinoco Flow".
The Escape Club brought back The Wild Wild West...
1988: Phil Collins was still at #1 with the remake of the Mindbenders' song "Groovy Kind Of Love". The Beach Boys were one spot away from yet another #1 song with "Kokomo" and the Escape Club found itself in the "Wild, Wild West" at #3. UB40's former #1 "Red Red Wine" was at #4. The rest of the Top 10: Information Society with "What's On Your Mind (Pure Energy)", Steve Winwood's great song "Don't You Know What the Night Can Do?" was up to 6, Kylie Minogue and yet another remake--"The Loco-Motion", INXS reached the Top 10 again with "Never Tear Us Apart", Whitney Houston's memorable "One Moment In Time" gave her an unbelievable 10 Top 10 songs in a row and Bon Jovi entered the list with "Bad Medicine".
1988: New Jersey by Bon Jovi was #1 on the Album chart for a third week.
1988: "One Moment In Time", the great song from Whitney Houston, rose to #1 on the AC chart.
1990: The Byrds, Ike & Tina Turner, Wilson Pickett, LaVern Baker, Jimmy Reed, the Impressions and John Lee Hooker were inducted into the Rock and Roll Hall of Fame. The seven would be formally honored at a ceremony on January 16, 1991.
1991: Margo Sylvia, lead singer of the Tune Weavers ("Happy Happy Birthday Baby"), died of a heart attack in San Diego, California at the age of 55.
1991: Steve O'Rourke, David Gilmour and Nick Mason of Pink Floyd were injured in an automobile race in Mexico, when their car rolled 230 feet down an embankment.
1991: The Memphis City Council named part of Interstate 55 the "B.B. King Freeway".
Real McCoy had a hot song on the chart...
1994: Boyz II Men were just four weeks away from the existing Rock Era record with their 10th week at #1 for "I'll Make Love To You". Sheryl Crow spent a fourth week in the runner-up spot with "All I Wanna' Do". Mariah Carey and Luther Vandross had another remake--"Endless Love" at #3, Madonna remained at #4 with "Secret" and Real McCoy was up to #5 with "Another Night".
The Cranberries...
1994: II by Boyz II Men returned to #1 on the album chart, displacing Monster by R.E.M. Eric Clapton was next with From the Cradle, Offspring's Smash was #4 and Dookie from Green Day was fifth. The rest of the Top 10: "The Lion King" Soundtrack, Anita Baker with Rhythm of Love, the solid debut album Tuesday Night Music Club from Sheryl Crow moved into the Top 10, No Need to Argue from the Cranberries moved from 12-9 and Pisces Iscariot by the Smashing Pumpkins was #10.
1998: Steven Adler, drummer of Guns 'N Roses, surrendered to police to begin serving a 150-day sentence for two counts of battery and violation of his parole.
2000: The Spice Girls hit #1 in the U.K. with "Holler/Let Love Lead The Way", their ninth #1 on that chart, tied for fourth all-time.
2000: Limp Bizkit had the #1 album with
Chocolate Starfish
.
2001: U2 made their first appearance on Late Night with David Letterman on CBS-TV.
2002: Christina Aguilera released her album
Stripped
.
2002: The Sonny Bono Memorial Concourse was dedicated to the late star at the Palm Springs, California airport.
2003: Puddle of Mudd ("Blurry") announced a fan contest in which the winner would get to be the fifth member of the group for a week on tour.
2003: A new Neilsen survey indicated the Beatles were attracting younger fans in great numbers. Nearly one-third of their fan base was now age 18-24. So much for them going away anytime soon...or ever.
2003: Gwen Stefani unveiled her new L.A.M.B. clothing line.
2003: Joan Jett was a guest on the television show Crossing Over With John Edward.
2003: Steve O'Rourke, manager of Pink Floyd beginning in 1968, died of a stroke in Miami, Florida at age 63.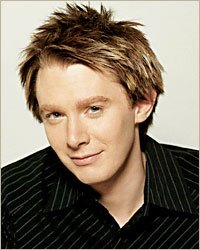 2003: Clay Aiken owned the top album with
Measure of a Man
.
2005: I love it when things like this happen in rap music for it proves my point. R. Kelly, who was touring with Jay-Z, was pepper-sprayed by a member of Jay-Z's entourage at Madison Square Garden in New York City.
2006: Robbie Williams had the top album in the U.K. with Rudebox.
2007: Kylie Minogue was given the Music Industry Trust award for her 20-year career at a ceremony in London.
2009: The Donna Fargo Highway near Mt. Airy, North Carolina was named after the star who gave us "The Happiest Girl In The Whole U.S.A.".
2010: The England Royal Mint issued a commemorative coin of John Lennon.
Born This Day:
1942: Raymond Steinberg of the Reflections ("(Just Like) Romeo and Juliet") was born in Washington, Pennsylvania.
1944: Denny Laine, guitarist and vocalist with the Moody Blues and Wings, was born in Tyseley, Birmingham, England.
1945: Melba Moore ("A Little Bit More" with Freddie Jackson) was born in New York City.
1946: Peter Green, who replaced Eric Clapton in John Mayall's Bluesbreakers and later was the founder and guitarist of Fleetwood Mac, was born in Bethnal Green, London.
1946: Rob Van Leeuwen, singer-songwriter and guitarist of the Shocking Blue (the smash "Venus" from 1970), and also a producer, was born in The Hague, South Holland, the Netherlands.
1951: David Paton, chief songwriter of Pilot ("Magic" from 1975) and later bassist for the Alan Parsons Project and session and tour musician for Elton John, was born in Edinburgh, Scotland.
1955: Kevin Dubrow, lead singer of Quiet Riot, was born in Hollywood, California; found dead in his home in Las Vegas, Nevada on November 25, 2007 at the age of 52 from cocaine. (Note: some websites incorrectly report Dubrow's death as November 19, as you can see from his gravestone.)
1955: Roger O'Donnell, keyboardist of the Cure who also played for the Thompson Twins and Berlin ("Take My Breath Away"), was born in East London.
1961: Randy Jackson of the Jackson 5 was born in Gary, Indiana.
1962: Einar Orn Benediktsson, singer and trumpet player of the Sugarcubes, was born in Reykjavik, Iceland.
1970: Doug "SA" Martinez of 311 was born in Omaha, Nebraska.