1957: Elvis Presley performed at the Schofield Barracks in Hawai'i, his final concert of the 50's.
1961: Joan Baez performed a sold-out show at the Town Hall in New York City.
1963: The Marketts released the great instrumental "Out Of Limits".
1963: Few acts have had to do this but it worked for the Beatles. The group dressed up as policemen after a show in Birmingham, England to escape a crowd of fans.
1964: The Elvis Presley movie Roustabout was released.
1965: The Beatles finished recording for the Rubber Soul Album at Abbey Road Studios in London. The group incuded "Wait", which was a song that they had previously saved, and recorded two new songs--Paul McCartney's "You Won't See Me" and John Lennon's "Girl".
The Doors were on fire with the album "Strange Days"...
1967: Diana Ross and the Supremes Greatest Hits was #1 on the Album chart for a third week. Sgt Pepper's Lonely Hearts Club Band from the Beatles was #2 after 21 weeks with The Doors third. While that was active, the new Doors album Strange Days moved up--get this--from #100 to #4.
1967: Sam & Dave made it five weeks at #1 on the R&B chart with the great soul hit "Soul Man".
1967: Lulu logged a fourth week at #1 with one of The Top 100 Songs of the Rock Era*--"To Sir With Love".
1968: The Temptations released the single "Cloud Nine".
1968: B.J. Thomas released the single "Hooked On A Feeling".
1969: Upon arriving in Phoenix, Arizona, Jim Morrison of the Doors was arrested by the FBI for drunk and disorderly conduct aboard a plane. Morrison was fined heavily and spent the night in jail.
1970: Bob Dylan published his first book Tarantula, that he had written in 1965 and 1966.
1971: Led Zeppelin began a tour of Britain at the City Hall in Newcastle. The concert sold out before it was announced when thousands of people turned up at the ticket office early after hearing a rumor of the show. The venue was forced to sell its tickets.
1971: Tom Jones, Cher, Cilla Black and Slade were among the guests for the 400th show of the popular British television show Top of the Pops.
1972: The Allman Brothers Band and their motorcycles. Bassist Berry Oakley was killed when his cycle crashed into a bus in Macon, Georgia, just three blocks from the place where guitarist Duane Allman was killed in a motorcycle accident just a year previous. Skull fracture for Oakley.
1972: Gilbert O'Sullivan enjoyed another #1 song in the U.K. with "Clair".
1972: The Spinners enjoyed a fifth week at #1 on the R&B chart with "I'll Be Around".
1972: Johnny Nash had the top song for a second week with "I Can See Clearly Now". The Moody Blues were second with "Nights In White Satin" with Lobo making a nice move (8-3) with "I'd Love You To Want Me". Helen Reddy entered the Top 10 with "I Am Woman" and the Eagles moved from 15-10 with "Witchy Woman".
1975: The Captain (Daryl Dragon) & Tennille (Toni) were married in Virginia City, Nevada. (Note: numerous websites erroneously report that the two were married on February 14. The correct date is November 11, according to the newspaper 'The Contra Costa Times.')
1975: Earth, Wind & Fire released the album Gratitude.
1976: Linda Ronstadt performed at the Odeon in Birmingham, England.
1977: Good show here--Fleetwood Mac, Santana and the Little River Band hooked up for a concrt at the RAS Sydney Showgrounds in Australia.
1978: The Cars released a picture disc to the song "My Best Friend's Girl".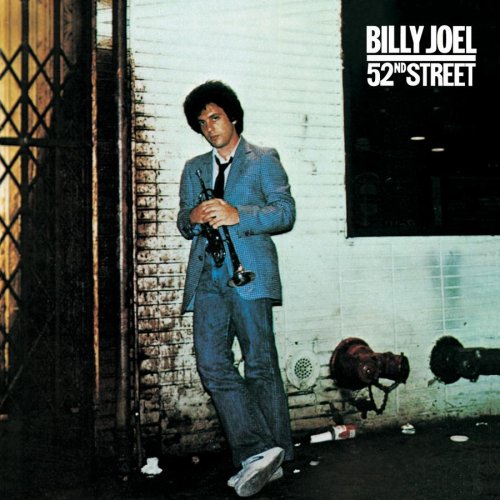 Billy had an excellent follow-up to "The Stranger"...
1978: Live and More from Donna Summer took over from Linda Ronstadt's Living in the U.S.A. as the #1 album. The "Grease" Soundtrack was third followed by Double Vision from Foreigner. Billy Joel crashed into the list, moving from 17 to 5 in his third week with 52nd Street. The rest of the Top 10: Who Are You from the Who, Pieces of Eight by Styx, Don't Look Back by Boston was on its way down, Some Girls from the Rolling Stones moved up to #9 and the great album Stranger in Town from Bob Seger & the Silver Bullet Band was #10.
1978: Al Stewart had a huge Adult Contemporary hit and on this day it became #1--"Time Passages".
1978: Donna Summer took her remake of the Richard Harris song "MacArthur Park" all the way to #1. Anne Murray slipped after a week at the top with "You Needed Me", Foreigner's "Double Vision" continued the group's great early success and Ambrosia reached #4 with "How Much I Feel". The rest of the Top 10: Nick Gilder's former #1 "Hot Child In the City", Exile's smash "Kiss You All Over", Kenny Loggins was at #7 with "Whenever I Call You Friend", the Rolling Stones climbed up with "Beast Of Burden", Foxy's "Get Off" was song #9 and Gino Vannelli rose from 16 to 10 with "I Just Wanna' Stop".
1982: Prince began a tour at the Soldiers and Sailors Memorial Auditorium in Chattanooga, Tennessee.
1985: Newcomers the Dream Academy released the single "Life In A Northern Town".
1989: Lisa Stansfield rose to #1 in the U.K. with "All Around The World".
1989: The Rolling Stones moved from 79 to 58 with "Rock And A Hard Place".
1989: Bad English topped the chart with "When I See You Smile", taking over from Roxette's "Listen To Your Heart".
1989: Janet Jackson's Rhythm Nation 1814 was the #1 album for a third week.
1989: Linda Ronstadt and Aaron Neville took the great Bill Medley song "Don't Know Much" to a third week at #1 on the Adult Contemporary chart.
1994: Micky Dolenz of the Monkees, Rick Nielsen of Cheap Trick and Billy Vera were guests on the television program Boy Meets Girl on ABC.
1995: Mellon Collie and the Infinite Sadness by the Smashing Pumpkins debuted at #1 on the Album chart.
Take That with their first big hit...
1995: Mariah Carey's song "Fantasy" was #1 for a seventh straight week. "Gangsta's Paradise" by Coolio had been a #1 song for three straight weeks and on this date, it posted a seventh straight week at #2. Pretty impressive. "Runaway" from Janet Jackson was #3 and Seal remained at #4 with his classic "Kiss From A Rose". The rest of the Top 10: "Tell Me" by Groove Theory, Sophie B. Hawkins with "As I Lay Me Down", Take That with "Back For Good" at #7, Hootie & the Blowfish with "Only Wanna' Be With You", Xscape entered the Top 10 with "Who Can I Run To?" and the Goo Goo Dolls had song #10 with "Name".
2001: Invincible by Michael Jackson was the #1 album.
2003: John Mellencamp talked to a class in rock music history at Indiana University. He told them "You've got to believe in yourself no matter where your dream leads you."
R.I.P. Bobby...
2003: Bill Medley sang "Precious Lord" at the funeral of Bobby Hatfield, his partner in the great duo the Righteous Brothers.
2004: One act from each decade was chosen by television viewers to be the first five artists inducted into the U.K. Music Hall of Fame. Cliff Richard (50's), the Rolling Stones (60's), Queen (70's), Michael Jackson (80's) and Robbie Williams (90's) were the winners of the less than scientific survey.
Born This Day:
1929: LaVern Baker ("I Cried A Tear" from 1958) was born in Chicago, Illinois; died of cardiovascular disease in Queens, New York on March 10, 1997.
1938: Roger Lavern (real name Roger Jackson), keyboardist with the Tornados ("Telstar" from 1962), was born in Kidderminster, Worcestershire, England; died in London on June 15, 2013 after a two-year battle with prostate cancer. (Note: several websites report Lavern was born in 1938. 'The Telegraph' and 'The Independent' newspapers in England say he was born in 1937, and fellow Tornado member Joe Meek also says Lavern was born in 1937.)
1943: Mac Kissoon of Mac & Katie Kissoon ("Chirpy Chirpy Cheep Cheep") was born in Port of Spain, Trinidad, West Indies.
1945: Chris Dreja, guitarist of the Yardbirds, was born in Surbiton, England. (Note: one prominent website lists Dreja's birthplace as Subiton. There is no such place--the correct spelling of the London suburb is Surbitron. At the time of his birth, Subitron was located in the Country of Surrey, but is now included in the Greater London area.)
1945: Vince Martell, guitarist from Vanilla Fudge, was born in The Bronx, New York.
1947: Pat Daugherty, bassist of Black Oak Arkansas, was born in Jonesboro, Arkansas. (Note: several websites list Pat's birthplace as Black Oak, but Colin Larkin, in his book 'Encyclopedia of Popular Music', states that Daugherty was born in Jonesboro.)
1950: Jim Peteric, lead singer of Ides of March ("Vehicle" from 1970) and Survivor, was born in Berwyn, Illinois.
1952: Paul Cowsill of the Cowsills was born in Portsmouth, Virginia.
1953: Marshall Crenshaw ("Someday Someway" from 1982) was born in Detroit, Michigan.
1953: Andy Partridge, singer/songwriter and guitarist of XTC, was born in Mtarfa, Malta.
1956: Ian Craig Marsh, who played guitar and synthesizer with the Human League, was born in Sheffield, Yorkshire, England.
1957: Mike Mesaros of the Smithereens